Google Ads can be an extremely effective medium for businesses to generate leads, new clients, and appointments and seriously grow their revenue. It's an often misunderstood adverting platform but can have some benefits for businesses of all sizes. Let's first take a look at how google ads work at a basic level and then some of the benefits of advertising online with Google ads.
How Google Ads Work?
Within the Google Ads platform, you create an ad unit that you wish to advertise to people that satisfies people's search intent. Whenever someone sees your ad and clicks on it, you will be charged money. You bid on keywords you wish to show up for and serve people with relevant web pages. Once a user clicks on your ad they will be navigated to your relevant web page where you can sell products, gather leads, set up calls, and much more.
Below is an example of an ad for the keywords "sell your car".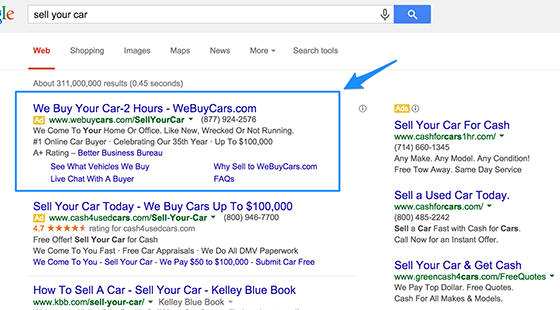 This type of ad is known as a "pay-per-click" ad and the higher your ad shows up in the search results for the keywords you are targeting, the more you will pay per click. The cost of clicks depends on the type of keywords you're bidding on.
The Benefits of Advertising Online With Google Ads
There are unique advantages to advertising online with Google ads. The platform offers businesses tons of flexibility and the potential to get exposure. Below are some of the benefits of using Google Ads.
Cost Control
Google Ads gives advertisers control as to how their ad dollars are spent. They have low ad spend minimums and let you decide how you want to spend in advertising per day, per month, per keyword, per unique ad, and much more. They also allow you to create duplicate campaigns if you happen to find one that is converting well.
Ad Targeting
One of the most powerful features of Google Ads is their dynamic ad targeting capability. Targeting your ads gives you the ability to push your ads to people who have specific interests and purchase intent. Below are some of the different ways you can target your ads with Google.
Ad Location: Google gives you the ability to target ads on different web pages that are part of their advertising and publishing networks. This gives you a high level of granularity when building your ads campaigns. 
Keyword Targeting: Although one of the more expensive ways to advertise with Google ads, keyword bidding and targeting can be an extremely effective way to push your business out into the marketplace. With keyword targeting, you only bid on specific keywords that are relevant to your business or web page. 
Age, location, and language: This ad targeting allows you to narrow your ads to a very specific audience. It allows you to select the age, location, and language to serve your ads. 
Devices: You can target your ads down to a particular device such as a mobile, tablet, or desktop. 
Days, time, and frequency of ad serving: This feature gives you the flexibility of when your ads are served to your customers. If you know your ads convert the highest during certain days of the week or times of the day, you can have your ads only served during those times.
Scalability 
Another powerful feature of Google Ads is the ability to seriously scale your ads. Once you find an ad copy that converts well for your page or your product begins to sell, you can duplicate your ads and begin to scale your campaigns.
Google Ads can also show you keywords that may convert high for you. This can allow you to scale your ad campaigns and ad some serious growth to your business.
Measuring Ad Spend
Measuring your ad spend is a critical component of advertising with Google Ads. If someone has clicked on your ad copy and viewed your web page, Google will log all this data. On top of this, you can install Google tags that will give you further insight as to how someone interacted with your web page. You can measure whether someone:
Clicked on your ad and bounced off the page
Downloaded an app
Made a purchase
Gave a call
Filled out a form
Seeing which ads convert the highest for you and which ones don't will give you insight into where you need to focus your advertising budget.
Re-marketing Capability
Google Ads have evolved in recent years to have strong remarketing capabilities. If a user interacts with an advertisement that they originally clicked on, you have the option of re-targeting that ad or a similar ad to them at a reduced ad rate.
The re-marketing mechanism is a strong way to your message back to a client who has already shown some level of interest.
Local Advertising
Another powerful feature of Google Ads is local advertising. If you're a local service-based business, Google Ads are a great way for you to find customers and people who may need your services. Let's assume that you provide heating and cooling services in your local area and only service a certain distance away from your office.
The way most people might type a search in Google if they need heating and cooling services might be.
"heating and cooling near me"
"heating cooling in Michigan"
"heating and cooling companies"
Google will serve people with locally relevant search results that can help them find a reputable company to come out and take a look at their issue.
Conclusion
As you can see, Google ads can be a great way for businesses of all sizes to get customers, leads, and sell products. They can help you establish a web presence online that will grow your business and message quickly.