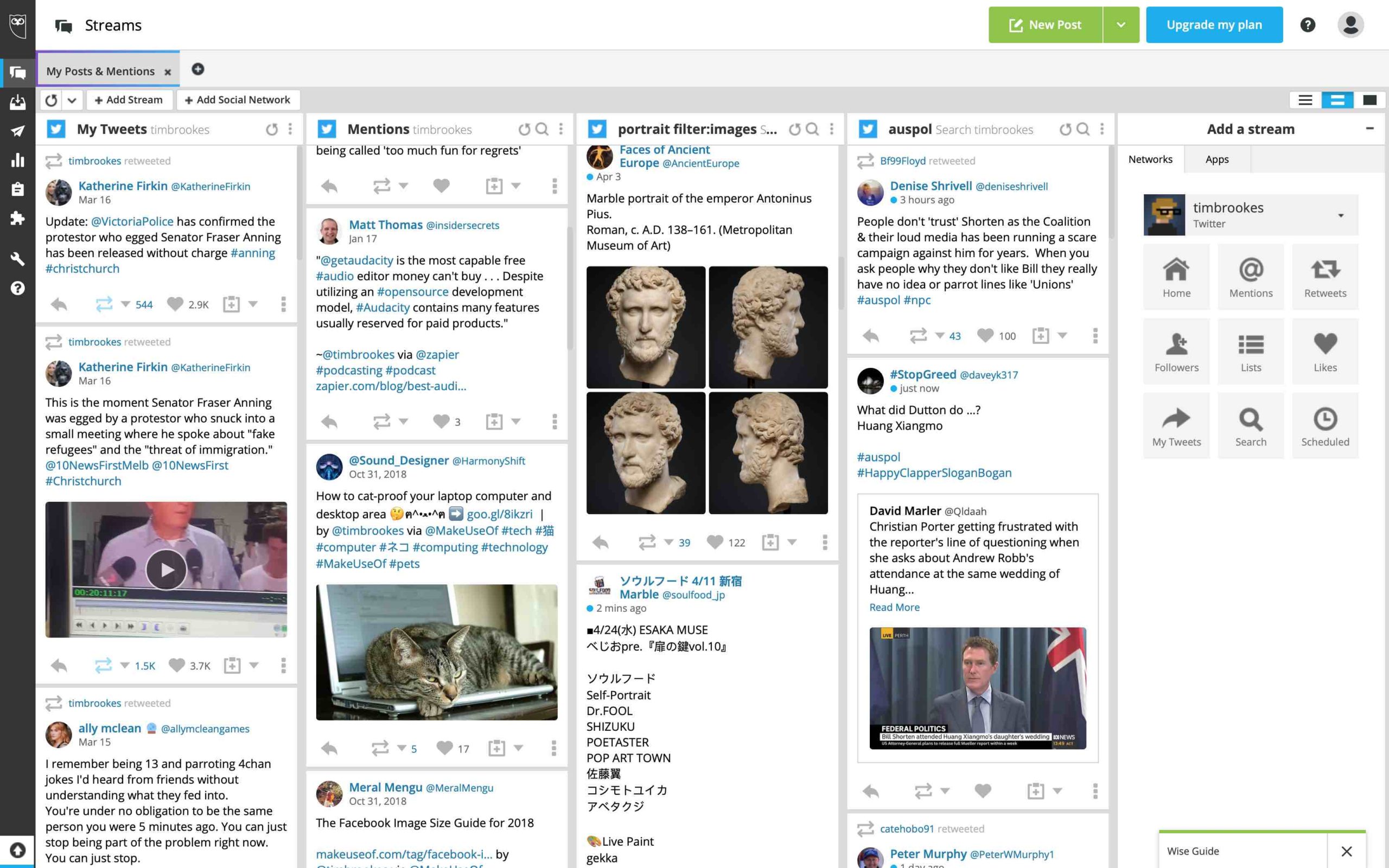 ---
Similar Tools
---
Hootsuite Features
Hootsuite makes it easy to manage all of your social media accounts from one centralized place. The platform is trusted by more than 800 Fortune 1000 companies, like GE, Marketo, Nokia, SXSW Melia Hotels International and more.
Rated the Gartner Peer Insights Customers' Choice for Social Marketing Management 2020, Hootsuite offers a comprehensive suite of social media management tools.
Three top features include:
Automated post publishing
Follower engagement tools
Monitoring tools
Pros
Free plan available
Works with all major social media platforms
Get analytics on social media post performance
Cons
No way to see influencer tracking
Would be great to see audience segementation
Automated Post Publishing
Hootsuite makes it easy to publish posts to your social media accounts automatically. Plan, compose and publish your posts quickly and easily.
The Built-in Planner gives you a visual look at your scheduled and published posts. Using the planner, you can map out your campaigns to avoid gaps in your content publishing. With Hootsuite, you can also collaborate in real-time.
The Composer tool helps you create engaging, on-brand posts. Hootsuite gives you a host of tools to create your posts, including video publishing, image editing and more. You also get easy access to your asset libraries and stock media. The video publishing tool is especially helpful because it automatically adjusts the height, bitrate and width to match the social network's requirements.
The Auto Scheduler allows you to plan and schedule your posts in advance, so you can spend less time worrying about posting and more time on more important things. Hootsuite will automatically publish posts on your social accounts at your scheduled date and time.
Collaboration tools allow you to review drafts from team members before they go live. View the name of the post author, or create, edit and duplicate post drafts to save time.
To ensure that all of your posts are on-brand, you can implement an approval process that requires all content to be reviewed and approved by stakeholders before being published.
To further automate the planning and publishing process, Hootsuite makes it easy to curate or share content quickly and easily. This can be done by creating dashboard streams that search social networks by location, hashtag or keyword.
With the Hootlet extension, you can instantly post content from anywhere and without even having to log into your social media accounts.
If you have a Hootsuite Enterprise account, you get access to a helpful compliance tool called Proofpoint. This tool will automatically screen and analyze each post.
Follower Engagement Tools
Customer engagement plays a crucial role in social media marketing and brand building. Hootsuite helps you deliver personalized customer service and the tools to engage with your followers at the right moments.
With Hootsuite, you can keep an eye on industry trends and post performances across all of your social media platforms. Custom streams allow you to quickly and easily respond to queries, share content with your team, and boost reactions.
Hootsuite's inbox allows you to easily monitor your messages from different networks in one single stream. Message management is easy. Dismiss multiple messages with the tap of a button. Filter out messages that need your attention. Respond to messages, or assign messages to different team members.
Team assignments can distribute the workload for quicker replies, or they allow you to send messages to experts who can better answer questions.
For better customer service, Hootsuite allows you to use chatbots to respond to inquiries quickly or to handover messages when inquiries require attention from a human.
You can even integrate Hootsuite into third-party tools, like Zendesk or Salesforce, so that customer messages can be sent directly to the right department.
Tracking and analysis allow you to improve your customer service by optimizing your resolution and response time.
The engagement tools from Hootsuite are designed to improve your customer support and ensure that you respond to inquiries as quickly and efficiently as possible.
Pro tip: Read this blog if you want to growth hack your instagram account
Monitoring Tools
Hootsuite's monitoring tools allow you to keep a pulse on your social media activities. Set up custom streams to focus on essential topics, social profiles, trends and more. You can respond directly from the stream for convenient and timely replies.
Hootsuite Insights, which is powered by Brandwatch, allows you to get an overview of millions of conversations in real-time, so you can easily:
Identify influencers and thought leaders
Understand brand perception
Get alerts when your mentions spike
If you're already using social listening tools, Hootsuite can easily integrate into Talkwalker, Brandwatch and other similar platforms.
Hootsuite has a limited free plan with 3 social profiles, 30 scheduled messages and one user. Two of their paid plans also come with a 30-day free trial, so you can give this service a try before committing to a subscription.