Embargoed press releases have been heavily criticized by many people. Many journalists and PR professionals have strongly negative opinions about them for a variety of different reasons. In this post, we will explore what an embargoed press release is, how it works and why they are so controversial in the PR community.
What is An Embargoed Press Release?
An embargoed press release is a media release or announcement that is shared with a media company prior to a scheduled publishing date.
This type of press release is commonly used by PR professionals to give journalists enough time to prep the details of a story before it's made public news. It's the details and relevance of a specific story or news announcements before it gets released to the general public.
Why are Embargoed Press Releases Used?
It's worth noting that in today's world there are fewer and fewer embargoed press releases that occur. Part of the reason is due to the digital nature of news in today's world. Twenty years ago, embargoes were more common and relevant for journalists and PR firms.
Below are some of the reasons embargoed press releases are used:
If the news announcement is considered very complex and requires careful explanation
The information contained in the news announcement is critical information that can impact the safety of people
If there are business-related reasons why the underlying details can't be directly shared with the public ( mergers and acquisitions of publicly-traded companies is an example)
Medical journals making health announcements (COVID related news releases)
Government officials announcing policy decisions
Another reason journalists are tipped off in advance is to give them the necessary time to put together a cohesive press release that is accurate. With today's high-speed news dependent on clickbait to bring in visitors, press releases can often time be extremely misleading and inaccurate. A big reason for this is due to information leaks
Elements of an Embargoed Press Release
Regular press releases are usually titled for "immediate release", while embargoes will have a specified publication date and are usually marked as "not for immediate release".  They will also be handed off to a specific journalist in the PR firm who is responsible for collecting and summarizing the information correctly.
Although embargoed press releases are considered highly confidential, there are plenty of information leaks that occur in the PR world.
Sample Embargoed Press Release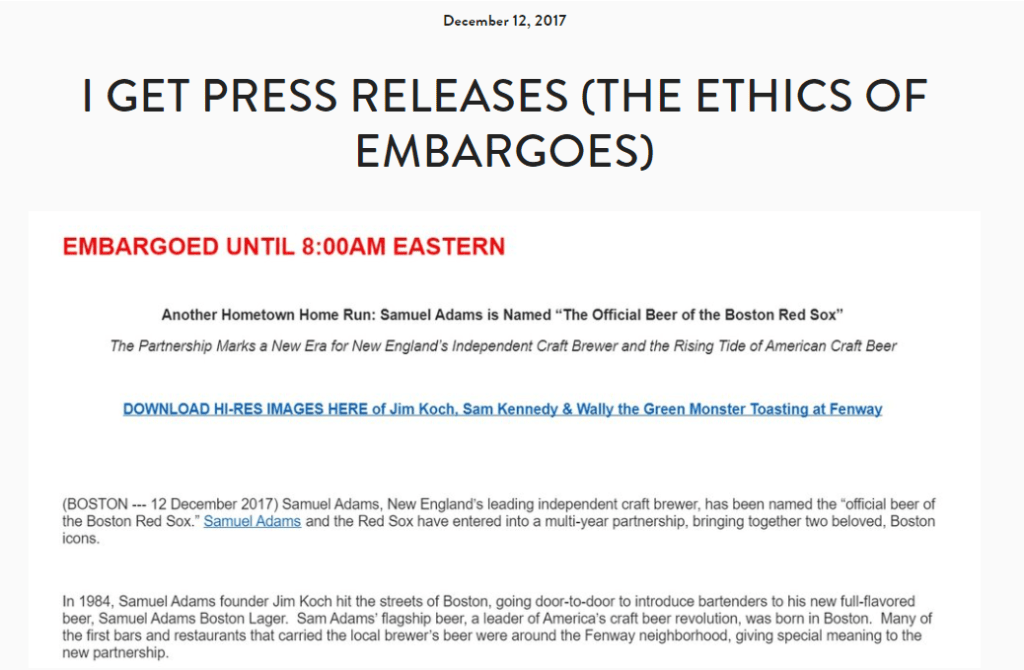 Why Embargoed Press Releases Are Considered Controversial?
One of the many reasons that embargoed press releases are controversial is because they are considered fragile. The reason being is that journalists can break the embargo before the agreed-upon date of publication. This can seriously impact the integrity and work of the journalists.
Another reason is that embargoes don't have any sort of protection in place. There's a lack of consequence and repercussion if a journalist breaks the embargo agreement, which is very common in the PR world. If a source is found to break an embargo, the extent of the punishment is simply restricted access to future information. They are mainly considered "gentlemen's agreements" and there are usually no official contracts in place for them.
How Do You Write an Embargoed Press Release?
An embargoed press release is written the same way as a regular press release with a few distinctions. You write the embargo date and time at the top of the press release along with your name and PR firm.
Again, it's important to understand that not all journalists will respect the embargo agreement and won't give you a final brief to look over if you're the one giving them the details of the piece. If the news is urgent or juicy gossip, there's a high likelihood that they will release it prior to the stated date.
Benefits of Embargoed Press Release
Although they are controversial, embargoed press releases do provide some benefits.
Gives organizations the necessary time to ensure everything in the press release is accurate and represents the news that they want to make
Allows sensitive information to be release at a better time
Can help build trust and establish a better working relationship with a news source.
Conclusion
For the most part, embargoes are used in very specific cases and are getting used less and less in today's world. If you decide to do an embargo for your company, product, or whatever news it may be, make sure that you have a clear understanding with the PR company.