On Wednesday, March 16th, Google announced that it will be ending Universal Analytics effective July 1, 2023. All data processing from Universal Analytics 360 will officially commence on October 1, 2023.
What Is Going to Happen?
Universal Analytics is the standard version of Google Analytics for monitoring website traffic that most people are used to before the release of GA4.
Google will be ending Universal Analytics on July 1, 2023, and allowing an extra 3 months of data processing and migration to GA4 for website owners.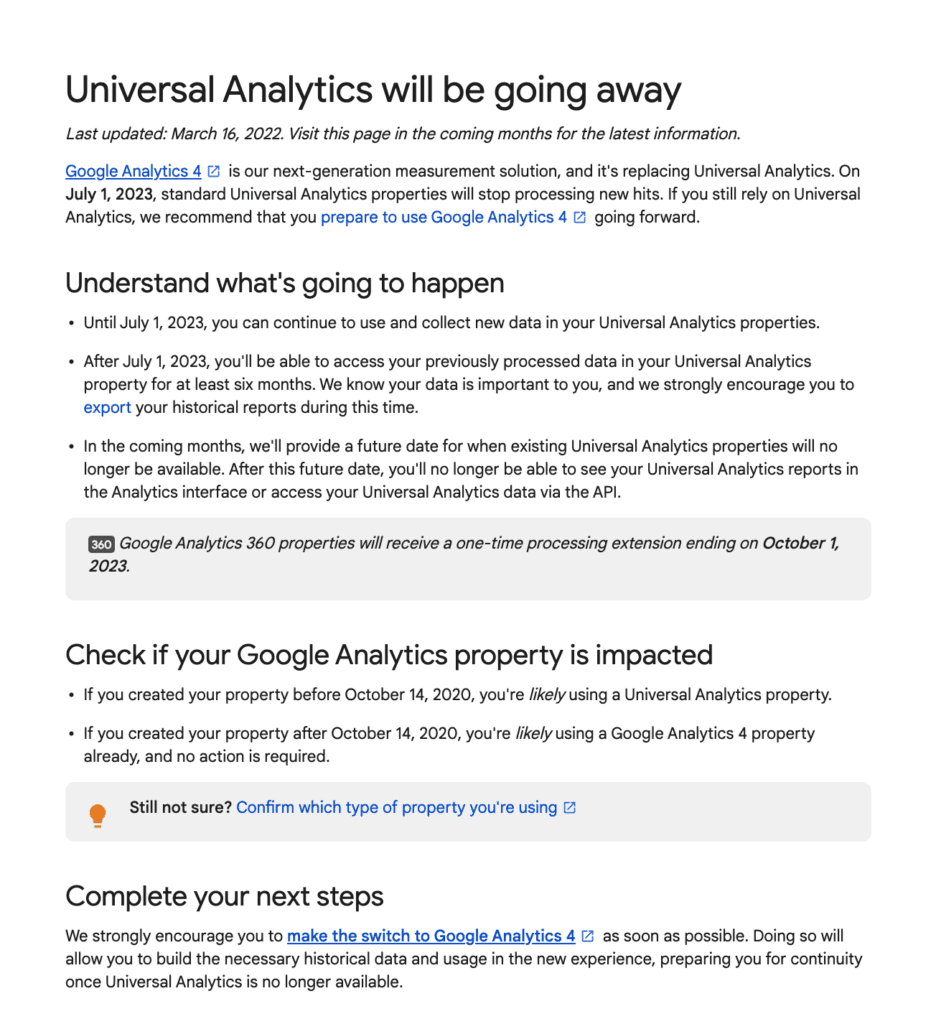 Why is Google Switching To Google Analytics G4
The main reason Google is making the permanent switch to GA4 is to improve its measuring and tracking standards to allow websites to get better analytics.
Two and a half years ago, we introduced Google Analytics 4 to address evolving measurement standards and help businesses succeed. Today, we're announcing that we'll begin sunsetting Universal Analytics next year.

Learn more about what to expect → https://t.co/QPGatOiZLB pic.twitter.com/zRVkds6hir— Google Analytics (@googleanalytics) March 16, 2022
This is only positive news for website owners who want to have a deeper look into their website's traffic and performance metrics. It will push website owners to GA4 which can offer more granular insight.
Google Analytics 4 Improvements and Differences
Google Analytics 4 operates across different platforms
Does not rely exclusively on cookies
GA4 offers additional privacy protection over Universal Analytics which is becoming more important for user experience.
Comprehensive and granular controls for data collection and usage
GA4 will no longer store IP addresses
Expanded integrations with other Google products like Google Ads and Google Tag Manager
How to Prepare as a Website Owner
As a website owner, if you haven't gotten around to setting up GA4, now is the time to consider doing so. Although the change won't be effective for well over a year, SEO pros and website owners are advised to make the switch soon.
Making the switch to GA4 sooner will allow users to migrate more data that can be analyzed immediately for better insights.
If you want you're interested in finding out how to transition your website to GA4, check out our post below.
Recommended Reading: Google Analytics G4: Everything You Need to Know