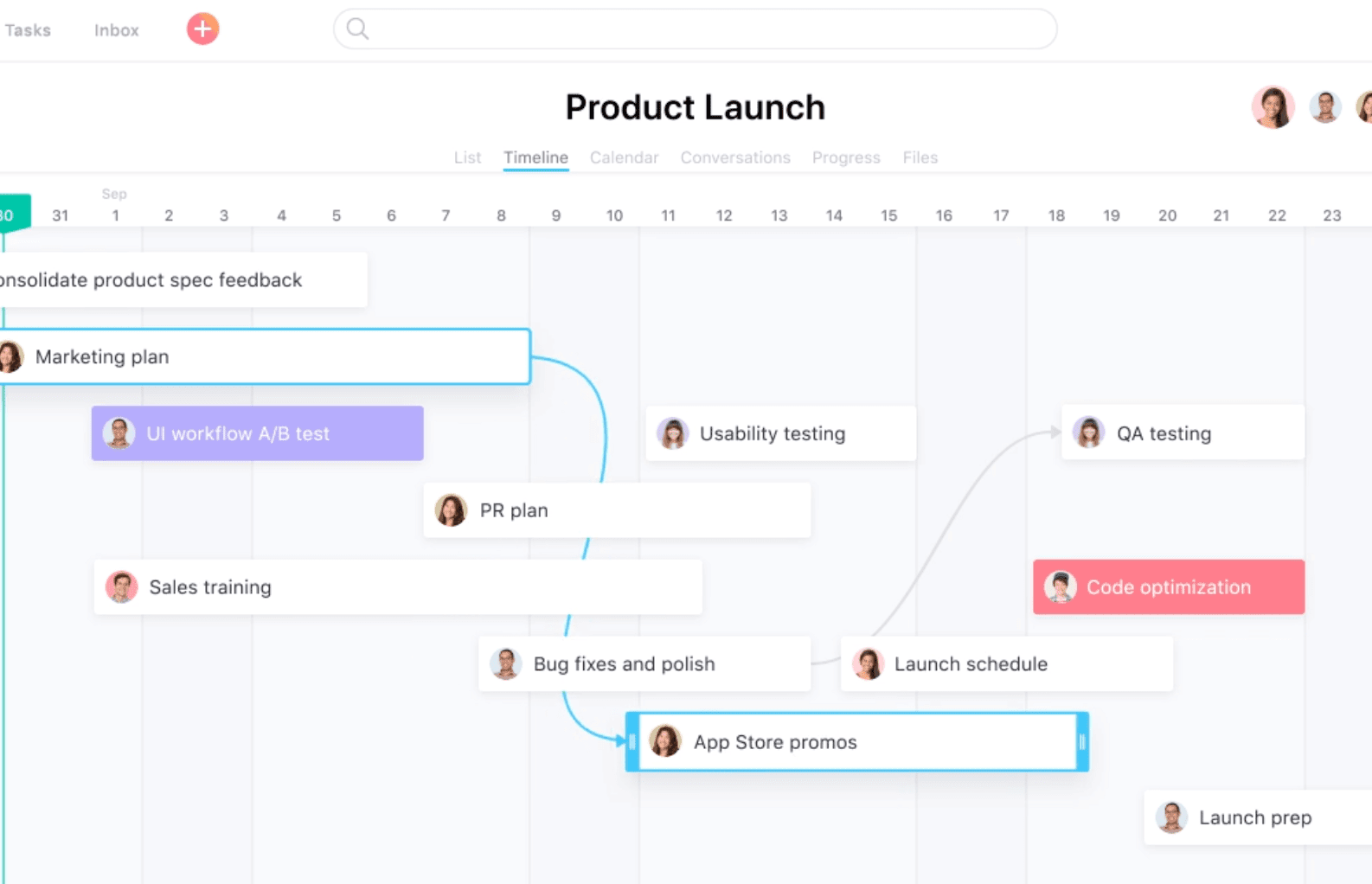 ---
Similar Tools
---
Asana Features
There's a lot to be considered when running a business in the modern era. Whether a smaller, growing outfit or an established company, many factors come into play. Sales and marketing, HR and day to day management of the business are part and parcel of the road to success, and so is a useful and effective business management software package.
Asana is a popular solution that offers a comprehensive selection of features designed to streamline many areas of day to day, to help with marketing and to improve lead generation. It is similar to many other such packages yet has its own unique attributes that make it worth a second look.
For the growing business, the fact that Asana can easily be scaled to individual needs is a bonus, and it is very versatile in many areas. Before we check out some of the features of Asana, here's a quick look at how it works and why you might need it.
Pros
Simple to use
Free to get started
Allows you to view the workload of your team
Cons
Lacks budget management
Lacks calendar management
How Asana Works
Asana is essentially split into two categories of operation – Team and Workflow. It has been popular recently thanks to its efficient method of helping remote teams operate successfully. For many companies, having employees work from home has been an eye-opener, and something that may change the way some operations are performed in the future.
This is very much where tools such as Asana come to the fore, as they enable changes to be made in various areas of business with little in the way of disruption. Let's talk in more detail about what Asana can do, and we'll begin with the Teams features.
Asana for Teams
One factor to consider is that Asana is designed to work with Agile development processes, so you can design and implement sprints and so forth with ease. If you work with Agile, then this should give Asana a step up over rivals which may not be so optimized. For marketing, Asana allows you to implement full campaigns with effective tracking of leads, and plan launches with many communications channels available.
Asana is compatible and can be integrated with all the major social media platforms, enabling the use of ads on Google, on Facebook and more, and offers a streamlined product sales and shipping portal. Teams can communicate seamlessly and the details of all actions are arranged so that all who need access can see precisely what is happening at any given time, without the need to scroll through many emails or messages to get to the information that is relevant.
The Teams section of Asana will appeal to businesses who are up to speed with digital marketing and promotion, who operate in Agile and who may be growing at a fast rate.
Asana for Workflow
The most comprehensive aspects of Asana come within this sector, where the ability to actively manage teams is impressive. Asana can be used to create and share workflows and enables all members of a team – and others with vested interest – to see what is going on, where and who is involved. It's a very thorough tracking and workflow management system with some essential features.
Asana can be used to plan entire projects and people can also add individual tasks where needed, and when used with a calendar is useful for keeping up to date with workforce absences and planned holidays. As a time management tool Asana is also effective and can be used as a productivity planner and to manage priorities.
As mentioned already, where Asana is of particular interest is in the remote working possibilities. This has been one of the most popular of all functions of late and is set to be investigated by many potential users now that the effectiveness of home and remote working is more obvious. The connectivity options for remote working are effective, and using Asana will help people work together despite distance between locations.
What do we think of Asana overall?
Conclusion
If you are looking for a well-designed and effective business management tool that is in tune with the digital age and working practices of the era, then Asana is certainly one to consider. By incorporating specific features designed for Agile Asana is up to date and forward-thinking, and growing businesses may find it is suitably versatile and can be easily scaled for future changes.
The Basic version of Asana will work well for start ups and smaller businesses, but it is recommended you check out the Premium and Business options which are sensibly priced and offer far greater capability.