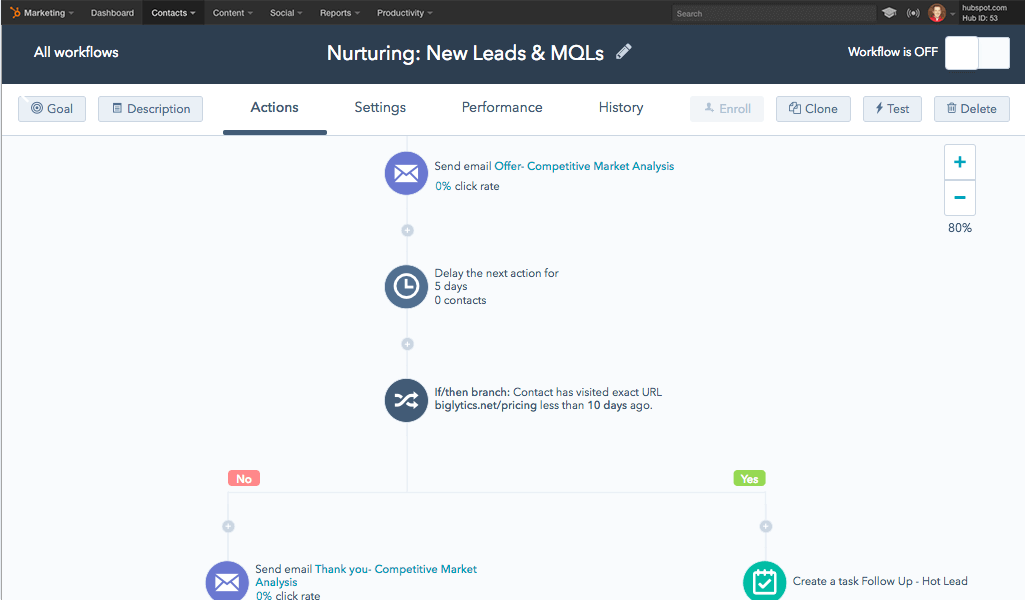 ---
Similar Tools
---
Marketing Hub from Hubspot
Online marketing and its effectiveness can play a large part in the success – or otherwise – of a business. The digital world is a fast-moving one and needs careful attention to keep up with trends that influence consumers. This is why any form of marketing automation is welcome. A well-designed automated marketing software package can make a significant difference and will save you the time needed to attend to daily routines. Below, we are looking at one of the most popular such packages, Marketing Hub from Hubspot.
If you are looking for the Free CRM solution from Hubspot; see more info here.
Pros
Thought Leader in Marketing Automation
Great complete tool for marketers
Great resource center and free education
Cons
Price can be too high for SMB companies
Lot of products /features; can be overwhelming
What is Marketing Hub?
Marketing Hub is a marketing automation package from Hubspot, who are highly regarded in this industry. It is suitable for all business from small to large, across all areas of commerce and industry, and is designed to help companies to grow and sustain their customer base by way of automated marketing funnels, lead generation tools and traffic growth. It does so using simple to use systems and functions, some of which are described below.
Drag and Drop Editing
Not everybody is up to speed with coding, and the Marketing Hub editing tool takes care of that. It's a simple drag and drop tool that allows you to create polished, relevant and original content – just what Google and the search engines want – that is engaging for your readers. You can use it to create landing pages, blog entries, even emails, and it's effortless to learn. Publishing your content is also very simple, so you get the advantage of higher lead generation straight away.
SEO Traffic Targeting
Search engine optimisation (SEO) is an essential element of digital marketing, as it gives your website greater exposure on the search engines, and increases your rankings. With Marketing Hub, you can keep up to date with real-time SEO suggestions based on current performance analysis, as well as utilising your social media channels correctly and creating effective ads. With the drag and drop editing tool, you can also devise effective call to action passages, inviting your leads to become customers quickly and easily. Marketing Hub can also help by personalising messaging with regard to source, location and much more, and remember this is all without the need for coding.
Interaction and Lead Conversion
21st-century consumers expect interaction with product and service providers on a level far more significant than ever before. To help you achieve this, Marketing Hub has a set of tools that enable you to devise email conversations that are personalised to the consumer's journey with your product or service, with each step on the path to a purchase triggered automatically. Once you've set it all up, which is typically easy, you just let Marketing Hub do the rest and see those leads become customers in no time.
Tracking and Reporting
By linking Marketing Hub with Hubspot CRM, you have a powerful tool that can track, analyse and report on all transactions and interactions with consumers, allowing you to further streamline your marketing and sales to suit targeted customers. This can also be used to manage the areas that your teams or individuals are assigned to deal with, and you can see what is going on, and where, at any point. This is an effective and impressive part of the Marketing Hub package and one that will help grow organically.
Social Media ROI
As the Marketing Hub tool helps use your social media platforms to the most effective levels, you can keep track of your ROI on the likes of Facebook, Instagram, LinkedIn and Google, and see where your budget is best spent on the highest performing paid ads. The monitoring is done automatically on request by Marketing Hub and is just one of many features that help you plan your marketing spend more cost-effectively.
Conclusion
A good marketing automation package is a key part of getting a business noticed online. Whether yours is a small business looking to expand or an established outfit that needs to streamline its marketing routines, Marketing Hub will undoubtedly help. The features are prioritised towards SEO and lead generation, and also towards cutting down on time spent on processes that can easily be automated. Furthermore, the editing tool – with its simple to use drag and drop function – means you can create great-looking landing pages, and it is very useful for blog content too.
Overall, Marketing Hub is a simple to use and effective online marketing tool that comes with a set of useful and effective, easy to use functions. Which will be attractive to businesses of all kinds that are looking to strengthen there place in the online market.