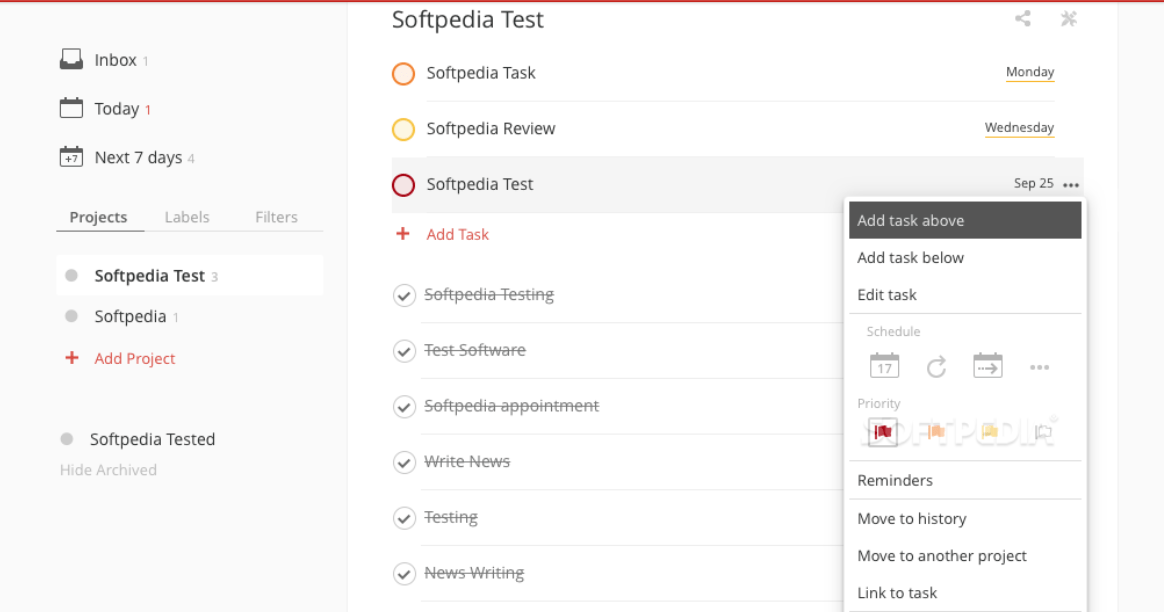 ---
Similar Tools
---
Todoist Features
It's fair to say that the world has changed a great deal in recent years, in the way we do business as well as in general daily life. We live in what many refer to as the Digital Age. Communication is no longer by telegraph wires but by smartphone, and there's a lot to think about when it comes to running a business in the modern world.
While it's undoubtedly so that life is a lot busier now, it's also been made easier too, and when it comes to keeping things organised, we can thank tools such as Todoist which provide further help. A clever software package designed to help with day to day organisation – both in the workplace and on a personal level – Todoist is a good choice for growing businesses that are looking for time-saving tools.
What is Todoist and what can it do for you? We'll talk about some of its features below, but first let's have a brief look at how it works.
Pros
Free plan for up to 80 projects
Easy to use
Simple collaboration between team members
Cons
Free version lacks a lot of crucial features
Would have to go to paid to really benefit from the tool
How Todoist Works
The general idea behind Todoist is that you can ensure that you have everything accounted for and organised. Often, it's the smaller, essential items that take time to sort out, and with Todoist these can be dealt with efficiently.
In effect, Todoist is a digital and interactive 'To Do' list, one that covers all aspects of working and daily life, and can be used to increase productivity by reducing the time spent in areas that demand your time when you could be better utilised elsewhere – and this applies also to other members of your workforce. Let's talk about Todoist main features.
7 Day Overview
The central core of Todoist involves a simple 7-day overview into which all your appointments can be input. Also, you can add memos and other information such as reminders of upcoming meetings, appointments, and anything that needs to be done – and it can be done for home and for work purposes. By presenting the information in a very clear and simple to read calendar type image you can see at a glance what is happening and also make amendments and additions with a quick entry system.  In simple terms, Todoist acts as a very effective and simple to amend digital diary system.
Organize and Prioritize
Todoist can also be used to prioritize tasks. The system is similar to the overview above and involves using labels that place tasks or appointments in order of importance. This is very simple to use and a neat method of organizing a day – or indeed several days. If you have recurring tasks or appointments – or any other event – then Todoist can keep a record of these and remind you of them when upcoming. Notifications can be delivered in several different ways.
The workload can be scheduled into subtasks, so you can tick off the parts you have done as you do them. This is an area of Todoist that will help in all areas of life and is one that is very welcome in a fast-moving business environment.
Sharing and Delegating
Among the most useful of features that Todoist provides is that of collaboration. All members of your team who are on Todoist can share the information that is current, and you can delegate tasks to the right people by simple click and notification. They will get the message instantly and the task will be added to their Todoist schedule ready for action. This can be done remotely via smartphone so Todoist is perfect for remote or home working purposes. Users can add comments as and when they wish and also keep up with progress via Todoist in real time, so everyone knows where things stand.
Todoist can be integrated with a wide range of business tools that are most likely to be used by you and your team, making this a versatile and usable package that will be of interest to many users. What do we think of Todoist overall?
Conclusion
While the basic premise of Todoist is very simple – it is by and large a diary system – where it scores is in its ability to structure and share tasks quickly and easily, thereby making life easier and saving time for all involved. It's neatly presented on the screen and offers at a glance viewing of the current situation and is excellent for delegating tasks. There may be more complex and versatile business management tools available, but Todoist is a good choice for keeping those simple to do lists up to date and acted upon in good time.