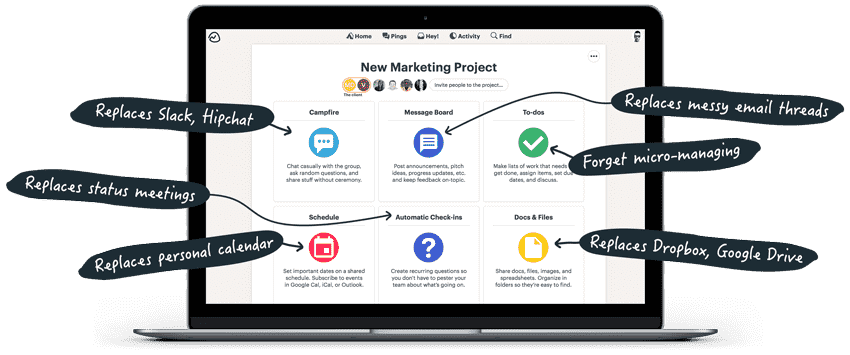 ---
Similar Tools
---
Basecamp Features
Basecamp is a robust project management tool that helps you get organized and ensure that your projects are completed on time. Real-time collaboration, scheduling and organization tools help your team stay on track. Split work into projects, assign team members to tasks and check in to make sure that tasks are being completed on time.
Basecamp offers a wide range of features, but three standout tools include:
Pros
One tool for the entire company
Get organized
Free Tier available
Cons
No mechanism to assign a priority level to jobs
Message Board and Group Chat
Basecamp makes it easy to keep the conversation going. Keep messages about a single topic on one page, so you don't have to dig through messages and emails to find what you're looking for. Search tools further help you find what you need in your messages and files.
With this platform, you can:
Customize with your own post types
React to messages and comments
Embed files or images
Customize how you want to share your messages
Basecamp also offers real-time group chat features, called Campfires. Chatting allows you to ask other team members questions and get answers in real-time and without having to use a separate app.
Every project has its own chat room that all team members can access. You can use @mentions to get the attention of one team member for a faster response. Chat room users can attach videos, sounds and use emojis to liven up the conversation. You can also attach quotes, files and code samples for easy collaboration.
In addition to these tools, you can also use Basecamp's Check-in Questions tool. You can ask questions daily, weekly or monthly. Questions can apply to the entire team or specific people. You can also choose which time of day you want to ask questions and comment on answers individually.
Questions save time. For example, you can ask everyone what they worked on today to get quick replies from all relevant parties.
Group chats allow the entire team to get in on the conversation, but you can also send direct messages, called Pings. This allows you to have private conversations with team members. And like in group chat, you can attach files, and use videos, sounds and emojis.
Share Docs and Files
Projects can be complicated. You may have dozens of files that you need to keep track of during the course of each project you take on. With Basecamp, you can share files, documents and images with the click of a button and in one centralized place.
Every team member on the project will have access to these files for easy collaboration and better efficiency. No longer will team members have to track each other down to get a hold of a file they need. They know exactly where to find every file associated with the project.
Basecamp makes it easy to upload and share files. Just drag and drop into the platform. You can also link up Google Docs and discuss these files in real-time through the Basecamp platform. Each file will have a complete version history. You can even color-code files and reorder them to keep your projects organized.
Having the ability to upload and share files quickly and easily will help keep your projects on track to reach their deadlines.
Create To-Do Lists and Schedules
To keep projects running smoothly, Basecamp allows you to create to-do lists and schedules with a few clicks of a button. Your to-do lists can include everything that you need to do for the project. You can assign tasks to team members and set deadlines.
If a task is overdue, Basecamp will follow up to see where you're at. When creating to-do lists, you can attach files and add notes, assign tasks to one or more people, comment on lists and tasks, and also create Hill Charts to track progress on projects.
All projects created in Basecamp also have schedules that display any to-do tasks and events. Anyone assigned to the project can view the schedule, so they know what deadlines are coming up.
With Basecamp's schedule feature, you can:
Add events with dates/date ranges and times
Discuss events on their unique pages
Subscribe using iCal, Google Calendar or Outlook
Add team members, so they can receive alerts when things change
Basecamp offers a free 30-day trial – no credit card required. They charge a flat monthly fee that offers unlimited users, unlimited projects, unlimited clients, 500GB of storage, project templates and more. There's also a personal account option, which is free but has limits.