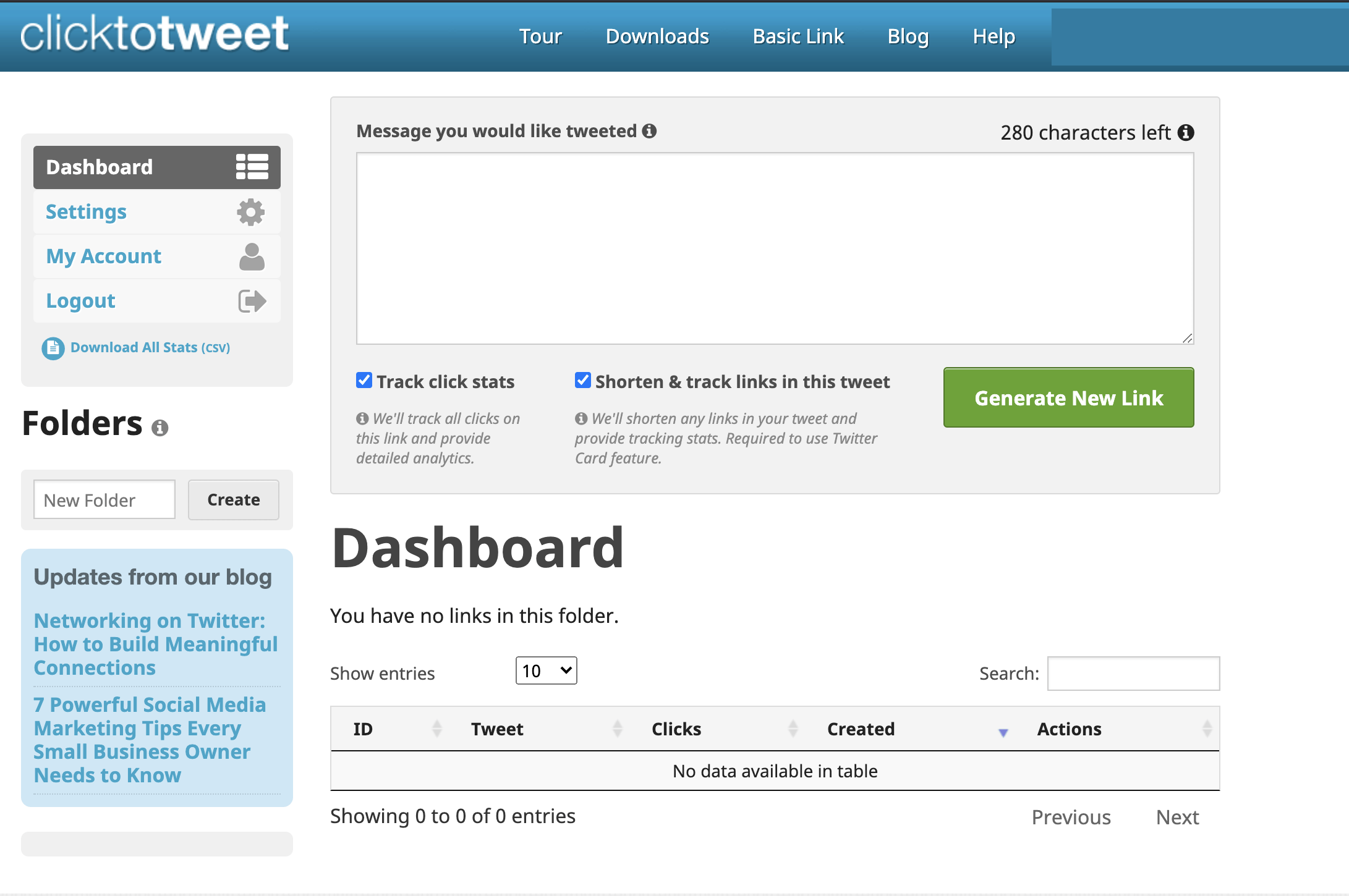 ---
Similar Tools
---
Click To Tweet features
A clever marketing tool that enables simple use of Twitter, Click to Tweet will be of interest to online marketing teams, smaller business looking to spread the word, and perhaps bigger outfits who need to keep track of their performance on Twitter.
Designed to make it easy to get messages on Twitter – one of the most powerful of all the social media platforms – Click to Tweet works by way of creating a dedicated link that is shared to others. They simply click on the link and the message is instantly shared to their Twitter account.
The user follows the link for performance, number of shares, and any other activity that comes by way of the Click to Tweet link. The tool offers several functions, these being:
Dashboard
Link Details
Embed Theme
Twitter Card Support
Suggested Users
Pros
Free plan available
Low pricing when going premium
New Twitter Insights
We will describe the function of each of the above in more detail below. Click to Tweet is a free product.
Dashboard
The Dashboard is where the user has access to all Click to Tweet links that have been created. They can also create folders for specific projects or products, making it easier to bring up certain data. Also accessible are the statistics for each link, plus links can be edited from the Dashboard and shared if required. Easy to use, clear and concise, it is well designed for simplicity.
Link Details
The Link Details feature is where links are created, or updated as needs be. A simple text box is presented into which the message is typed. A preview can be checked for mistakes. The user adds either a plain text link or an image from their site, which can be amended at any time. Once the user is happy with the link, it can be sent to the relevant addresses.
Embed Theme
The Click to Tweet call to action, displayed on a website or blog, benefits from the Embed Theme feature. Using this, users can add a theme to enhance the call to action, and while there are already a great many themes to choose from thousands more are being added. A useful and easy to use feature that adds a personal touch or branding to your call to action.
Twitter Card
A Twitter Card is a useful tool to display on a blog or website, but usually requires coding to get it right. Click to Tweet allows for one of two Twitter Cards – a summary card or a summary card with a large image – to be displayed without coding. Whenever one link is used in a Click to Tweet link, the card will be displayed.
Analytics
The Analytics function allows for displaying all click statistics for each Click to Tweet link in a simple to see format, so the user can see how a link is performing. Any other embedded links in Tweets or messages can also be analysed via this useful and simple to use feature.
Suggested Users
This is an interesting feature that allows anyone who tweets from your Click to Tweet message to become a 'suggested user'. They will be recommended to follow your account and one other that you input into the suggested user box. It's simple to use, effective, and potentially a lead generation tool.
The above are the main features and functions of Click to Tweet, which overall is simple to use and may make a useful addition to a marketing routine. There is plenty of information on the Click to Tweet website that will enhance our brief descriptions of the tool, and we recommend you read through and see what else may be of interest.
Pricing
As we mentioned earlier, Click to Tweet is a free tool that integrates with your Twitter account. Some business users are often wary of free products as nothing is genuinely free! What do we think of Click to Tweet, and is it really free?
Conclusion
Click to Tweet is free, and there are no hidden charges to the download. It is useful in many ways, but only if you use Twitter as a marketing tool. The simple to use editing and message creation function and the simple link creation method add to the ease of use, and we can see Click to Tweet being used by smaller businesses who are looking to improve their brand awareness and online profile. As it costs nothing it is certainly worth running a trial to see if it suits your business needs.