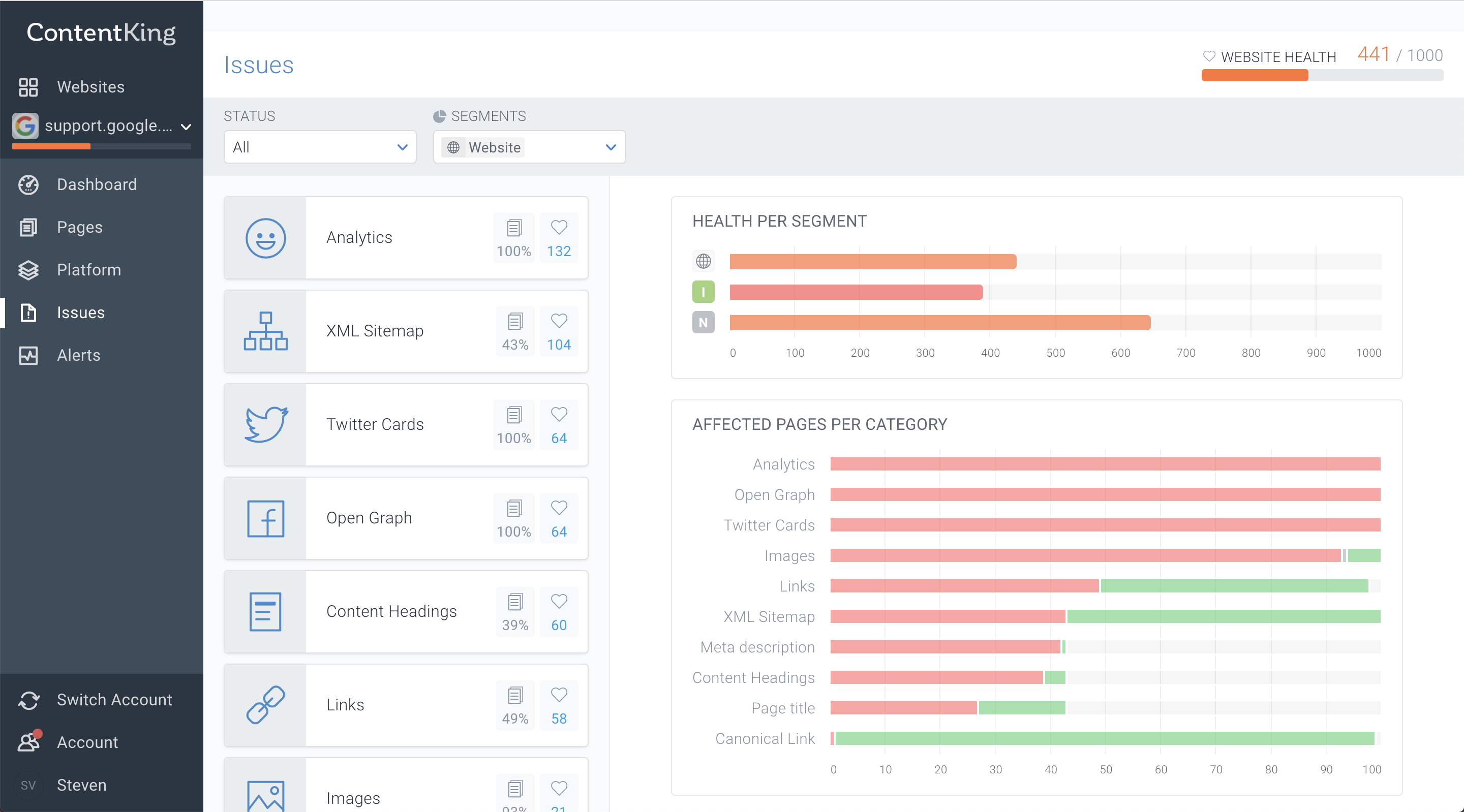 ---
Similar Tools
---
ContentKing Features
ContentKing believes that search engines never sleep, and they're right because algorithm changes don't take a rest. Your competitors are working when you're not, and if you don't keep on track of your rankings, you'll soon find yourself with less and less organic traffic.
ContentKing offers a 14-day free trial that requires no credit card or installation. If you have 20 seconds, you can get started with your site's audit. Feature-rich and trusted by over 2,000 companies, ContentKing offers:
SEO Auditing
SEO Monitoring
SEO Change Tracking
Keeping track of your SEO is going to be more and more critical in the digital marketing world.
Pros
Real-time insights in website Health
Track SEO changes and get alerts for critical issues
Easy to use; Great UX
Cons
No free plan
Google Data Studio API only available from Pro plan
SEO Auditing
Intelligent auditing allows you to understand the signals that matter most and eliminate the audits that don't matter much. Every signal is considered, with 24/7 monitoring that will enable you to see real-time auditing information every time you log into your account.
You'll be able to see all affected pages per category, including audit data on:
Analytics
Canonical links
Content headings
Images
XML sitemaps
Links
Page titles
Meta descriptions
Twitter Cards
Open graph
SEO auditing provides valuable insight into issues and trends over time. The tool, which is coming soon, allows you to see ideas on-website health and issues. You'll be able to see opened and resolved issues. Advanced configuration puts a personal touch on your website's audit.
You have unique goals and metrics you would want to audit. With complete flexibility, you can use ContentKing the way you want. Change the test conditions to your liking and use parameters that make sense for your marketing team.
But what if you don't know or understand all of the material that is presented?
Digital marketing is always changing, and there is a built-in reference that explains what every issue in your audit means. Even the most seasoned marketers need a refresher on critical issues, so the reference material will be an invaluable part of your site's audit.
Of course, you also need a way to filter and report all of the information. Designed to work for small or large-scale sites, ContentKing has advanced filtering and reporting for:
Segments
Page type
Sponsored
Recently added
If you need any help with the terminology used in the tool or above, check out the SEO terms glossary.
Real time SEO Monitoring
Monitoring your SEO allows you to adjust to changes as they happen. The faster you make adjustments, the less traffic and revenue you'll lose. The monitoring offers day and night tracking of:
Broken links
Title changes
Pages becoming non-indexable
Auditing and change tracking is provided in this monitoring, ensuring that you make the changes that will make the most significant impact on your SEO. The audit works quickly, scanning your site for issues before website crawlers can find them.
If you're alerted to issues before a search engine crawls your site, you can make rapid corrections and reduce the risk of your organic rankings being impacted. Alert triggers can be set up to provide alerts via:
Smart monitoring provides information on which pages are most important. Smart heuristics show you a visual representation of which pages are essential, which are less critical, and which have been affected.
Website performance is monitored on a continual loop. ContentKing will monitor your site's performance and scale the audits back to ensure your site's performance isn't impacted. Continuous monitoring allows you to have the information you need to make fast, smart decisions for your site before search engines can find issues with your website.
ContentKing is the only SEO tool out there that'll give you real-time insight in the state of your website. When you are making lots of changes to your site, it is a great way to keep getting updates. It sends alerts when something is off and when connecting it to Google Search Console and Google Analytics it even gives deeper SEO insights.
SEO Change Tracking
Change tracking works well with the features we've previously mentioned. When changes are made on your site, you'll be notified. Some changes you may have made on purpose, while others may have been a mistake.
You'll be alerted to SEO changes on:
Added pages
Removed pages
Changes to a page
There's a complete history of each page along with the ability to view the full history of the pages. Changes that are in the history include:
Title
Description
Canonical link
Hreflang
Much more
Even full HTML screenshots are taken so that you have a visual history of the site. Robots.txt also has its own history along with monitoring. The file, while it may seem insignificant at first, allows or disallows crawlers to index your site.
If changes are made to the file, you'll know so that you can verify the changes and never have to worry about your site being removed from a search index.
You can also have change tracking on custom elements so that you know when key changes are made that are important to you. Changes may be a change in the author of a page or the date of the last page update.
ContentKing's robust monitoring and auditing suite provides powerful tools every site owner needs to stay one step ahead of search engines.
Alerts in case of trouble
In case of high-impact issues and changes, ContentKing will send alerts (email and/or Slack, whatever your prefer). You can customize the settings for these alerts to adjust sensitivity and to exclude alerts for certain changes and/or issues to avoid getting too many. When you are highly reliant on organic traffic from the Search Engines, Contentking will help you to quickly fix issues so you don't lose out on traffic.