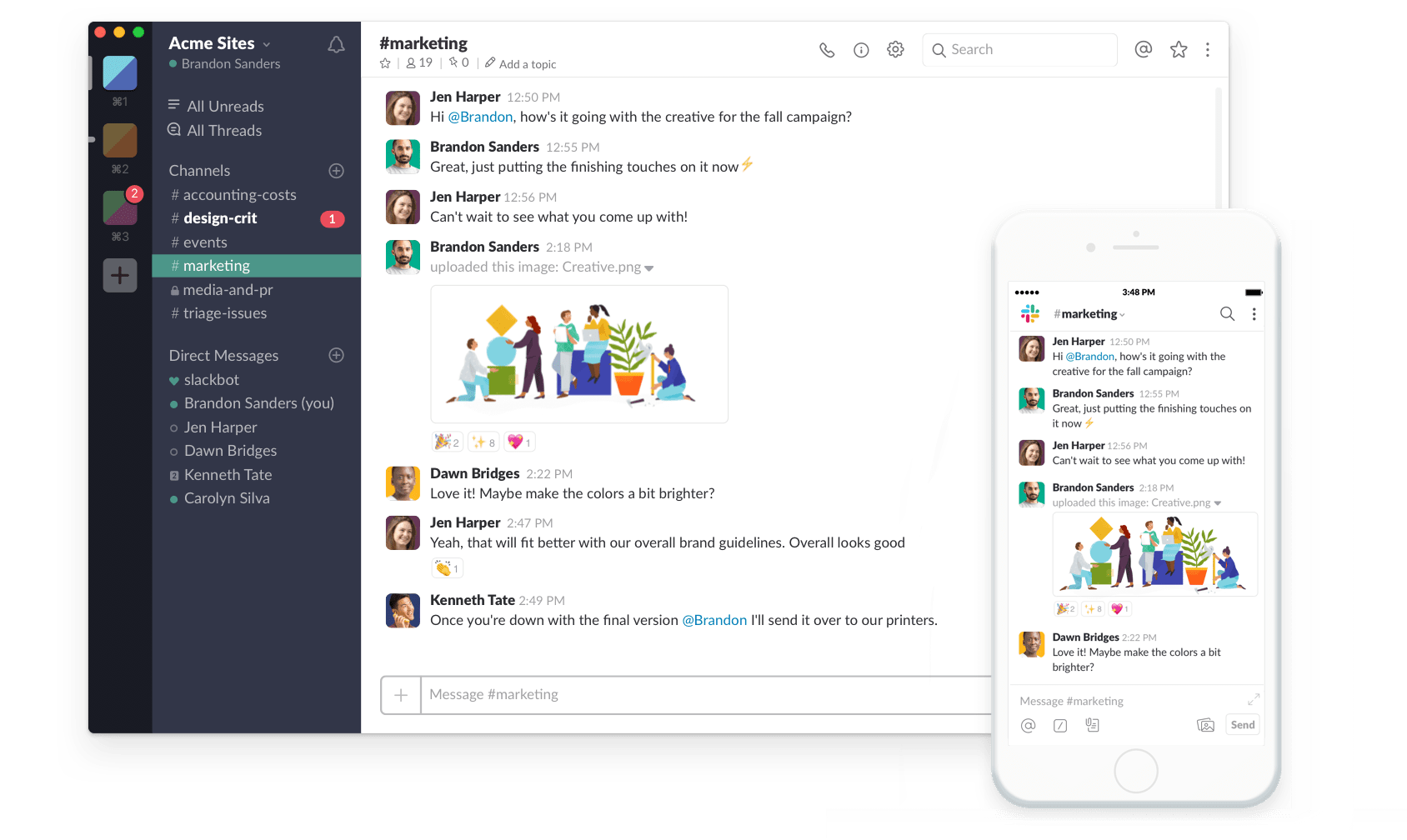 ---
Similar Tools
---
Slack Features
Communication is a major part of modern business., yet it can get complicated. For example, you may market your products or services through different channels; perhaps you use email for targeted campaigns, Google Ads for promotion, and your social media platforms for greater reach. These are just a few and you will, of course, optimize each to allow for conversations with leads through messaging services and email responses.
You could invest in a solution that brings everything together in one big in-box. That's a good idea for a smaller company, and there are many such solutions available. But what happens when your company starts on the growth path, and enquiries become more numerous? That's where a proven and popular communication and collaboration software package such as Slack can make all the difference.
Before we talk about its features in more detail, let's have a quick look at how Slack works and what its main aims are.
Pros
Free plan available
Great way to collaborate with your (international) team
Calling is also available
Cons
 Chat can become overwhelming when your company grows
Notifications can become a distraction
How Slack Works
The main aim behind Slack is to overcome one of the basic problems with the modern methods of business communication – overloading. If you are communicating by email, for example, you need to keep up with all of the email trails regarding a particular subject, and that can mean sifting through a great number of emails, many of which are not of interest.
Furthermore, it's easy to miss part of a conversation – or indeed to be erroneously left out – which leaves a gap in your knowledge about a project and its progress. Slack can help here by providing a means of ensuring that things are compartmentalised efficiently, so let's talk about how it does this.
Slack Channels
The major element involved in Slack is that of Channels. These are the very bones of the system and are designed very cleverly to enable easier collaboration and seamless, real time updating of what is happening with a particular project. Rather than flicking over emails to find the ones relevant to the subject you are looking for, all communication regards that project is put into a Channel.
Channels are created by the user – perhaps by a project manager, for example – and are in effect a file where everything regarding the project goes. So, if you want to see the latest conversations or milestones that have been going on or reached, you open the Channel and it's all there. Everyone with access to the Channel can see the same information – it's all in real time – so all who need to know are always in the loop.
Channels can be Public – whereby everyone in the company can have a look at what is going on, perhaps to answer an enquiry or complete a report – or they can be Private. With the latter, only named or authorized persons can access the Channel, so you can work on projects that are not yet in the public domain.
Channels can be open not only to the workgroups who are associated with them but, should you wish, also to customers who you might want to keep up to date, or partners, agencies or any third parties that need to be kept informed of the latest developments or involved in decisions. Anything can happen in a channel – you can arrange meetings, make suggestions, sign off approvals – and as it's all selected in one place, it makes life a lot easier.
Slack is a tool that is aimed at increasing productivity by enabling more efficient use of time in terms of communication and collaboration, and while there are further features we could get into detail about, it is Channels that really stands out. It should be noted that Slack is an extremely popular tool, it has useful analytical functions that are also easy to use, and it's available in three different packages, each of which is sensibly priced. What do we think of Slack overall?
Conclusion
The complexities of messaging, email and overloading information are among the main problems experienced by businesses of all kinds, especially those that are rapidly gaining more business and growing internally. The time you spend checking your emails will mount up to a proportion of your working day that – when you think about it – is far too much time spent.
Slack claims to replace email, and in many ways, it achieves that by way of the clever and simple Channels function, which is the very heart of the solution. By bringing everything into one place – but without creating a massively full inbox – Slack helps you save time, and we recommend you check out the different pricing packages in more detail.