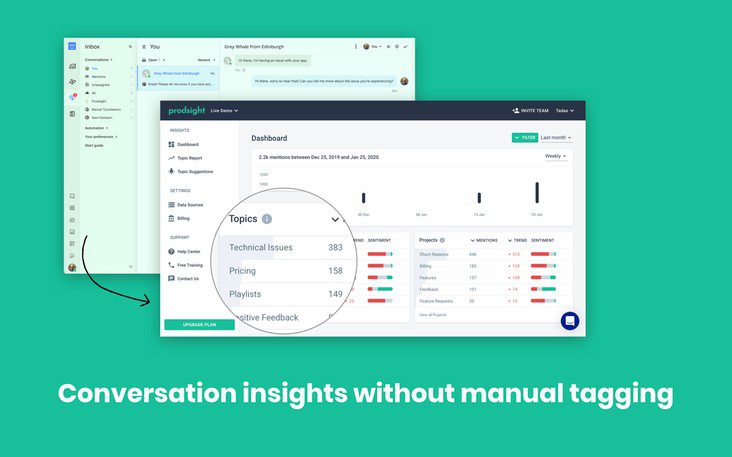 ---
Similar Tools
---
Prodsight Review
There's an oft quoted saying that goes 'the customer is always right'. Of course, it's not the case as customers can be wrong, but they are a very useful barometer of the potential success of a product, brand and business. Knowing what your customers like and don't like about your business or product is important, as it allows you to analyse where changes need to be made. 
Prodsight is a customer feedback intelligence tool that gives in-depth insight into customer responses from support tickets to reviews. Below we will look at what it does, how it does it, and the benefits of Prodsight to your business. 
Pros
Number of Integrations
Starts of relative low in pricing
Free trial
Cons
Pricing can increase quickly
Hard to prove ROI for the tool
What is Prodsight? 
Prodsight is a tool that is designed to centralize all of your customer responses, analyse them and take away the information you need. It covers all responses including feedback from experience, support tickets raised, surveys, complaints and any other possible customer interaction. 
Integrated with your CRM system – it can handle all the popular ones – and many store and feedback platforms – Prodsight gives you real time data that is of use when streamlining marketing, ensuring customer service is of an acceptable quality, and growing a business. 
Centralized Feedback 
Among the many interesting and usable features of Prodsight is the ability to bring all customer feedback into one place. This allows for real time data to be viewed quickly and accurate analysis to be made. Not only does Prodsight bring in feedback from your website, from support tickets and from reviews, it also accesses popular tools that you will use such as SurveyMonkey, Zendesk, AppStore, Trustpilot and many more, giving you a broader view of customer behaviour and feedback. 
All of the integrated tools can use auto-tagging to bring in data to the Prodsight platform, and an easy-to-use dashboard means producing the required reports is easy, versatile and of great use when checking the performance of marketing, of your brand and of how your team are performing. 
Topic Analysis 
Prodsight can be personalized to look at particular topics. For example, you may want to create a topic on cancellations and analyse the reasons people have not continued as a customer. You might wish to see if there is any correlation between complaints from customers so you can find areas that need immediate attention. Other topics may include sales, reviews, survey results, and many more that you might need to look at in detail.
Additionally, the Prodsight tool uses AI to discover topics. It does this by constantly scanning the conversations your customers are having with team members and on many platforms. Those subjects that repeat and come up often will be flagged to you as important for analysis. You may find repeated mention of pricing being high, for example, or of problems with promo codes and other areas of your site. Whatever the frequent topic may be the Prodsight AI will pick it up and notify you.
Also, should you wish to create your own topics for analysis you can add subtopics. Examples may be within the topic of 'complaints' you could add subtopics of 'product' and 'service' to get an idea of the most often-seen complaints from your customers. 
In this area Prodsight is very strong and will provide useful and actionable data across the board.
Integrations
Prodsight can integrate with your CRM for ease of use, and also with platforms such as those we mentioned earlier. By integrating with popular platforms such as Google Sheets and Trustpilot you can bring data in from a wide variety of sources for a very broad and detailed analysis of your customer's current and historical stance on your product, and as it is mainly automated time is saved on collecting data. 
Pricing and Final Word
There is no doubt that Prodsight is a useful and innovative tool as it gives a genuine analysis of customer insight and feeling. This can be invaluable to growing brands that need to ensure they are providing the service and products that the consumer expects. The Prodsight package is available in three price brackets.
'Startup' is the basic package and is aimed at new and smaller businesses looking for a place in the market. It allows for integration with 2 platforms, at 2000 items per month, and for use by a team of up to 5. The cost is a very reasonable $100 per month.
'Pro' is $1000 per month and allows for integration with 5 platforms and 20,000 integrations per month with as many as 20 users. The 'Enterprise' option is customized to the client's requirements and can offer endless integrations, items and users, and is price on request.