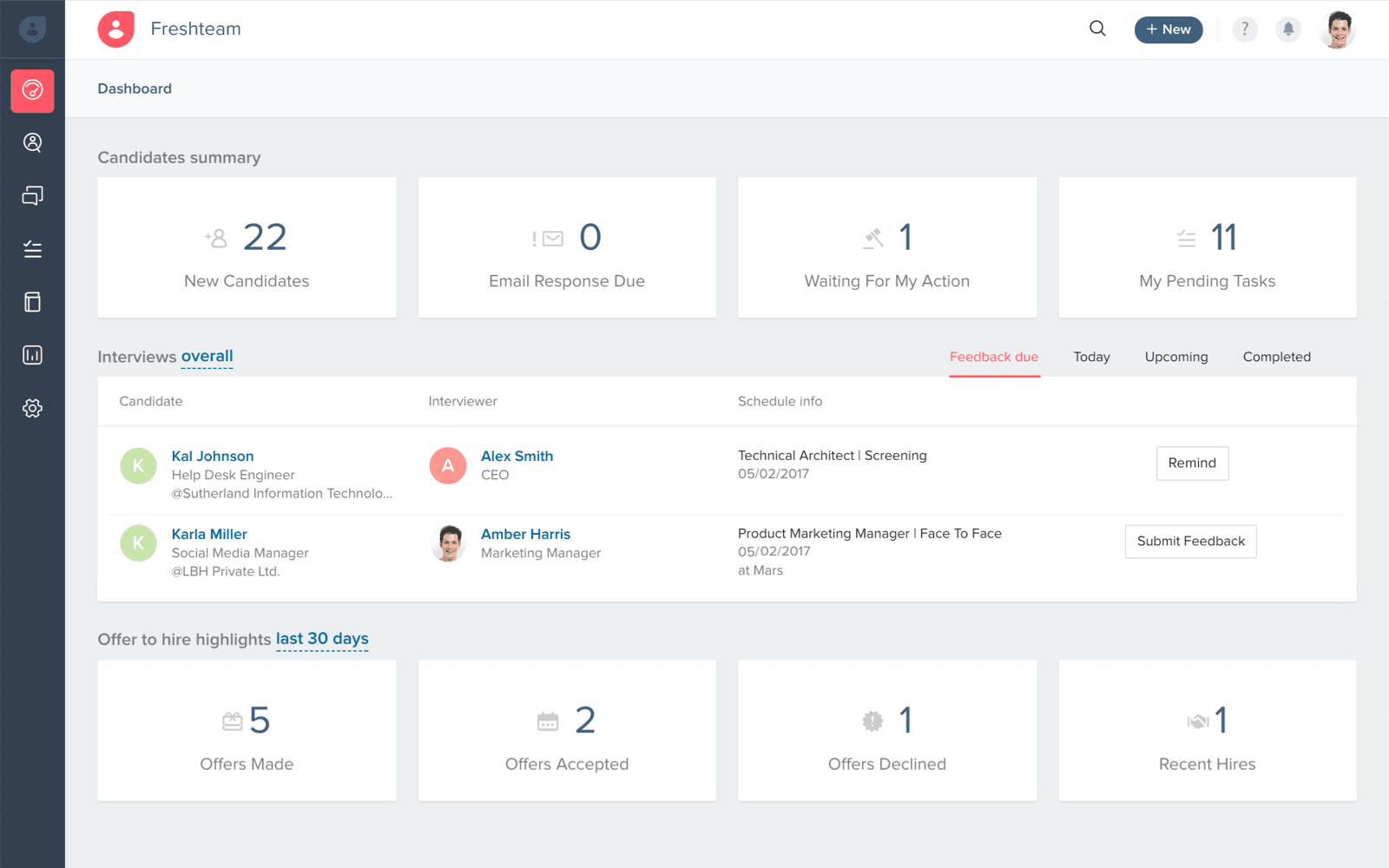 ---
Similar Tools
---
Freshteam Features
The modern business operates in a quite different way to those of even ten years ago. We are now firmly ensconced in the digital age, where computer networks and software are part of the day to day running of even the smallest of companies. No matter the industry you are in, your Human Resources department will be among the hardest worked.
HR is a business unto itself, especially where growing companies are concerned. If you frequently launch recruitment drives you will be more than aware of the sheer numbers of applications and enquiries your team has to deal with, and how hard it is to keep abreast to keep abreast of the situation.
This is where Freshteam can help. A comprehensive HR software management package, Freshteam offers a range of functions that can handle all aspects of recruitment and staff management and is easy to install and use. We'll look at some of the main features below, but first a bit more about Freshteam and how it works.
Pros
Free version for smaller less demanding companies
Makes HR soo much easier and less time consuming
Easy to use & part of Freshworks
Cons
No customization in adding a new stage to the hiring process
Freshteams does not have all the reporting capabilities
How Freshteam Works
Freshteam is a package from the Freshworks family, and others in the range include software for data collection and analysis, marketing automation and more. Freshteam is designed to streamline all areas of HR and is aimed not just at growing businesses, but at established corporations too.
It offers four main areas of functionality, these being Applicant Tracking, Onboarding, Employee Database and Time off Management. Each area covers a specific HR function, so let's have a look at the benefits of using Freshteam in your business.
Applicant Tracking
The functions in this section are comprehensive and begin with helping users to list vacancies on internal and external sites, and on social media platforms. The system also allows for employee referrals as well as specific tailoring of emails to certain applicants. Furthermore, the Freshteam software has functions for tracking applicants and screening resumes, collecting data on candidates right through to the interview stage and building profile of them, and keeping up to date with responses to candidates.
You can use Freshteam to organize the interview process and create scorecards for feedback, plus make offers using templates or customized offer forms, and manage the latter efficiently. This is a full-on HR recruitment tool that covers every aspect from the initial job advert placement to the final recruitment decision.
Onboarding
By automating the onboarding process with a tailored welcome pack and introduction to the chosen employee, you can save a lot of time and effort that would be expended doing so manually. The software can be used to keep everyone informed who needs to know and update the system as required, allows for electronic signing of documents for more efficient processing, and ensuring the new employee knows all they need to know in advance of day 1.
Employee Database
The database is designed to store information on every employee, updated automatically when anything changes, for access by the HR department and by those who need to see this information. Permissions of access are easy to set up and the system is simple to use. Employees are given a personal account through which managers can communicate tasks and other information, employees can provide data to HR by attaching documents and further, and the system also offers flow charts of organization structure that are updated when situations change.
Timeoff Management
By providing a comprehensive and easy to use time off management function, Freshteam makes it extremely easy to create policies for time off for separate departments or even individuals. By using simple calendars management can see briefly where leave can be granted, and holidays can be booked. Automated responses and emails are just a small part of this function, which can also facilitate holiday management across the organization with instant access to those who need to know.
With excellent security processes, Freshteam can allow only those who have permission to access any area of the database at any time and is surprisingly easy to use. These are just a few of the features of Freshteam, so what do we think of it overall?
Conclusion
Freshteam is a comprehensive HR management package covering all areas of the division, and as we would expect from the Freshworks team is well put together and easy to implement and use. It's also well-priced in the market and stands up well against the rival packages. With everything you need to enable a smooth and efficient HR department, this is a software package for businesses that have a growing number of employees and expect that number to continue rising.