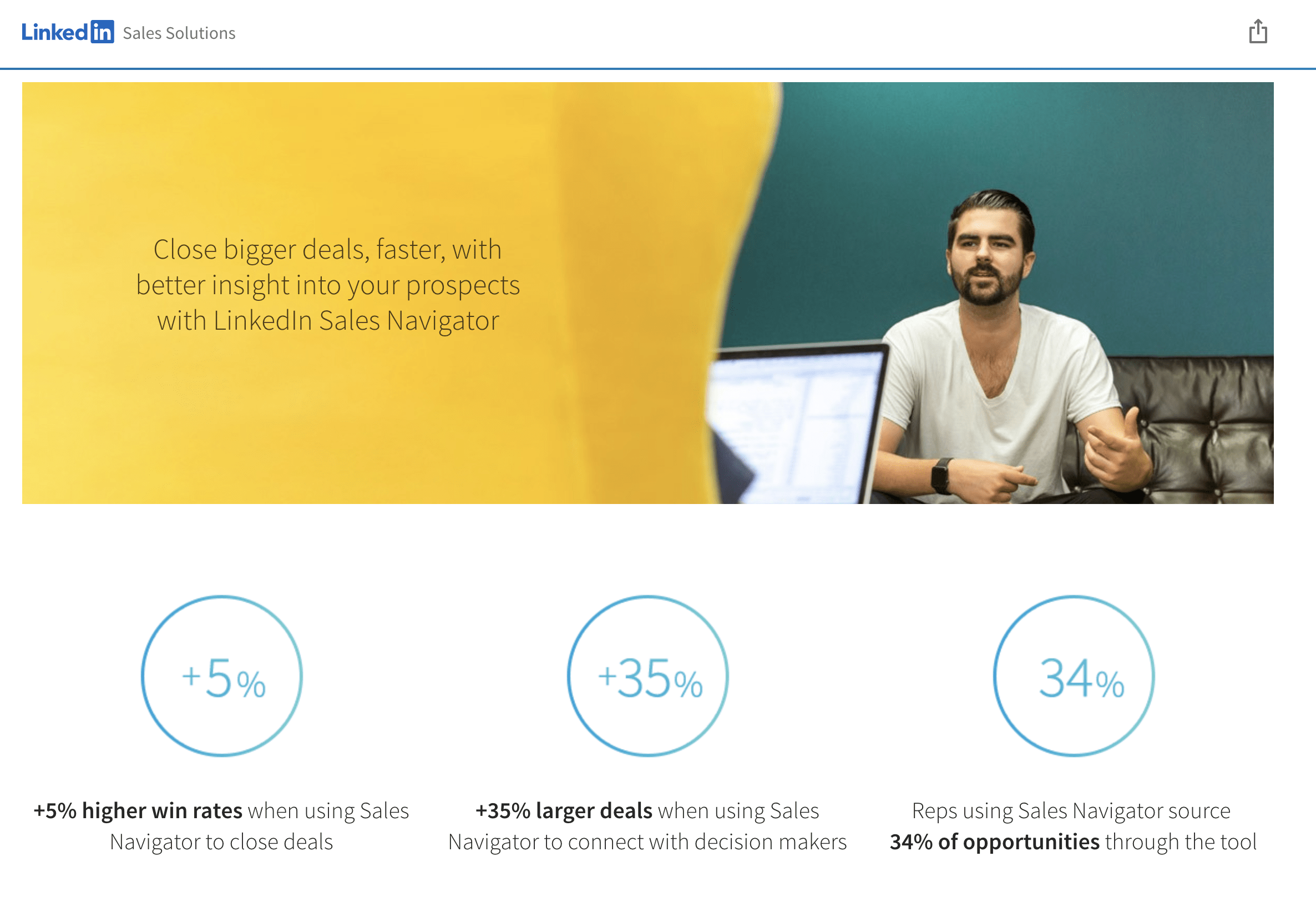 ---
Similar Tools
---
LinkedIn Sales Navigator Features
LinkedIn is the premier platform for professionals. If you're trying to make B2B sales, this is one of the platforms that can be leveraged to increase your marketing campaign. You can reach out to some of the biggest companies and individuals in the world through LinkedIn.
Build trusting relationships with prospects and customers and gain real-time insight to further warm your outreach using the Sales Navigator.
There are a few main options available: Professional and Team.
Key features included in the LinkedIn Sales Navigator include:
Lead recommendations
Custom lead and account lists
Alerts and insights
Pro tip: See here some great Growth Hacking tools which work with the more advanced filtering from Linkedin.
Lead Recommendations
Leads are what drive businesses forward, but finding the right leads can be a tricky process. LinkedIn helps you target the right people in the right circles.
Sales Navigator provides lead recommendations based on your search history, sales preferences and profile interaction.
If you're interested in a specific company, you can view leads for saved brands by viewing their Account Details page. If you haven't saved a company as an account, you can still search for the company and view lead recommendations. These recommendations will be displayed at the top of the Account Details page.
You can also view lead recommendations on individual profiles. These recommendations are displayed at the top of the lead's profile.
Lead recommendations from LinkedIn are more targeted, so you can focus on the right people at the right time.
Custom Lead and Account Lists
An organized workflow is an efficient workflow. LinkedIn Sales Navigator allows you to create custom lead and account lists to help you keep track of accounts, leads and existing customers.
Custom lists give you the freedom to segment your pipeline in a way that makes sense for you. Sales Navigator Spotlights allow you to prioritize your list and even take notes about leads or accounts right from within your list.
Sales Spotlights is a useful feature that allows you to use LinkedIn's data to segment your search results and discover prospects that are likely to engage with you.
There are several different types of Spotlights:
Job Changes: Displays prospects who have changed jobs in the last three months.
LinkedIn Activity: Displays prospects who have shared or posted content in the last 30 days.
Shared Experiences: Identifies prospects who have worked at the same companies, attended the same schools or joined the same LinkedIn Groups as you.
Brand Engagements: Identifies prospects who follow your brand or commented on your LinkedIn posts.
Mentioned in the News: Displays prospects who have been mentioned in news stories in the last 30 days.
Leads that Follow Your Company: Displays prospects who follow your company on LinkedIn.
TeamLink: Identifies prospects who are connected to your colleagues.
The ability to create custom lead and account lists makes it easy to organize your workflow and better segment your leads right from your Sales Navigator account. You can also share your lists for easy collaboration, relationship nurturing and lead contact.
With Sales Navigator, you can match accounts and leads manually, and receive updates and alerts about related content.
Custom lists are a powerful tool that you can use to organize, manage and prioritize your leads quickly and efficiently.
Alerts and Insights
Sales Navigator's alerts and insights puts the most important information front and center, so you can respond as quickly as possible on either your desktop or mobile device.
You will be alerted when leads:
View your profile
Change jobs
Are mentioned in the news
You'll also receive alerts when saved companies raise money, someone at a saved account views your profile, or when saved leads like your posts. Whenever saved accounts or companies perform certain activities, it triggers real-time alerts that are sent directly to your desktop or mobile.
Alerts are timely, so you receive notification in real-time and can respond at just the right time. For example, if one of your saved accounts recently raised money, you can congratulate your company contact on their achievement. Alerts give you a chance to reach out to leads at timely moments, putting your name and brand at the forefront of their minds.
LinkedIn Sales Navigator is a standalone sales platform that provides many benefits. According to LinkedIn, their platform has created 45% more opportunities. Users are 51% more likely to achieve quotas and are 80% more productive. With Sales Navigator, you can take advantage of more than 414 million professional profiles.
Customers of Sales Navigator includes GE, Workday, Eloqua and other major brands. Sales Navigator has a 30-day free trial, and the monthly fee is affordable for brands of all sizes.
Pro tip: Read our blog on how to use Linkedin as a Sales Person.
Growth Hacking Tools For Linkedin