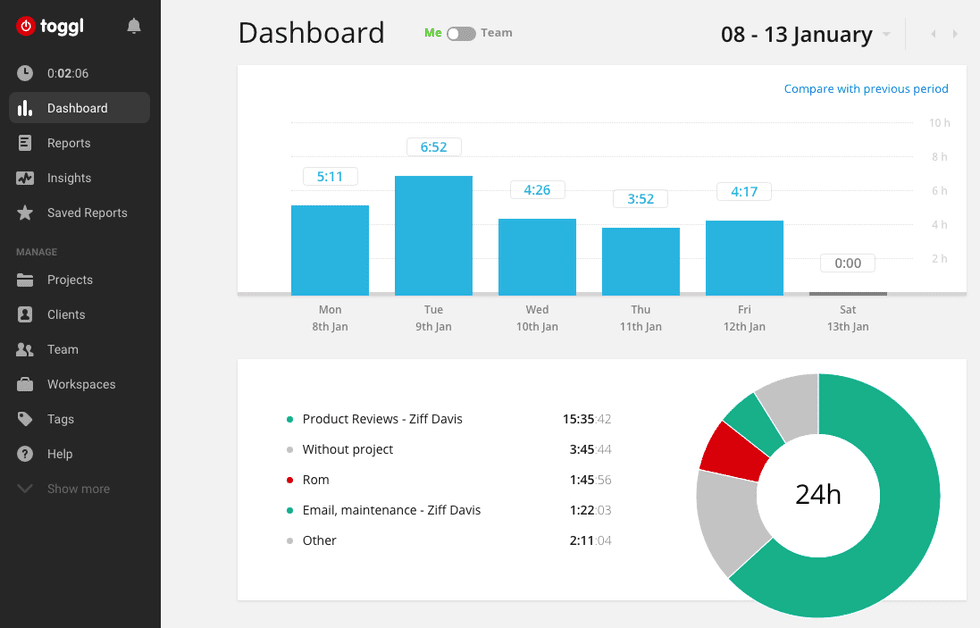 ---
Similar Tools
---
Toggl Features
The saying that 'time is precious' applies to every modern business. Although we are ably assisted by efficient computer networks and software in many areas of our lives, one that often causes problems is that of time management. It can be as simple as sorting out appointments in your diary and planning when essential actions need to be taken, but time can easily be wasted.
Therefore small businesses – and established outfits – are increasingly using business management packages to trim that wasted time. Time saved on, for example, tracking your employee's performance or arranging meetings is time that can be used more productively. This is where a tool such as Toggl can come to the fore.
An easy to use and versatile time tracking and management tool, Toggl is proving popular with many different types and sizes of business. Before we talk about some of its features in more detail here's a bit about what it does in brief, and why you might use Toggl.
Pros
Track on all your devices
Offline tracking available
Reminders so you won't forget tracking
Cons
Overtime calculation is not available
How Toggl Works
Toggl is primarily a time management package, and quite a comprehensive one at that. With the ability to keep track on people's time usage in real time and otherwise, it is a useful tool for enhancing performance and productivity.
Toggl also offers a variety of reporting options, can be used for team and personnel allocation, and is also able to send reminders and keep in touch with progress. With easy to use dashboards and clear presentation, Toggl is a package that adds versatility to your time management in many ways. Let's have a look at some of its features.
Time Tracking
For many businesses, especially those that are experiencing rapid growth and operate in a fast-moving environment, the time tracking features of Toggl will be the primary reason for using the tool. In this area it is perhaps the market leading software package. It is very versatile and can handle many different tracks at once.
Time tracking begins with the touch of a single button, with which you can resume an existing task or start tracking a new one. The display is very simple and shows the title of the project and the time spent so far. If an employee forgets to start the timer, the Toggl Button and App will let them know to start it. If they forget to turn it off, it automatically detects they are idle and remind them later to allocate that time.
Toggl is compatible for integration with a wide variety of popular apps so you can use it with those you already utilise and is surprisingly effective. Time tracking can be in real time – which is preferred by some users but not by others – or can be manually operated. With the latter, the operative adds the time allocated at the end of the session. It can also be integrated with calendar systems with ease.
Reporting and Analysis
A very useful aspect of Toggl is the reporting function. This can easily bring up a report of how your – or an employee's – time was distributed throughout a given time (day or week, or a segment of a day) so that you can plan time usage more efficiently. For example, you can see how much time was spent writing, sending, and answering emails, how long they spent on design of a project, or even on travelling time. This is all very useful, and as it can operate remotely using handheld devices, Toggl is perfect for agents on the road or remote working teams.
The 'Project Dashboard' function is also worth mentioning. With this you can keep track of the progress of a project in comparison with the estimated time needed, enabling you or others to spot where projects are beginning to creep off target and implementing solutions very quickly. As a productivity enhancement this area of Toggl comes in very useful.
These are just a few of the main elements of Toggl, so what do we think of it overall?
Conclusion
The popularity of Toggl with businesses of all type and sizes is unsurprising given its capability in time monitoring and reporting. It is easy to get to know and works well as a diary, calendar and planning tool, plus much more besides. For fast-growing businesses it offers a helping hand in keeping track of a growing number of projects, in real time or otherwise, and is sensibly priced when compared with similar products from other providers. Toggl is certainly worth a closer look if you are in the market for a time management tool.