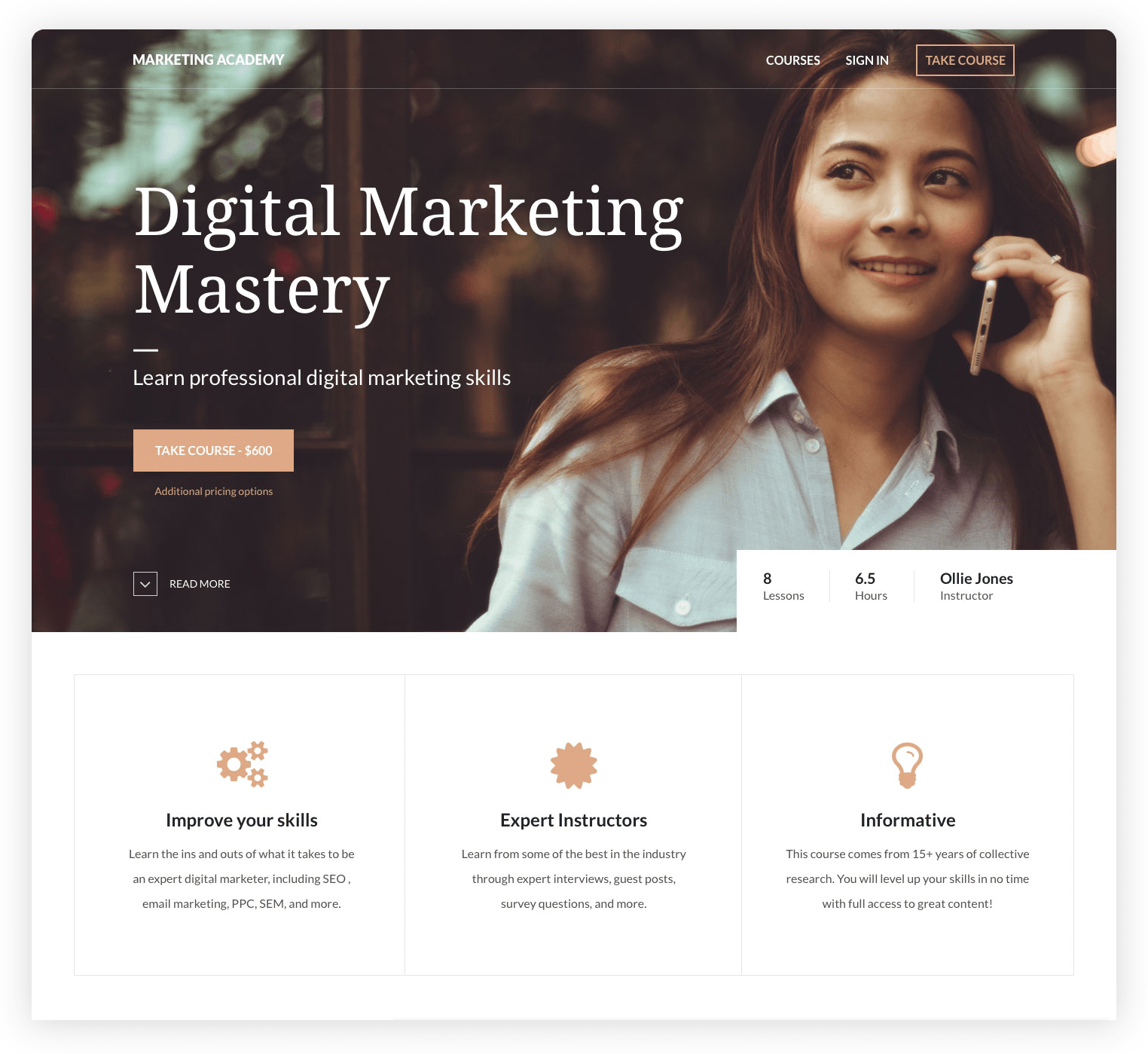 ---
Similar Tools
---
Thinkific Features
The education world has been using online teaching tools lightly in recent years, perhaps without fully exploiting the potential. In 2020, however, the arrival of the covid-19 pandemic and its effect on schools, colleges, universities and other teaching and training establishments has been an eye-opener. With students unable to attend physical lectures, and employees similarly missing out on training sessions, remote teaching underwent a massive boost in many countries.
With efficient platforms for video sharing and live audio-visual transmissions now the norm, anyone with a computer and a good internet connection can access a wealth of courses ranging from short training exercises, educational vocational courses, right through to remote learning for degrees.
The ability to run courses online has also led to many enterprising individuals investigating the idea of setting up online educational and training businesses. This is where a tool such as Thinkific comes into the picture. Thinkific is a package that lets you build and run courses and much more as we shall see in moment, so what's it all about, and what features will you benefit from? Let's talk about how Thinkific works.
Pros
Free version
Great way to educate clients
Extra revenue potential
Cons
Automation & custom domain not in free plan
How Thinkific Works
The first point to mention is that Thinkific does not require the user to have any coding knowledge. It uses a drag and drop function to create courses – which can be as simple or complex as required – so you can set up and run a simple course very quickly. It also has functions for building a website to market the course, and is suitably equipped with a full marketing suite so you can get your brand seen in the right places.
Typical users so far have included an online social media management company, a health and fitness blogger, and even an Ice Hockey coach wanting to reach enthusiasts remotely. It's favoured by bloggers, entrepreneurs and anyone who wants to run a course of some kind and teach from a handful of people to potentially many thousands. Let's have a closer look at some of the most interesting Thinkific features.
Design Your Course
Designing and building a course using Thinkific is surprisingly simple. As mentioned above, you could create a simple course – say a training course for a specific task – very quickly and have it up and running in no time. You can also design courses with many modules and more complex structures.
Thinkific supports video content that 100% free to broadcast, and uses other multimedia functions including on-screen text, allows for downloads, and you can engage your students by creating quizzes and contests that are relevant to the course. It can enable discussions between multiple parties, integrates with Google Docs for simple access to information such as spreadsheets, and more.
Customize courses to be private or open to everyone, mix content to be current and evergreen or expiring, add tutors and instructors and allow for drip-feeding of content and information to keep students interested and engaged. Overall, this is a comprehensive course-building tool.
Website and Marketing
Thinkific comes with a selection of specially designed website templates that are designed for selling education. This gives the user a head-start in designing the right website for the course. If you have a domain name it can be used for your Thinkific site, and it's all put together using a clever drag and drop editor that is easy to get the hang of.
It could not be easier to design a website that has relevant content in the right pages, and images that draw the viewer in. You can include elements of your course on the site, and whatever information required. Coding knowledge is not necessary, but those with experience can access HTML and CSS.
Thinkific also offers a full set of marketing tools to use in conjunction with the website. Affiliates, promotions, coupons and more can be incorporated, and it can be integrated with more than 1000 business and marketing apps plus offers data analysis tools.
What do we think of Thinkific overall?
Conclusion
The online education market is experiencing rapid growth right now – thanks in no small part to the aforementioned covid-19 – and things are only going to get busier. More people are going back to education now they find they can learn from home, and businesses are using this sort of tool for online remote training.
If you are considering setting up an online teaching or training business to share your area of expertise with others, then it's very likely that Thinkific will come high on your shortlist. Ease of use, impressive marketing features and up to date integrations are all reasons why we like Thinkific and believe it deserves its place on that shortlist.