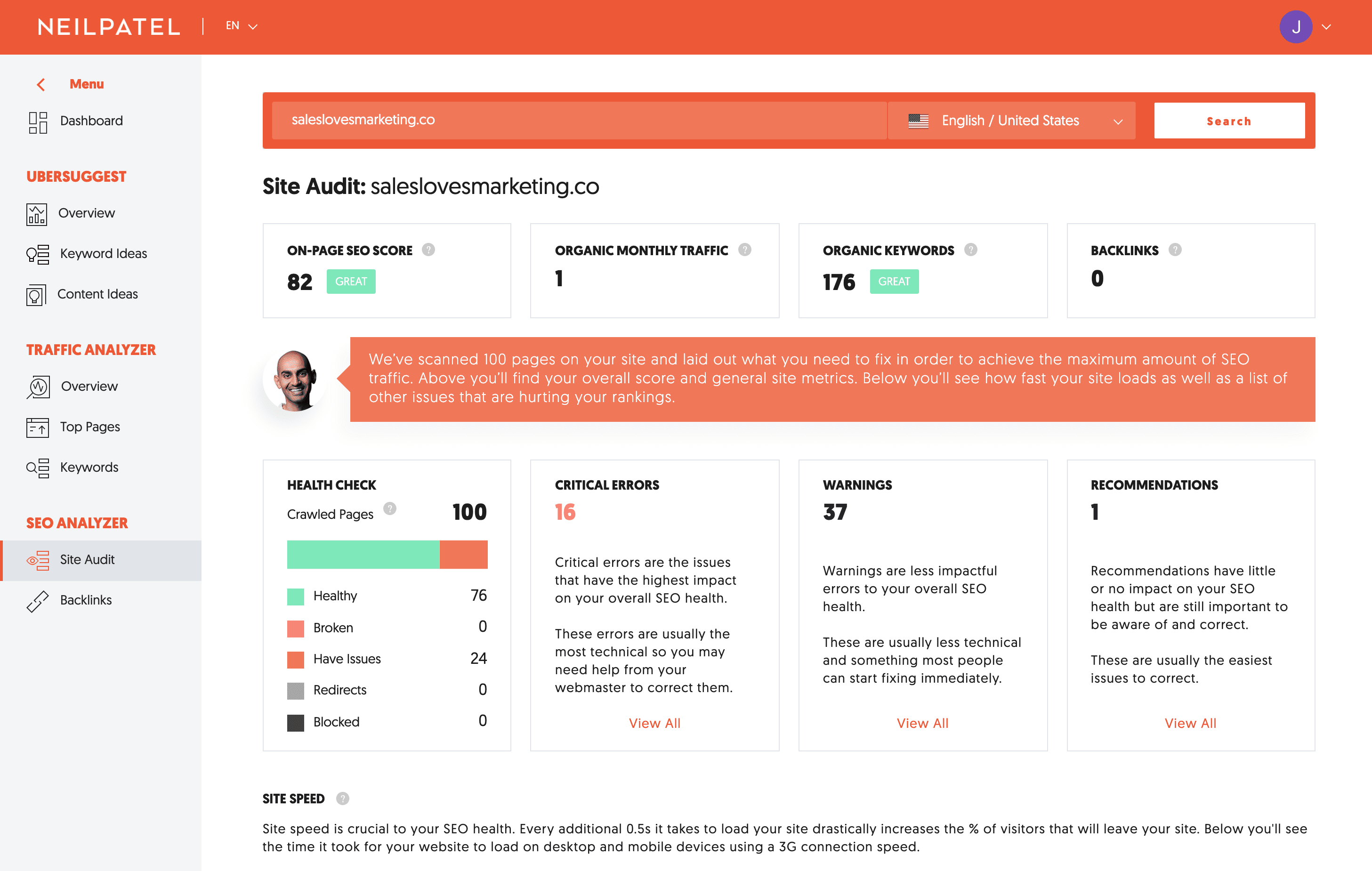 ---
Similar Tools
---
Ubersuggest Features
Ubersuggest is an SEO tool that continues to grow and transform after being purchased by Neil Patel. The platform, once free to everyone, has transitioned to a paid model with advanced features that webmasters can leverage to "win the game of SEO."
Three powerful features that make Ubersuggest worth trying out include:
Domain overview
Keyword suggestions
Content ideas
Ubersuggest became very popular as it was a free SEO tool for a long time for everyone to use. Once they probably had enough users and found product-market fit they started charging money for Ubersuggest. This is one of the reasons they have soo many companies already using it, that doesn't mean that it is the best SEO tool out there. See here more on what UbberSuggest can do for you:
Pros
 Great insights
Focusses on lots on multiple SEO aspects
Cons
Not as extensive as other Paid tools
Was a free SEO tool before, moved to paid
Domain Overview
Domain overview is your primary, go-to dashboard that provides a full overview of how your site is doing in terms of SEO. You can enter a keyword or domain and have all of the metrics relating to your query outlined.
The domain overview will provide information on:
Organic keywords
Monthly traffic
Domain score
Backlinks
You'll see graphs for all of the information so that you can see the metrics by date and time, too. 
If you've been working on your SEO, it could be quite beneficial to see your rankings over time. Graphs are shown with a monthly view so that you can see how many keywords per month your website is ranking for.
You could then move on to the top SEO pages, which has information about the top countries visiting your pages as well as the page title, shares and backlinks. Estimated visitors for the top pages are also provided.
A general list of the keywords your website is ranking for is also provided. Keywords will be presented along with the volume, position and estimated visitors to your site. You can also click on each keyword to see more general information on the keyword.
When you go to the specific keyword page, you'll be able to see more information about the keyword, such as:
Difficulty
Cost per click
How many people click on these results
The average searcher's age
The volume of traffic based on mobile and desktop
A lot of great information is provided under the domain overview, but you can further increase your website's rankings by knowing exactly what keywords you should be targeting. This is where the keyword suggestion tool can be beneficial.
Keyword Suggestions
Knowing what keywords searchers are typing into the search engine can be a very powerful tool to generate organic traffic. The problem is that it's not always easy to find the right keywords for your audience.
You can use the domain overview, as we were discussing, to find keyword suggestions for your website. These suggestions will include information on additional keywords, and their volume, that you could add into your site's content periods
Keyword ideas are also provided in categories, such as:
Related
Questions
Prepositions
Comparisons
When you're on the keyword page, you can also see valuable information on what keywords you should be targeting. For example, when looking at the keyword you chose, you see how many backlinks the top 10 search results have and the domain score for each keyword. This allows you to know which keywords may be too challenging to target, and which keywords may be ideal for targeting.
There is a list of all of the top websites ranking for the keyword. You can click on these links to view their content and see what you can add into your own content to make it better.
You can also export or copy the keywords, put them into additional keyword tools, or add them into your content.
Keywords will be offered from head terms to long-tail phrases so you will start ranking for both of them. See exactly which keywords are working for you competitors based on what people search in Google. Read this blog first if you want to start doing keyword research.
Content Ideas
Are you running out of ideas on content? Ubersuggest has a powerful content ideas tool that will allow you to see what others in your niche are writing about. You enter in your keyword, and page titles and URLs will be provided.
You'll be able to see the estimated visitors to each page, backlinks and shares on Facebook and Pinterest.
You can look at backlinks and keywords for some of the pages that are provided in the suggestions.
When you gather up all the keywords and can determine how often pages are shared, it helps you create content that is shareable and offers more valuable information to your users. 
You can also use the links provided to try and secure backlinks for your own pages. While no advanced tools are offered here, you can export the backlinks for each page and contact the webmasters to see if you can secure the same backlinks of your competitor.
Ubersuggest has a sleek interface and continues to add more tools to their site to make the platform even more powerful for users.
There are three basic plans offered for individuals, businesses, and enterprises. You can create projects, track your keyword rankings, and create reports. There are also tools for site auditing and competitor analysis for paid users.
Generating content is always seen as hard, with this content feature from Ubersuggest you will know exactly what to share next. Start writing content based on the given keywords people actually interested in. Don't have time to write content yourself? Check out Fiverr for outsourcing your content writing.
Site Audit
How to improve the SEO of your website? This is exactly what the Site Audit feature from Ubersuggest will show you. It will give you errors if something will have a negative impact on your SEO. All the errors will have a clear explanation on what is wrong and how you can fix it. They even give you insights in how difficult it is to fix, plus what kind of impact it will have.
Ubbersuggest alternatives
Looking for UberSuggest alternatives? Check out: