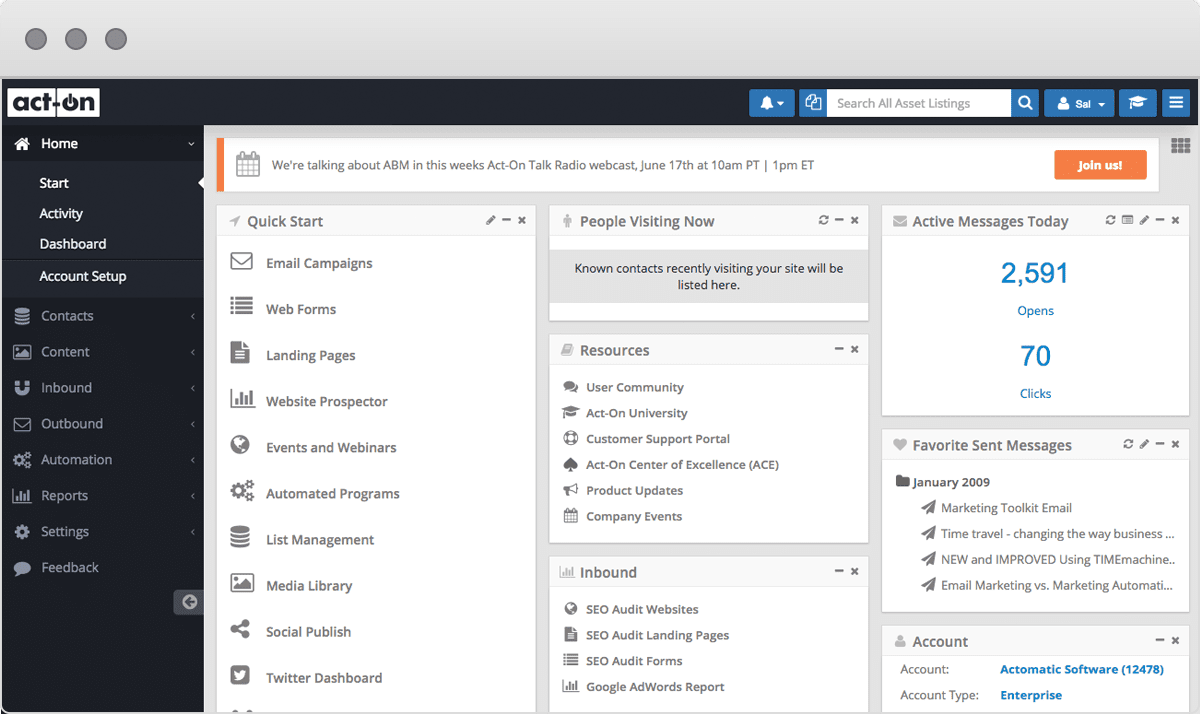 ---
Similar Tools
---
Act-On Features
Getting your digital marketing spot-on is the key to ensuring your business grows as it should. The 21st-century consumer expects not just the best service, but an enjoyable experience from the first instance to the point of purchase – and beyond.
Act-On is one of many marketing automation packages and offers a variety of carefully created features that should allow you to gain more leads. It will also help you convert those leads into customers and build brand loyalty and repeat business.
Act-On is easy to use and simple to set up, and also provides access to a variety of functions that can be customised for each user. It is strong in areas where some others may not be so, such as in personalising information to the degree that engages the consumer. Here's a bit about how Act-On works.
Pros
Great CRM features
Good data analysis
Cons
Could become expensive
Less features than direct competitors
How Act-On Works
Act-On offers many of the features that will be found on all CRM packages, but with some that are unique to this package. This is a tool that combines automation with data analysis effectively and features some exciting communication functions. Act-On is a popular choice of CRM in a range of different market areas.
The Act-On package is sensibly priced in what is a competitive market, and it has a strong reputation for being easy to use and versatile as well as providing success in business growth. Here are some of the features that come with Act-On.
Business Growth
Act-On uses the customary method of building a marketing funnel to channel traffic from lead to conversion, as well as providing tools for visitor behaviour analysis. The latter is useful in determining the most likely targets for leads. The package also allows users to create personalised content that will engage consumers who are looking for specifics, rather than simply using bland and overall content. By enabling the creation of conversations, Act-On helps bring about the customer journey that consumers want, hence enhancing brand loyalty. Act-On is strong in this area.
Streamline Digital Experience
By automating marketing streams, Act-On can effectively further streamline the consumer experience and lead them to the point of purchase while saving the user time and effort. It does so by using available data to target specific consumer groups and grab their attention at the right moment, as well as extending the experience as described above. The ease of use with which the user can design pathways is notable.
Engage and Empower
One of the areas in which Act-On may differ from some other marketing automation packages is in the way it actively aims to engage the consumer and educate them, by presenting visually impressive launches, presentations of products and more. By automating the campaign along with notifications and using clever and easy to activate communication channels, Act-On is a highly effective tool in terms of providing the consumer with something more than the norm, which is essential in the modern age.
Seamless and Efficient
When it comes to seamlessly directing a marketing campaign, Act-On is highly regarded by users and is utilised by many businesses in various areas of commerce and industry, as well as being favoured by agencies providing a marketing solution. The package is created with not just ease of use in mind, but also various additional time-saving features. It is a comprehensive and very usable automation tool that also brings everything neatly together for ease of analysis and further streamlining of the marketing process.
Act-On uses a multi-channel approach to extend brand awareness and encourage leads to interact and engage with the brand, and many satisfied customers testify to its effectiveness in growing a business by way of targeting the right people in the right way and giving them an overall enjoyable consumer experience.
Conclusion
In a market where competition is rife, Act-On stands high in the list of viable and worthy contenders for marketing automation and is equipped with a variety of impressive and effective features. In addition to those functions expected from a CRM the user also gets a neatly designed automation package that allows for seamless targeting of relevant consumers, and data analysis that offers even further streamlining and effective funnelling.
This is a tool used by many different businesses in various industries, and one that scores highly in terms of ease of use and cost. Perhaps not as sophisticated as some rivals, Act-On nevertheless provides the tools that are needed to grow a business by way of marketing automation and is certainly worthy of closer investigation