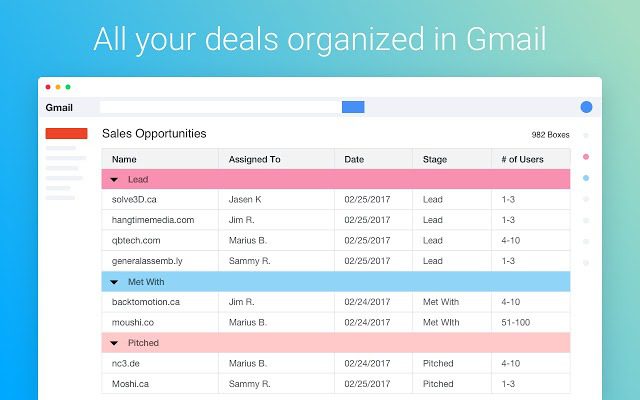 ---
Similar Tools
---
Streak CRM Features
Streak is a CRM platform that allows you to manage product development, support, sales and more right from Gmail. The service adds functionality to Gmail without interfering with its core functionality.
Streak is free to try for an unlimited period, but paid options are available that offer more robust functionality. 
Three key features make Streak stand out in the crowd.
Product development
Support
Sales
Product Development
Streak's CRM assists with product development directly through Gmail. A variety of tools are at your disposal for collaboration, organization, reporting and more. Streak has a spreadsheet-style interface that makes it easy to accomplish these goals.
Teams that are already using Gmail to discuss projects will find that Streak is easy to incorporate into daily operations. The CRM can use existing conversations to put discussions into action.
Create hubs to store assets. Upload proposals, mockups and other project-related documents.
View all emails related to a project quickly and easily.
Share emails across teams by inviting engineering teams, client teams and other individuals to join in the collaboration.
Create and share reports to identify bottlenecks between your ideas and your product launch. Reports display the data behind your product development process. 
Calculate metrics automatically, and incorporate metadata as desired. Streak has a Formula function that allows for tracking of important metrics, whether it's Lean, Agile or something else. Data points can be tracked, including velocity, time to market and accuracy of estimated release dates. Metadata fields can be added, including version numbers, release dates and anything else that you wish to track.
Schedule and set milestone reminders and share those deadlines with your team. Shared reminders keep all team members on track.
Streak is easy to install and implement into your daily operations. Migrating is as easy as importing a CSV file. The CRM offers a pre-built product development pipeline that allows for flexibility in your workflow.
Support
Streak transforms your Gmail into a support hub by adding functionality without changing Gmail's core functionality. 
Using Streak's Support features, your team can:
Automate your responses using snippets. Snippets fill out the entire email, including the subject, to answer the most commonly asked questions with a simple command. All team members, or collaborators, will have access to the same library. Snippets can be edited as needed to improve your team's responses.
View a customer's complete history, so team members understand what's going on and can see whether they're dealing with a long-time customer having their first issue or someone who uses the Support system often.
Easily share emails, even if you weren't an original recipient (with Permissions).
Send mass emails to all users affected by the same issue. 
Personalize your support messages by including each recipient's name, title, company or custom text.
View analytics to view trends and answer questions before they are even asked. View how long it takes for support tickets to be closed, and even see which support representatives are top performers.
Streak's Support CRM is easy to incorporate into your Gmail, and the company provides a built-in Support Pipeline for easy use.
Sales CRM
Streak Sales CRM allows for streamlined deal management through Gmail. A suite of tools helps move deals along while ensuring your team focuses on the most promising prospects.
Manage your deals through email. Streak will capture your deals, making it easy to keep track of details without ever leaving your inbox.
Add, edit or evolve your data at any time. When sales strategies change, adjusting Streak is quick an easy. Add new columns, delete data or rearrange stages as needed. Columns can accept text, numbers, check boxes, drop down menus and anything else you may need.
Filter information to create custom views of your deals. Make it easy to see only the data you need when you need it.
Share emails with collaborators, even if they aren't included in the thread. This ensures that all collaborators are able to get access to emails and other pertinent information about a deal.
Link communication of different teams without having to leave the platform. Know if a prospect has contact support and read the full conversation to get more relevant details.
Use permission roles to maintain data control. Restrict access for teams, or give other teams full permission to view all data.
View deal information at a glance from your Gmail sidebar, including custom fields that you add to your database. Email filters are used to automatically link data associated with opportunities. 
Track outgoing mail so that you know when to follow up. Tracking lets you know when, how often and where an email is viewed. Feedback helps you refine your emails to maximize effectiveness. Sort by activity, so you can easily see who has opened a message and all recipients who have read your emails without replying. 
Streak provides a robust set of tools that helps a business grow sales and manage customers with high efficiency.
CRM and Sales related blogs:
Streak Alternatives