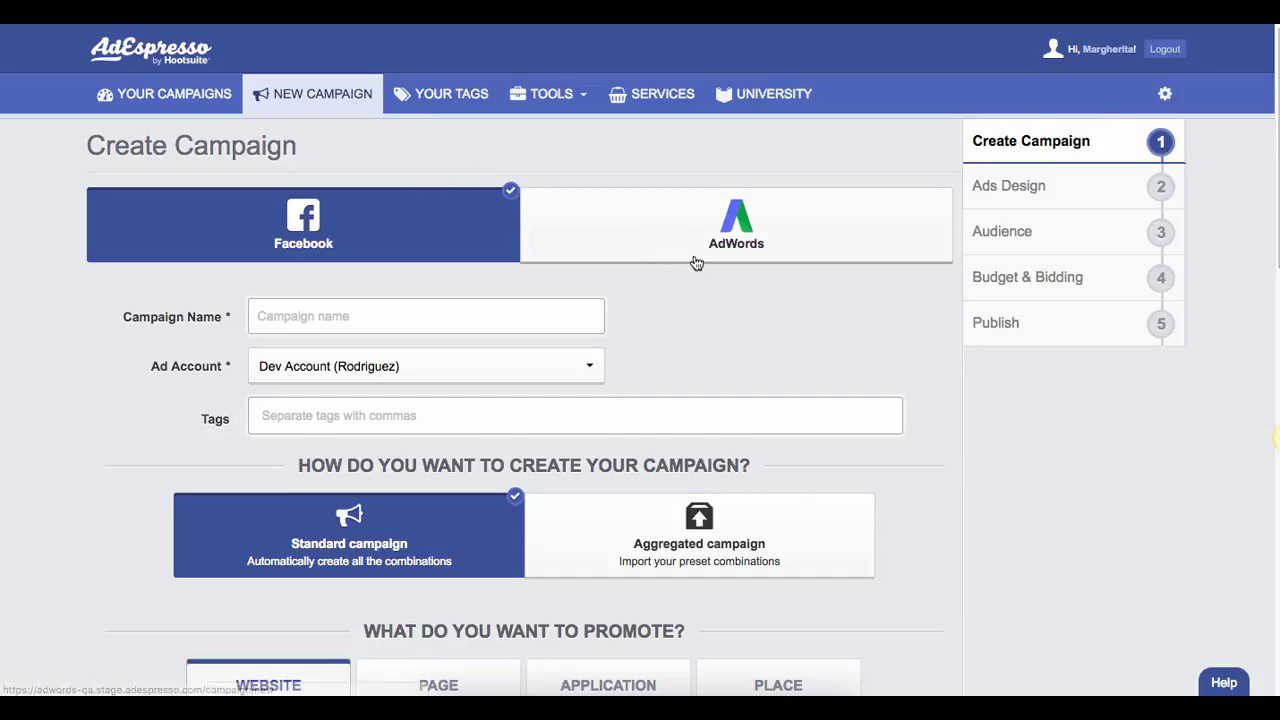 ---
Similar Tools
---
AdEspresso Features
AdEspresso is a social advertising platform created by Hootsuite, one of the biggest names in social media marketing management. The platform makes it easy to create campaigns on Facebook, Instagram and Google Ads.
Major brands trust AdEspresso to run their social advertising campaigns, including Microsoft, HubSpot, Kabbage, Teespring, and dq&a. In the last year alone, the company has created more than 100,000 accounts and more than 10 million ads.
AdEspresso is a robust platform with many features, including:
Campaign creation
Campaign management
Campaign analysis
Pros
Create ads in one dashboard
Free trial
Great analytics on campaigns
Cons
Quite high in pricing
The analytics section is not useful as Facebook business manager
Campaign Creation
AdEspresso's user-friendly interface allows you to quickly and easily create campaigns on Instagram, Facebook and Google Ads. Create and manage your campaigns in minutes using a variety of tools, including:
Grid Composer
AdEspresso's Grid Composer tool makes it so easy to create your campaigns using Excel sheets. Quickly and easily create multiple ads across multiple locations at lightning speeds. What Grid Composer does is allow you to create ads in bulk without sacrificing personalization or uniqueness.
If you need to create ads for multiple locations and different pages, you can do so with ease. Just specify which spreadsheet Page you want to use, and AdEspresso will take care of the rest.
Split Testing
Split testing has become an integral part of the digital marketing process. With AdEspresso, you can do more than just create campaigns – you can also split test ads across all three channels. You can test anything and everything, from images to headlines and even audience segments. AdEspresso will save you valuable time that you would have otherwise spent doing split testing manually.
You can also save more time by storing all of your creative elements and targeting options on the platform.
Automated Page Post Promotion
It can be challenging to find a post to boost on Facebook. AdEspresso helps make this decision a little easier with their Page Post Promotion feature. Just set your parameters and Page Post Promotion will boost posts that meet your criteria automatically.
Choose from a wide range of parameters, including:
Social proof
Post type
Post text
Keyword
Boost length, and more
Use Page Post Promotion and AdEspresso's audience targeting options to find the right posts to boost. Along with boosting your posts, you can also use AdEspresso's Engagement and Audience Inspector metrics to get deeper insights into your post performance.
Dynamic Ad Creation
Manually creating campaigns for individual products can be a tedious and time-consuming task, but the Dynamic Ads tool simplifies the process. Just add your product catalog and start creating dynamic ads that are catered to your audience.
The audience tool allows you to target leads who visited your site but didn't purchase anything. Ads will display the products they were just browsing, allowing you to target the right people at just the right time and with the right message.
Campaign Management
AdEspresso allows you to manage your campaigns on all three channels from one centralized platform. That saves you time and allows for easy management.
The Automatic Optimization tool allows you to optimize your ads automatically – without having to lift a finger. The platform's rules engine will analyze your campaign ads and pause costly ones while redistributing your budget to top performers.
AdEspresso allows you to create your own optimization rules based on any trigger you want, whether it's CPM, CPA, ROI or conversions. Quickly and easily adjust your budget, put your ads on hold, or even launch a new campaign.
Retargeting lists can be created automatically, saving you even more time. The Data Sync tool automates the entire process. They offer 12 integrations, including Google Sheets. Custom audiences can be created and stored right in the Asset Manager for future use. You can even sync lead from Facebook Lead Ads right into your CRM.
No campaign management solution would be complete without campaign editing tools. Once you publish your campaign, you can edit ads from the All Ads page, where you can clone, pause or even delete ads when you need it most. Bulk editing allows you to select and adjust every ad that has the same error using the Bulk update feature.
Campaign Analysis
AdEspresso has a full suite of automated tools to give you campaign insights. Widgets and analytics allow you to see how your campaign is doing at any time, and you can customize your main data graph to display only the metrics that are relevant to you. Of course, you can also view specific metrics for your campaign as well as individual ads.
AdEspresso will even provide you with actionable tips on your campaign's performance right from the main dashboard. PDF reporting and aggregated reporting both give you the ability to view your data in a neat, organized way and make decisions based on that data.
AdEspresso offers several subscription packages based on your needs and budget. A 14-day free trial is available so that you can get to know the product and see if it will work for you.