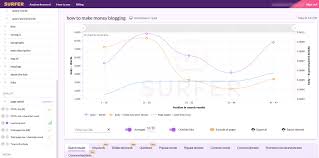 ---
Similar Tools
---
SurferSEO Features
SurferSEO is a powerful tool that is available for in-house teams, agencies and freelancers. Monthly and annual billing options are available, and you can also sign up for a 7-day, $1 trial. The trial allows you to subscribe without auto renewal, so you don't have to worry about a large subscription fee in seven days.
Multiple key features are available, with the most powerful ones being:
Pros
Everything you need for on-page SEO
Get content ideas
Great SEO educational content
Cons
No free trial ($1 for 7 days)
Difficult to use
SERP Analyzer
Search engine results show you a lot of data that you're not able to analyze unless you're able to gather the data, running it through an algorithm and then sorting it in a meaningful way. When you use this tool, you're able to analyze the top pages for your search results without putting in any manual work.
You'll be able to gather information based on 50 different pages and then look at over 500 points of data for a specific keyword that you're trying to rank for.
You'll be able to see information that includes:
Text length
Metatag structures
Referring domains and URLs
Number of headings
Keyword density
Page speed
And more
When you have all this data available, you will be able to discover different correlations between rankings and your own site. You'll be able to see what certain pages are doing to rank higher on Google that you could also do yourself.
This tool is all about discovering trends and taking action that will allow you to rank higher with more data backing the decisions that you make.
These databases work with multiple different languages, so if you're trying to rank in the United States, the United Kingdom, France or Germany, the platform will work for you.
And if you're trying to create blog posts or pages that rank higher, you'll want to use the content editor that is provided.
Content Editor
Proper content optimization will help you rank higher in the search engine results to gain natural visitors to your website. You can use the content editor for a variety of different reasons, including:
Creating new, SEO-rich content
Creating landing pages
Optimizing your old blog posts
Optimizing your e-commerce pages
When you open up the content editor, you'll be able to paste in your content and find out the variety of different factors that are helping other pages rank. The primary factor will be the keyword density of partial keyword density that is provided.
The tool will allow you to know if your text is properly as well optimized using a variety of different factors, including:
Keyword and other longtail keywords that other pages are using
The number of headings that you're using
Keyword frequency
Length of the text
You'll also be able to create different guidelines within the editor and also write content and receive feedback on the information that you write. This is a valuable tool for anyone who trying to leverage the power of content marketing. You'll be able to create smarter, higher-ranking content with less risk of failure.
If certain questions can be asked, you may also find this information on the editor. This allows you to add valuable questions to your content that you can rank for easier on the search engines. These are questions that your consumers and visitors are already asking, and answering them will provide you with a variety of great, organic visitors.
SEO Audit
When you already have a site or content that you want to rank higher, you can run it through the content auditor. This auditor will allow you to quickly analyze your old or current:
Blog posts
Landing pages
Service pages
More
You'll be able to quickly conduct a full audit on these pages. You'll get in-depth information on what to do to make these pages rank higher. There will be a list of tasks that you need to prioritize as well so that you know what you can do first to increase your rankings.
The analyzer will look at the true density of a page to know which terms are missing and how many times you should include these terms in your content. There will also be structural data analysis and on-page factor analysis to better understand what you need to do to optimize your pages and content.
You can also search for backlinks invisibility as well as conduct keyword research with this tool. If you sign up for a higher-level site plan, you'll be able to have white label reporting available. This allows you to send professional reports to your clients.