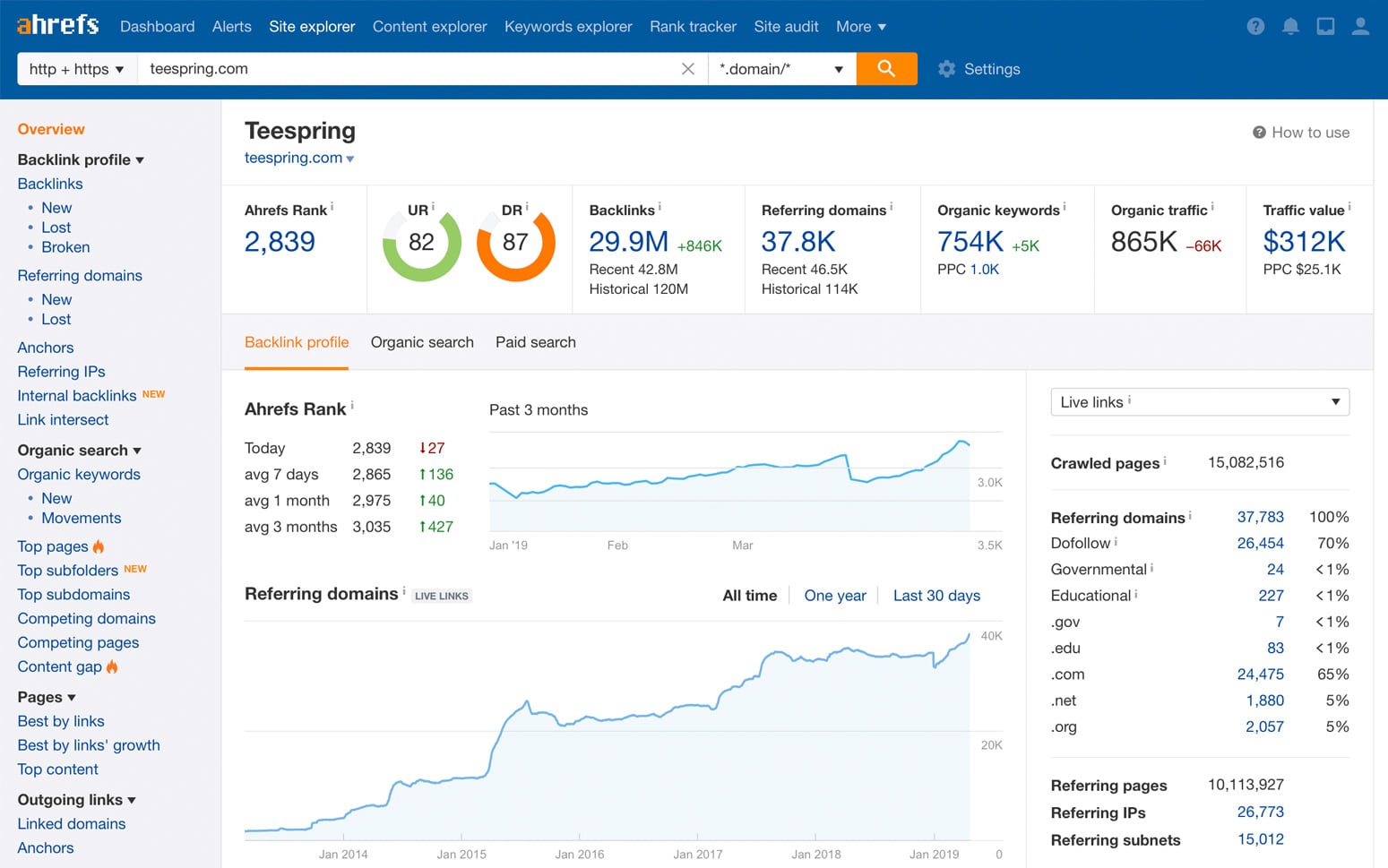 ---
Similar Tools
---
Ahrefs Features
Ahrefs is one of the most robust tools for search engine optimization. You can try out the platform for Seven days at just $1 a day, and it is trusted by some of the largest companies in the world, including Facebook, Netflix, LinkedIn, Adobe and Uber.
The platform offers a robust toolset, free learning materials, and there are several different pricing tiers available to meet your marketing budget. What makes this platform so accessible, is you gain access to data on 16 trillion backlinks, 7 billion keywords and one billion pieces of content all in one place.
Three standout features of this product, include:
Site explorer
Keyword explorer
Site audit
Pros
Great way to analyze where to start with your SEO
Comprehensive domain monitoring and comparison
Site Explorer
When you want to see your competitor's organic search traffic and backlink portfolio, Site Explorer is where you want to go. This dashboard provides a lot of information, with beautiful graphs so that you can easily digest how their marketing efforts are working for their site or page.
But Site Explorer goes even further with in-depth competitor analysis so that you understand how your competitors:
Are performing on organic search
Are performing on paid search
Reached their current rankings
Site Explorer allows you to reverse engineer the strategies that your competitors are using. You can also see which pages are performing best for your competitors, or your site if you type in your URL, and you can also see their recent link acquisitions or their entire link portfolio.
You can narrow down the links of your competitors by specific pages so that you can also understand how they got their links and maybe procure some for your site.
Each link will include a lot of contexts so that you understand more about your competitors marketing efforts. You can see the anchor text, where the backlink is pointing and an excerpt of the text on the page where the link is located.
If you wanted to spy on your competitor's ad campaigns, you could also see what keywords they are currently paying for as well as some of their ads,
Keyword Explorer
Keywords are the backbone of any marketing campaign or content marketing strategy. When you open the keyword tool, you have access to the world's largest third-party database for search queries. You'll be able to access up to 7 billion keywords, which are updated every month.
Keyword Explorer provides keywords for 171 countries and keywords that are being searched on ten different search engines.
The tool uses clickstream data to really understand search engine volumes and to increase accuracy.
Keyword Explorer has a lot of great information, including:
Keyword difficulty scores
Click metrics
Parent topics, which are closely related keywords
Advanced SEO metrics, such as clicks per search and return rate
Ranking history for all top-ranking pages for a specific keyword
Keyword list where you can save and segment keywords for future reference
You can bulk enter up to 10,000 keywords at one time. You'll be able to see metrics and information for all of these keywords to filter out keywords that may not be worth focusing on.
Keyword ideas include different search suggestions and newly discovered queries that were just added to their database. Questions are also provided, so that you can weave these into your content and learn more about your audience.
Ahrefs also has a Rank Tracker tool which allows you to track your keyword rankings over time.
Want to get started with keyword research? Read this blog about keyword research first.
Site Audit
Marketing must focus on your website's overall performance. Site Audit looks at your website's performance based on on-page data. On-site issues may be what's holding your website back from ranking higher in the search results.
When you go to this tool, you will be able to look at your project history along with your website's health score and total issues. You can also see when your website was last crawled and URLs that are having issues.
There is an exhaustive amount of information provided, including:
Performance
HTML tags
Social tags
Content quality
Localization
incoming links
Outgoing links
Performance is going to be very important because you'll see which pages are slow, have HTML or CSS that are too large and may be impacting your search rankings.
You'll find a wealth of information as well as which pages on your site may be duplicated or have low word counts. Issues with no-follow links or broken links or redirects, and issues you may be having with images, CSS or JavaScript are listed.
Robust filters are available so that you can create an audit that makes sense for your site and marketing team.
Ahrefs alternatives