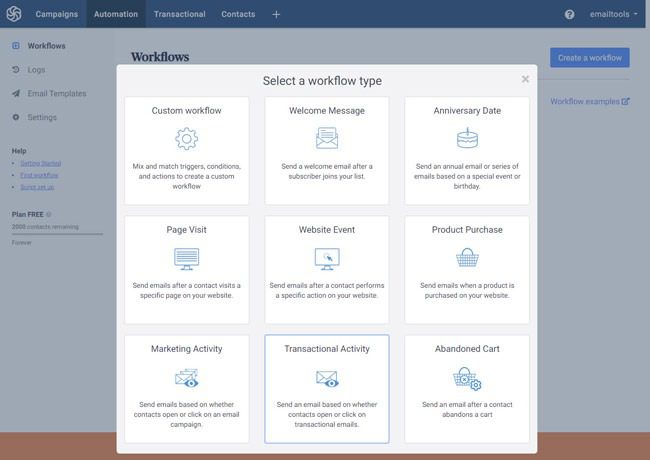 ---
Similar Tools
---
Sendinblue
Smaller businesses that are striving for growth need to ensure their resources are efficiently distributed. Gaining leads and conversions is the aim for such an enterprise, as growth comes with new custom. There are many tools available that promise to enhance lead generation and conversion rates. Sendinblue is a popular tool of this type with small to medium businesses and offers a set of features that cover a broad range of functions.
Pros
 Lots of features in one tool
Could replace other tools
Number of plugins they offer
Comes with A/B testing, marketing automation like impressive features
Cons
Can become expensive
No feature for minimizing the bounce-back rate
What is Sendinblue?
In many ways Sendinblue is a typical lead generation and business growth tool. Designed to make emails and messages more engaging to potential leads and clients, it is simple to use and popular with growing businesses. Sendinblue works across three main sectors that they have labelled Communication, Personalize and Convert. This could be a summary of how to successfully gain new clients. Let's have a look at what's involved in each sector.
Communication 
It goes without saying that efficient and engaging communication is essential when chasing leads and converting them into clients. Sendinblue helps across the board by enabling you to follow and talk to consumers across the four main methods of digital communication: email, SMS and live chat, as well as providing a shared inbox whereby you can see who your team are prospecting and how they perform.
The email and SMS marketing tools allow for quick creation of quality communications that will stand out from the crowd, while your live chat option allows for communication with clients in real time. These may appear to be simple solutions – and they are – yet they are well-presented and integrated within the Sendinblue platform.
Personalize 
Personalized communications appeal to the consumer far more than generic mailings or messages. Sendinblue can help you design carefully considered and relevant emails, SMS and other messages that are more likely to be acted upon by the consumer. Design, engagement and deliverability of emails and messages is entirely customizable to your requirements.
Sendinblue comes with a comprehensive and easy to use CRM that brings all your customer details into one easy to find location, thus allowing for you to build a relationship more efficiently. Marketing messages can be automated to save time that you can spend better elsewhere, while Sendinblue also allows you to segment your target leads and massage those that are more likely to be your future customers. 
The above personalization functions are easy to get used to and effective. It has been proven that a consumer is more likely to do business if they feel they are treated as an individual rather than just another potential customer. Sendinblue is strong and versatile in this area. 
Convert
While lead generation and prospecting are an important part of growing a business, there needs to be a mechanism that engages the consumer and encourages them to convert. Sendinblue offers the ability to create sign-up forms that are custom designed for your business from available templates, and that can be seamlessly integrated into your website. This is an easy way for a lead to request more information and for you to gather their data for later use.
The Sendinblue package also includes a tool to create landing pages dedicated to specific campaigns. This will help you take potential customers directly to the product or service they are looking for quickly and efficiently. You can also set up Facebook Ads from your Sendinblue account and enable retargeting of consumers by way of ads incorporated into your website.
Sendinblue is an all-in-one business growth tool that focuses on the all-important relationship with the consumer and is a helpful and versatile tool for digital marketing, especially when used by businesses that are growing. 
Final Word and Pricing
Start-ups ad smaller businesses that are entering a new market may be interested in the free version of Sendinblue. Although very basic and missing some of the more advanced features, it does offer up to 300 emails a day and allows for unlimited contacts to be included. It's a good way of testing Sendinblue to see if you wish to take it further.
The 'Lite' version of Sendinblue is targeted at established growing businesses that require between 10,000 and 100,000 emails a day. It comes with no daily limits, full email support and add-ons including the ability to remove the Sendinblue logo from your communications. Price starts at £16.50 per month for a maximum of 10,000 emails, rising on a sliding scale up to £59.50 per month for 100,000 emails maximum. 
Users requiring that many emails per day are advised to look at the 'Premium' version for between 20,000 and 1million emails which also offers marketing automation, telephone support, landing pages and multi-user access for a cost of £41.65 for up to 20,000 (100k costs £75.65 with this package). There is also an 'Enterprise' version of Sendinblue which is price tailored to your needs. 
Sendinblue alternatives