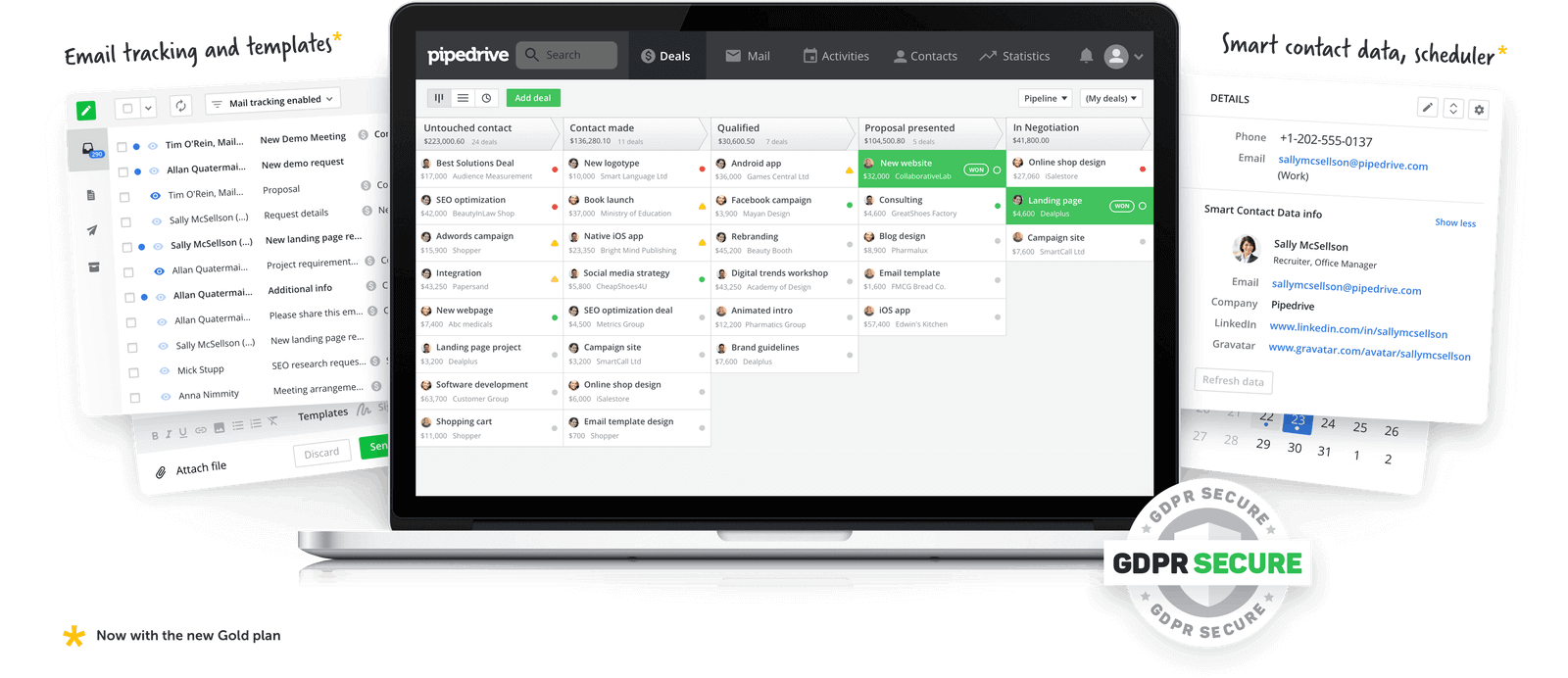 ---
Similar Tools
---
Pipedrive wants to keep your sales team selling by focusing on the right deals. Over 90,000 companies rely on CRM because it is able to increase the close rate by an average of 28% in the first year.
Try Pipedrive for free, or sign up for the platform and pay monthly. When you use Pipeline, you're choosing to prioritize your deals, predict revenue, and track performance. Streamline your sales and customer service with three key features:
Communication tracking
Lead and deal management
Task automation and AI
Pros
Good reviews on all sites
Great sales insights
Easy to use
Cons
Features are limited
Pricing based on # of contacts
Communication Tracking
Communication is the way your sales team increases sales and improves customer experience. Pipedrive allows for unlimited contact management to keep track of your company's
Consumer contacts
Organization contracts
Full timelines of all contact activities are available with a full history of communication from the first contact to the last. As your team seals deals, you can link contacts to deal for better control.
If your business has been using spreadsheets or a CRM to hold all of your contact data, you can import it into the system for an even faster setup.
Visual history redefines communication tracking with the ability to view:
Follow-up frequency can be adjusted on a single or group basis to remind you to continue communicating with high-potential leads. You can also send group emails to contacts to reduce the amount of time you spend communicating with contacts.
You'll also have access to:
Email inbox to incorporate open and click tracking, sync emails, send group email, use templates and more.
Caller tracking with outbound calling records, call logging and call recording.
Scheduler to quickly share availability, set up meetings and propose meeting times with leads.
A full calendar is incorporated into your communication tracking. The communication and tracking features also include customizable email signatures, file attachments to contacts, deals, inventory or email and contact maps to see hotspots for your products or service.
Lead and Deal Management
Incorporating a CRM into your business is likely for lead and deal management purposes. Pipedrive provides the tools and features your business needs to capture and nurture leads while tying deal management into the mix to enable sales teams to make faster sales.
Sales become visual with custom pipelines and drag-and-drop functionality. Teams can:
Add deals, place a value on deals, mark an expected close date and track deals with advanced "colored rotting cues" that show deals that are getting cold.
View visual pipelines with stage customizations that work for your unique sales cycle. Teams can also filter pipelines or filter by contact.
Custom fields allow for the organization and collection of sales data in a way that makes sense for your product or business.
Pipedrive CRM knows that leads and deals can come from multiple channels. Tools that provide capturing these leads include:
LeadBooster chatbot that automates bookings, answers common questions and can route leads to the right person or department.
Web Forms that generate leads with fully customizable forms. Email notifications can be turned on or off when a new web form lead comes in for rapid response by your team.
Teams can create a product catalog, import leads and import deals from other CRMs, such as Zoho, HubSpot or Salesforce.
Task Automation and AI
Automation helps businesses grow by eliminating the mundane, time-consuming tasks that can be better managed by artificial intelligence. The power of Pipedrive's task automation and AI starts with:
Sales Assistant: An AI-powered tool that provides personalized tips, automates recommendations, sends notifications, and has report graphs so that you know the performance trends of yourself or your team.
Workflow automation: Quickly automate any step in your sales process. Triggers can be added that automate the work for you and allow you to spend more time on the tasks that lead to more sales.
Smart contacts: A new, fun way to add contacts with a single click. The system uses an e-mail address and public data to pre-qualify leads. Pipedrive does the extensive work to gather contact data. Data can also be captured from Google, Twitter and LinkedIn.
Task automation and AI makes working with a CRM faster and easier. There are also prioritized activity reminders and an Open API for teams that want to develop custom features for their organization.
Automation reduces repetitive tasks so that sales teams spend more time closing sales.
Pipedrive offers the tools your marketing, sales and customer service teams need to keep your business growing. Insights and reports allow for fast decision-making, privacy and security measures are built-in with customizable user access controls and mobile apps are available for on-the-go usage.
CRM and Sales related blogs:
Pipedrive Alternatives