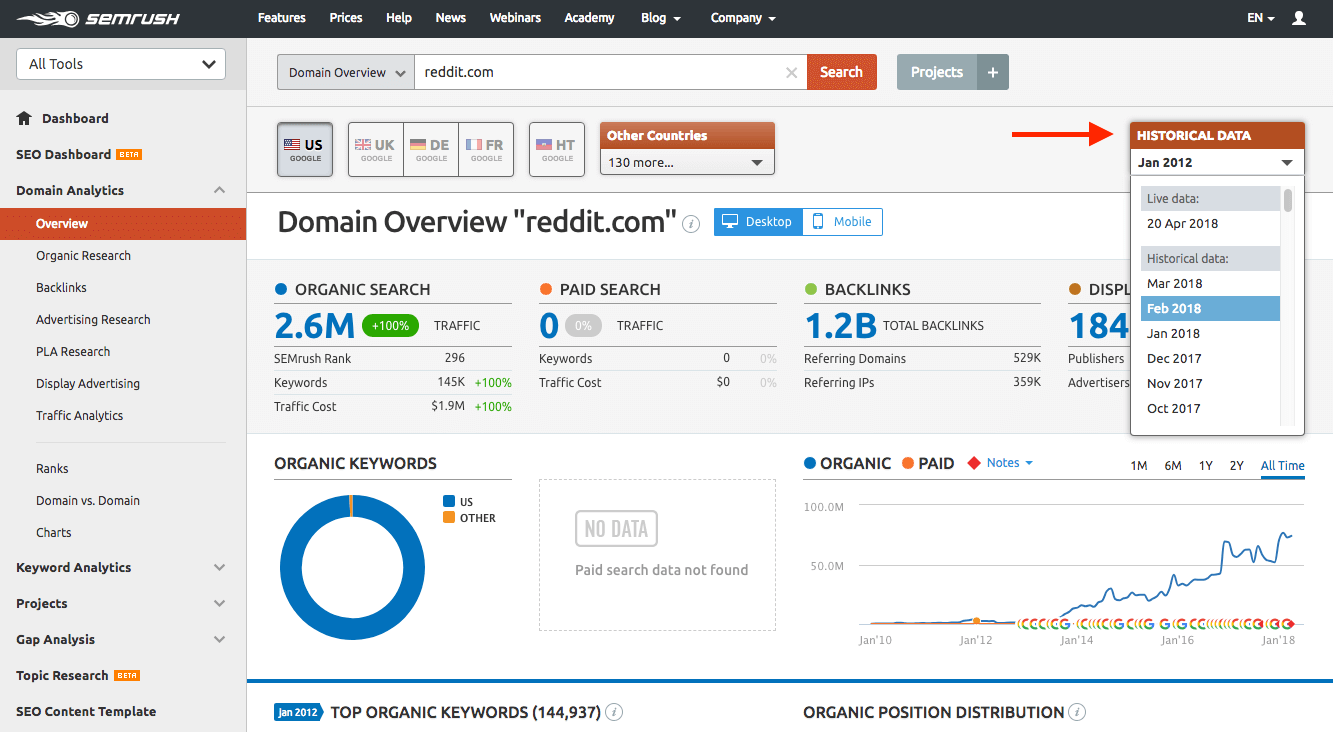 ---
Similar Tools
---
SEMrush Features
SEMrush is an industry leader in SEO, content, advertising and social media marketing tools. More than 5 million brands and agencies rely on SEMrush for their digital marketing needs. SEMrush was named the best SEO suite in the US Search Awards 2019, SEMY Awards 2019 and MENA Search Awards 2019. Interactive Marketing Awards 2019, also named SEMrush the best digital tool.
The service offers a suite of tools to analyze and optimize your marketing strategies. They are able to provide accurate, customised data with very quick turn-around times. Three of the top tools offered by SEMrush include:
Keyword Analytics
Market Insight
Domain Analytics
The tools is used all around the world by marketers as a part of their daily routine. From researching how products are advertised to finding the best way to phrase advertising text. It is a must have for small and big companies to search; trends, competition, and dollars spent by your competition. Their phrase is even; all-in-one marketing toolkit. See the features they offer:
Pros
Great features to get your SEO going
Getting information about your competitors
Good pricing compared to functionalities
Cons
Data can be a bit off sometimes
Keyword Analytics
SEMrush's keyword analytics tools help you target the right keywords to drive targeted traffic and increase conversions.
Using the keyword search tool, you can view:
Search volume, globally and locally
Keyword difficulty
Search trends
Competition
CPC
Related keywords
Keyword variations
Questions
SERP Analysis
Keywords can be researched individually or in bulk for convenience.
Other keyword tools include:
Keyword Magic Tool‍
View millions of keywords from SEMrush's keyword database and choose the best ones for your project with just a few clicks. Just enter your main keyword and choose a country. The Keyword Magic Tool will take care of the rest. Results are grouped by clusters, types and questions. Filters help you find the best long-tail keywords for your site.
Keyword Manager
SEMrush makes it easy to collect and save keywords for your site. You can also export your keywords into a CSV or XLSX file. Simply add keywords from SEMrush's tools to your keyword manager lists or import them manually. You can send your best keywords to other SEMrush tools, or export them.
Paid traffic enhancement
Using the Ads History Report, you can view past advertisements to analyze keyword performance & create the perfect ad.
PPC Keyword tool
CPC map
Ad builder
Market Insights
SEMrush's Market Insights tools are designed to help you explore, rank and analyze traffic. Market Insights tools include:
Traffic Analytics
Get a complete picture of a website's performance, check traffic metrics and get a side-by-side comparison of website traffic data. SEMrush allows you to analyze up to 200 sites simultaneously. 
Traffic Analytics includes:
Website Traffic Overview: Track visits, unique visitors and user engagement metrics. Get detailed information about your visitors, including what devices they're using (mobile or desktop) and how they got to your site (paid, social, referral, etc.). 
Audience Insights: See which sites your competitors' visitors are visiting and get insight into your potential reach.
Traffic Journey: Get insight into how your competitors drive traffic to their sites, analyze their SEO efforts and see which social networks bring them the most traffic.
Top Pages: View the competition's most popular content and offerings while viewing their customer journey.
Geo Distribution: Find the best markets for your site and see where your competitors get most of their traffic from.
Subdomains: Look at detailed analytics of competitor websites. See how well their email campaigns are performing and analyze their subdomains.
Market Explorer
With the new Market Explorer tool, you can see how your website measures up to industry standards.
Get a market overview, including market traffic size, traffic trends, audience demographics and more.
Find competitors, partners and leads. View a list of market players and their backlinks, traffic sources, search visibility and more.
Analyze markets, including players, trends and audiences.
Traffic Rank
The Traffic Rank tool allows you to measure the most popular sites in SEMrush's database based on traffic. All data in the report is sourced from their Traffic Analytics Tool. All of your data can be filtered by device type, region and month.
Domain Analytics
With Domain Analytics, you can analyze the strengths and weaknesses of competitors and customers.
Competitive intelligence tools allow you to see detailed information for each search, including:
Target markets
Top content
Advertising performance
Traffic sources
Search performance
Backlink profile
The suite of tools in Domain Analytics includes:
Organic Research: View your competitors' best keywords, landing pages in the search results and traffic driven by specific keywords.
Backlinks: Get detailed information about your competitors' backlinks. SEMrush crawls more than 17 billion websites per day.
Advertising Research: View competitor ad strategies to see how you can improve your own.
PLA Research: Improve your e-commerce strategy and get insights to improve Google Shopping optimization.
Display Advertising: Analyze your competitors' display and text advertisements to improve your own.
Keyword Gap: Compare your keywords to the competition and add keywords you may be missing to stay ahead of the competition. 
SEMrush has a comprehensive collection of tools to give insight into your own marketing strategy and the competition's strategy. Newcomers can sign up for a 7-day trial to try the platform and see if it's a good fit for their brand.‍
‍