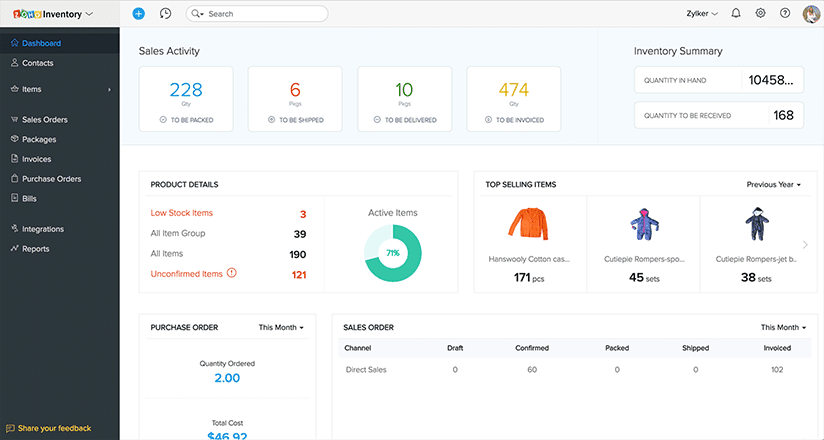 ---
Similar Tools
---
Zoho CRM includes more than 40 integrated applications that allow you to manage, automate and connect your business processes across your operation. Trusted by more than 150,000 businesses in 180 countries, Zoho CRM helps businesses convert leads, engage with their customers, and grow their revenue.
Start with a free account, or sign up for monthly or yearly service. Free trials are available (15 days) for each tier of service. Zoho CRM helps businesses automate their sales process, nurture leads and grow revenue through three important features:
Sales force automation
Process management
Predictive sales
Other products from Zoho:
Read also our blog on the best CRM systems.
Pros
Part of an entire suite of products
Easy of use and customization of the product
Connections with other tools
Cons
Lots of complaints about support & issues
Young company so lots of glitches
Sales Force Automation
Zoho automates mundane sales processes, allowing your sales team to focus on more important tasks, like closing deals, building customer relationships and nurturing leads. 
Zoho's CRM offers a number of tools to help with sales force automation, including:
Lead Management: Automate lead generation from multiple sources, including social media, websites, chats, trade shows, and websites. With Zoho, you can identify and nurture quality leads while measuring ROI.
Deal Management: View your deal pipelines at a glance to see which ones are near closing and which ones need attention. Use this data to improve up-selling and cross-selling opportunities while analyzing past deals. 
Account Management: Zoho has a variety of sales account management features to help you better understand your customers and improve your relationships with them.
Contact Management: Manage contacts, interactions, and communication with customers right from your CRM. 
Workflow Rules: Automate data entry and operational tasks that waste the time of sales reps, like email notifications and creating tasks.
Sales force automation frees up time for your sales reps, so they can focus on more important core tasks. But they also eliminate human error while helping your team focus on the most important leads.
Process Management
Zoho makes it easy to manage your sales process, from lead generation to deal closure. With Process Management tools, you can ensure that your team is following the same process every time.
Zoho's Process Management tools include:
Blueprint: Capture each stage of your offline sales process right inside of your CRM. Create a visual representation of your sales process and create actions for each stage.
Lead Scoring: See, at a glance, which lead sources are more likely to make a sale. 
Approval Process: Streamline the approval process for reviews, capital expenses, discounts, vacation time, document approvals and more. 
Email Parser: Streamline lead generation by gathering data directly from sales inquiry emails.
Validation Rules: Ensure that your sales reps gather all of the right information by setting rules for each lead. For example, you may have rules for lead ages or mobile phone numbers.
Escalation Rules: When cases aren't solved quickly, Zoho will automatically escalate them to the appropriate sales rep or manager. Configure the rules based on specific criteria, such as the time the ticket was created, case name or priority.
Process Management Tools will save your staff time while keeping your processes organized and preventing human error.
Predictive Sales
Zoho uses Zia, an AI companion, to help with the CRM's predictive sales features. Zia can gather information, take notes, predict outcomes, automate tasks and more.
Zoho's Predictive Sales features include:
Sales Assistant: Zia can understand queries and commands over voice or text. Just chat online or call to ask a question. Zia will read the answer out loud or display it online. 
Predictions: Zia can predict the probability of every open deal and assign each one a score based on how likely they are to close. This helps your team stay focused on the right targets.
Anomaly Detection: Get real-time updates on anomalies in sales numbers and activities, so you can act quickly to prepare for a revenue decline or incoming surge of leads.
Intelligent Automation: Zia learns your team's patterns and can make personalized suggestions for automation to streamline tasks and save time. Zia can even determine your efficiency to prevent mistakes. 
Data Enrichment: Zia performs periodic checks on your data to make sure it is up to date and accurate. She will also help you collect information to automatically enrich your customer records.
Sentiment Analysis: Zia can analyze your emails to identify emotional tone, identify angry customers and assist them more quickly. 
Zoho Predictive Sales services can help automate and streamline your sales process, whether you're in the office or on the go. 
Zoho CRM is highly rated by users and can easily be integrated into the business apps you already use on a regular basis, including GSuite, Zoom, PayPal, Shopify, Office 365, Dropbox, MailChimp, Zapier and more.
CRM and Sales related blogs:
ZohoCRM alternatives
See a list of CRM alternatives to Zoho.