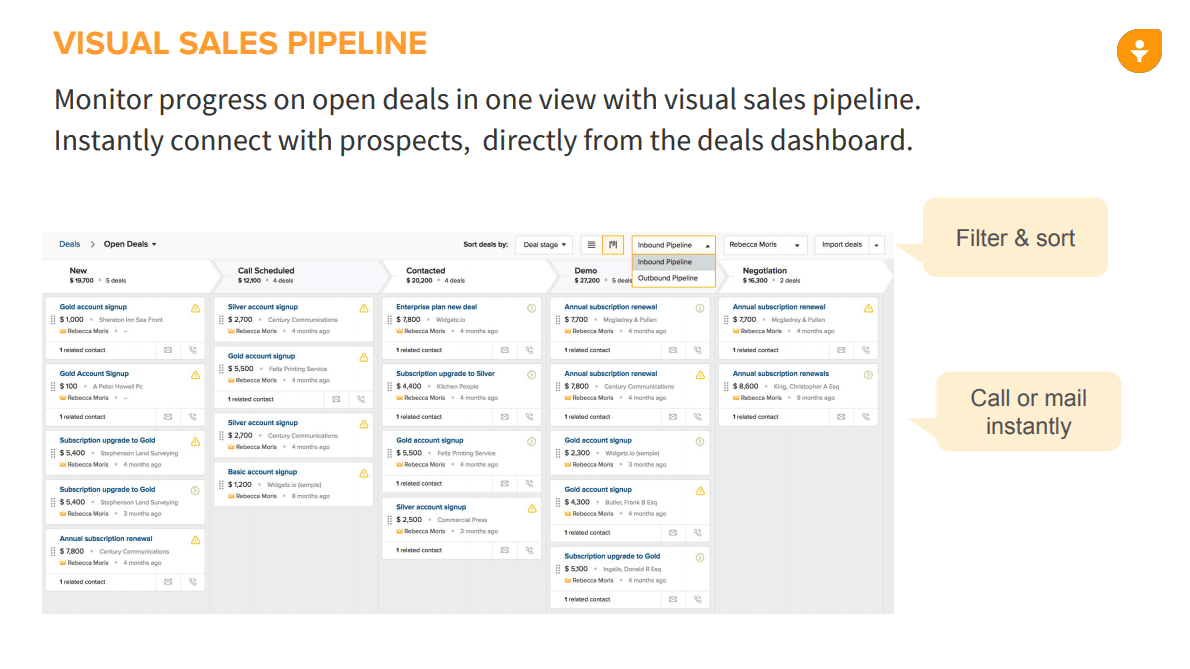 ---
Similar Tools
---
Freshworks CRM Features
Freshworks CRM is meant to be a better CRM. The platform relies heavily on other products offered by Freshworks and ties seamlessly together with these great tools. Users can give Freshsales a 21-day free trial with no strings attached to see how the platform can benefit your business.
Feature-rich and "different," the platform provides four main tiers that are billed monthly or annually and can have users added as your team grows.
Key features offered in the CRM include:
Pipeline management
Productivity tools and collaboration
Multi-channel communication
Pros
Number of integrations, especially within the Freshworks suite
 Free startup plan 
 Ultimate Sales tool
Cons
Can become expensive if you want all features
Pipeline Management
Business pipelines can mean the difference between profitability and running at a loss. FreshSales aims to make sales faster and more efficient for your business. A powerful set of tools and features are included in the pipeline management portion of the CRM.
You can visualize your entire pipeline across all deals and use the deals module to complete actions.
Advanced tools provide you with:
Visual sales pipeline that allows for a fast visual understanding of your company's pipeline with the ability to see all deals and their respective stages in your pipeline.
Rotten deals can be visualized using color-coded options that mark deals that are going cold and can be revived by teams.
Multiple sales pipeline allows for viewing of different products across different markets and where the sales are in your sales process.
Weighted pipeline to see the deals that have the greatest chance of being a success.
Sales goals that allow you to track and hit your goals with robust objectives and goals by territory, team, and product.
Advanced viewing and filtering options allow you to have custom deal column displays. Bulk action taking is possible, allowing you to delete or update deals as well as send emails or SMS in bulk. 
With pipeline management and a variety of display customization options, teams will be able to make sense of your sales process faster to close more deals.
Productivity Tools and Collaboration
Productivity and collaboration are closely tied together, allowing teams to work faster and more efficiently using powerful tools that are integrated into the FreshSales. Collaborate in teams that include groups of users that are able to share:
Reports
Campaigns
Appointments
Assignments
Team inboxes allow for sales reps to share one main inbox to jump in and out of conversations.
The platform also allows you to use Freshconnect to boost conversations, while Freshdesk allows teams to create tickets right from inside the platform.
Productivity is integral in any CRM, and from the very start, you're able to make sense of your data with a fast setup. You can import data and all relevant information while also enjoying real-time notifications to keep a pulse on your office's activity.
The productivity tools include:
Webforms that allow visitors to fill out forms and have all lead information added to the Freshsales system.
Tags enable you to make sense of records and allow for fast filtering and sorting.
Notifications when new records are assigned to users and notifications of upcoming appointments.
Templates to create and personalize emails with placeholder usage for bulk email personalization.
Notes and files that can be attached to appointments and records.
You'll also have access to a powerful import and migration system that allows you to get started with FreshSales faster while maintaining data kept in spreadsheets or other CRMs.
Multi-channel Communication
Communication is the key to enabling leads to interact with your business in ways that make sense. There are many channels of communication:
It would be best if you connected with your potential leads where they are spending most of their time. Freshsales empowers businesses to communicate through their CMS with effectively:
One-click calls through Freshcaller that allow for calls to be:
Transferred
Recorded
Logged
Use webchats and Freshchat to converse with leads right inside your CRM
Email with 2-way sync, schedules, email tracking, and activity reports
Integrate SMS into Freshsales to rapidly send personalized messages to customers, owners or leads with full in-CRM management
Full sales sequences can be created and managed inside of Freshworks CRM. You'll gain access to a robust set of tools that allow you to create, track and send outbound campaigns.
Add in the customization of FreshSales and insights, and you'll be able to leverage the true power of the platform. Real-time reports score leads, event tracking, activity timelines, auto profile filling, mail tracking, behavior-based segmentation and removing duplicate contacts are all part of the complete CRM package.
And this is just the start of the robust features available in FreshSales.
Different tiers offer different features. The tiers include Blossom, Garden, Estate and Forest. Forest is the highest cost and most feature-rich tier available
FreshSales Alternatives
See below a list of alternatives to FreshSales, all great CRMs to use to grow your business. Click on the buttons to check them out.