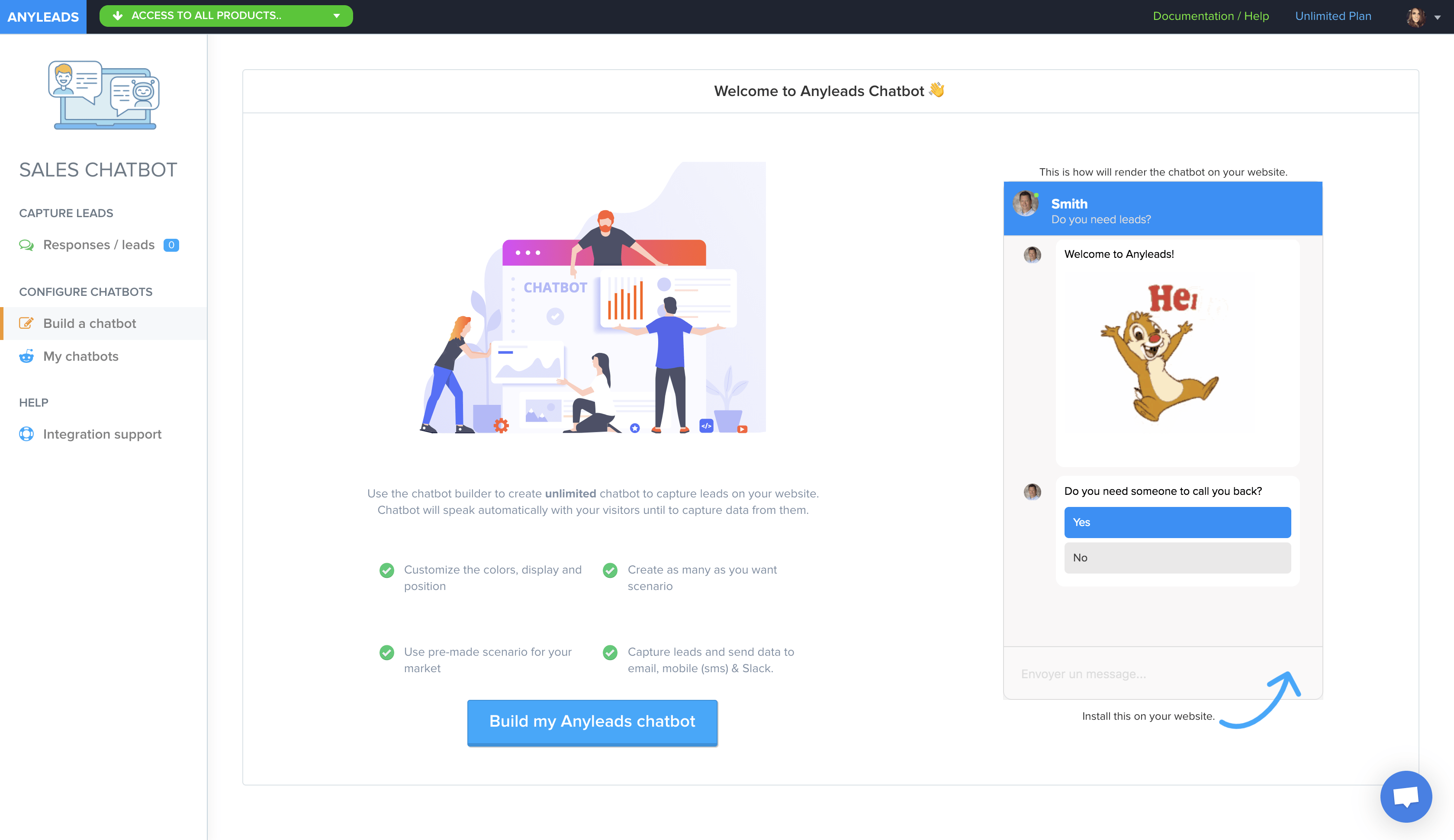 ---
Similar Tools
---
Anyleads Features
Anyleads is a leading platform that provides software to find, capture and convert leads. It is a real sales tool which helps SDR's to scale out their outreach and start closing more deasl. You can also use this tool to create content and drive traffic. Over 100,000 companies have used this platform, including big names, such as: Amazon, Google, Microsoft and Coca-Cola.
You can take advantage of a free trial that lasts seven days, or you can sign up for unlimited plan. The unlimited plan is a single plan, meaning that you gain access to everything under one plan without having to choose different tiers.
Three standout features of this platform include:
Prospecting
Sales Chatbot
B2B exchange
Content writer
Pros
Pricing; you will get a lot of tools for one price
They are full focused on helping you to grow your business
Prospecting
Prospecting is time-consuming, but this tool allows you to cut down the time it takes to research prospects drastically. All you have to do is upload a list of domain names, and the platform will find all the employees that work at the company and also provide information on the company itself. It is a great resource if you want to get started with Account Based Marketing.
The tool uses more than 40 different data points to get information.
A few data points that may be provided include:
Name
Location
Position in company
Email address
And when you have all of this information, you can choose to export it to Excel if you would like to add it into another tool. Once you have all of this information, you can add it into a drip campaign for email or send them a personalized email to try and make a sale.
Email information is only good when you're able to use it in an effective way to convert potential leads to sales. You can use the platform directly to send emails and:
Create drip campaigns, where you can send multiple emails over time to nurture a lead
Manage all contacts in one central location for ease of use
Verify a list of emails to ensure that they are all accurate and able to be marketed to without the risk of bouncing
Sales chatbot, one of the six tools offered, can provide an easy way to talk to your contacts. You can install and customize unlimited chatbots that capture data on your website. You can use these bots to answer questions and also lead to a prospect calling or emailing your company.
Pro tip: Check out this blog on everything you need to know about Drip Marketing.
Sales Chatbot
Converting website traffic is an easy way to fill up your pipeline. By installing custom chatbots, you can generate more leads on your website and capture more data. Create pop-ups on certain pages on your website to increase conversion, customize the chatbot so they are in your look and feel. Export the lead data to systems like Slack & your phone, this way you can quickly follow up.
B2B Exchange
Anylead's B2B Exchange allows you to boost your Internet presence. The exchange is an interesting tool because many competitors don't offer this feature. You can send posts to the platform where other businesses can like or share your content.
What this does is allows you to build up your social media presence while adding to your overall search engine optimization strategy.
Social proof is one of the best ways to build brand awareness and create trust between you and a lead. Prospects love social proof, and there is a social proof plugin available that allows you to add social proof directly to your website.
If you're like a lot of businesses that run multiple websites that generate traffic and leads, you can also add this plug-in directly to all of your websites. These notifications can be added to any website no matter how many you own.
Content Writer
Content can be expensive and very difficult to come up with, depending on your niche. With this personal writer, you'll be able to use artificial intelligence to help you with your content strategy.
A virtual assistant will automatically begin researching keywords that can be added to your dashboard and will help you understand what your audience is looking for on major search engines.
What you can then do is add this information into your content strategy so that you can generate organic traffic from Google.
Organic traffic converts at a much higher level and brings prospects directly to your business.
The platform goes a step further by creating unique content that is SEO optimized and ready to use.
If you need even more ideas, there is a YouTube subtitle extractor that allows you to extract subtitles from some of the best YouTube videos on the Internet. This will allow you to get some ideas of what people are interested in learning about, and what people have talked about in videos that are already available.
Anyleads allows you to discover unlimited emails, drip campaigns, send emails, add teammates, verify emails, and do it all under one plan.
Anyleads Alternatives
Conclusion
You'll find that Anyleads doesn't provide the best documentation on their website about their features. It's best to give this product a free try to really see the power that they offer when prospecting and some of the unique tools they have available.