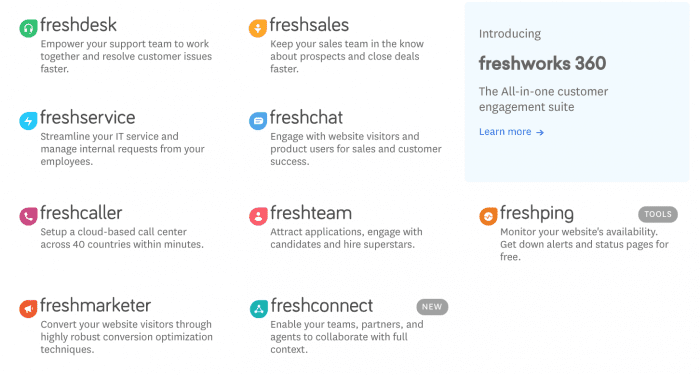 ---
Similar Tools
---
Freshworks Suite
Freshworks is a suite of software that can help any business with its goals and problems. They build all their software products as plug-and-play solutions, this means they are ready to go and easy to use. In short, what different solutions do they offer?
Pros
Multiple software solutions from one company
Integrations between own products
Discount when using multiple products
Cons
No bulk discount online, only per request
Support goes per product
‍Freshworks Features
Modern businesses have a lot to be thankful for when it comes to advances in digital technology. It's not just computers that we're talking about, but telephony and communications, as well as the ways in which businesses and consumers now interact with each other. The modern consumer wants to feel that they are being given individual treatment, and attention, hence the need for suppliers of goods and services to keep them engaged.
The need for streamlined systems and networks means that many software packages are available offering solutions for digital marketing, HR, sales and general daily business operation. One of the best-known names in the field is Freshworks.
Freshworks has designed a series of packages covering many aspects of business requirements, each aimed a specific department or function, and has a reputation for quality products at sensible prices. Below, we look at some of the most popular and useful solutions offered by the Freshworks family.
Freshdesk
Customers expect service of the highest order, and with Freshdesk that is what you can provide. Freshdesk is a comprehensive customer support package that includes everything to enable businesses of all sizes to handle enquiries and other communications quickly and efficiently. It gives your support team easy access to automated responses where suitable, helps them direct enquiries to the right people, and is equipped to handle all types of communication channels from email to messenger systems.
Freshchat
Being able to interact with visitors to your website and engage them at the right time is an essential part of getting leads to become clients. Freshchat offers a wide variety of chat options and allows users to track visitors and communicate with them when the time is right. Using a chatbot, you can also engage customers automatically, and the live chat and messaging functions can be used to send targeted marketing material. This is a handy sales solution package and one that can be used to talk to existing clients and improve customer loyalty.
Freshsales
Freshsales is a cleverly designed solution for your sales team. By using analysis of data regards visitors to your site you can build targeted groups that are then put through the Freshsales package, which gives your team access to a variety of functions that can be used to keep visitors engaged and improve lead conversion. You can target prospects with greater efficiency using Freshsales, and it can collect data and determine prospects and leads automatically.
Freshteam
One of the most popular of the Freshworks solutions is Freshteam, which is a fully functioning HR package offering a wide variety of features. Freshteam can be used as a recruitment team right from placing adverts in the right places to handling enquiries, referrals and keeping a log of responses. It can be used to check resumes, and once you have the candidates for interview, there is a tool that scores candidates to your tailored requirements. It's also used for keeping employee data and can be linked with calendars for tracking and allocation of leave and time off. This is a useful and fully formed solution that will be suitable for growing businesses especially.
Freshcaller
Providing an up to the minute and state of the art cloud-based telephone and call handling solution, Freshcaller is another part of the Freshworks family that is of use to growing businesses. It can be used to enable answering of calls at all hours and is a very capable package that keeps the people who need to know involved. Being cloud-based it can also be used remotely, which is something that many businesses are considering more seriously in the current climate.
Freshservice
The Freshservice solution is Freshworks' take on the modern IT solutions package, and highly effective it is. It is designed to streamline the handling of internal requests and problems, answer simple questions automatically, and deal with problems in a simple yet effective fashion.
All of the Freshworks packages can be integrated with each other, and with popular platforms relevant to their function, so what do we think of Freshworks overall?
Conclusion
There is no doubt that the Freshworks family of business management solutions is one of the top choices in a busy marketplace, and the fact they integrate throughout means that customers will likely take more than one part of the package. Proven and popular, these are effective solutions that do the job they are designed to do and will be of great interest not just to smaller growing businesses, but also to established outfits looking to move ahead in the digital age.
Business Software Alternatives