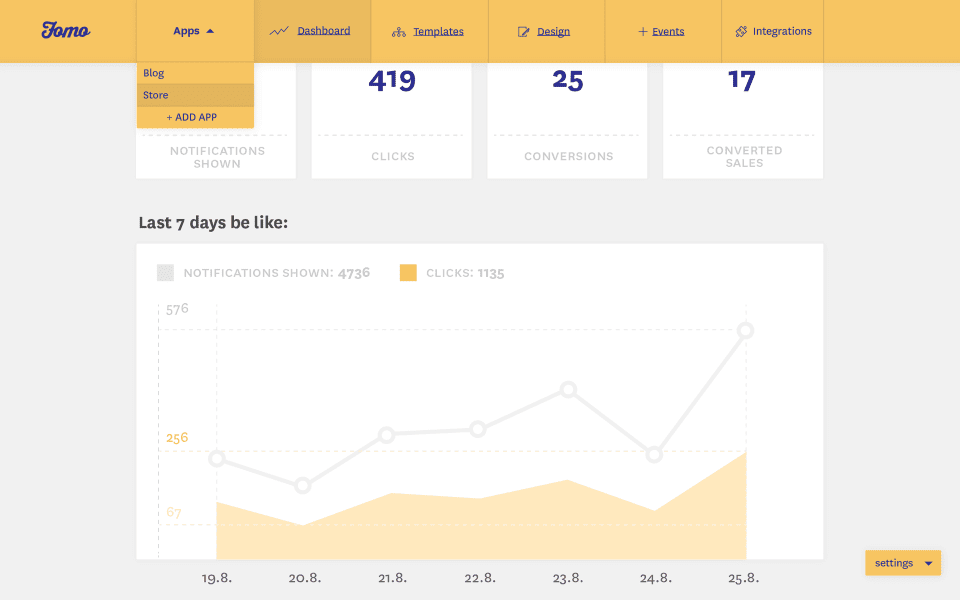 ---
Similar Tools
---
Fomo Features
Fomo is a social proof tool that builds trust and credibility while boosting sales. Generate that fear of missing out with notifications that let visitors know people are buying your products. You can use this tool definitely in a growth hacking test you are running.
More than 14,000 websites use Fomo. Customizable features allow you to display notifications your own way, and setup is lightning fast. Integration with more than 91 apps makes it easy to start using Fomo.
Three standout features of this tool include:
Customizable messages
Insights and data
Integration and analysis
Pros
They have proven to increase conversion
Highly customisable
Pricing based on number of notifications
Cons
We are not sure about GDPR compliancy
Pop ups can be experienced as annoying
A/B testing only available in highest package
Customizable Messages
Fomo allows you to create customized messages, putting you in complete control of what your visitors see. Fomo has a patent-pending architecture that allows users to customize messages virtually any way they want.
Display a notification letting visitors know someone just purchased one of your products right now. Along with your message, you can also customize the look of your notifications to match your branding and site. Make names bold, or change the color of the text.
To further customize your look, Fomo has a theme builder. Make your Fomo messages a part of brand building. Customize a pre-made theme, or incorporate your own custom CSS.
Template rules allow you to transform your data as you see fit, and page rules allow you to control what visitors see and where they see it. For example, you can choose not to display Fomo notifications on your About Us page, or any other page you want.
Display the data you want when you want. Fomo can even find patterns and create messages based on these findings. For example, you can let visitors know that 15 people just signed up for your free trial.
Fomo uses the power of machine learning to optimize conversion rates, but you can adjust many of the settings to better suit your visitors. From the settings tab, you can adjust settings like initial delay, display time and more.
Because people may visit your site from all over the world, Fomo makes sure that your messages are seen and understood. The platform translates to 27 languages, so visitors understand your message no matter where in the world they are.
Insights and Data
Fomo processes more than 10 billion data points every hour to help you find the optimal configuration for your website. The platform compares their data with your data to boost your conversion rates.
If your goal is to attract visitors from all over the world, you can use IP techniques to prioritize the content from their area. For example, you can display the customer's location as the event image, so visitors see that other people in their area are buying products from you.
Fomo allows you to track every dollar, so you can see how well your campaign is converting. Connect to your Scorecard or Google Analytics to see click-through conversions.
With Fomo Scorecard, you can view:
Impressions
Engagements
Clicks
Conversions
Conversion revenue
All of these data points allow you to gauge how Fomo's social proof tool is impacting your business and conversions.
Integration and Analysis
Fomo is a code-free tool, and it's incredibly easy to incorporate into the tools you already use. In fact, Fomo has more than 91 integrations, including:
Google Maps
Etsy
Woo Commerce
Stripe
Shopify
WordPress
YouTube
Instagram
Mailchimp, and more
Fomo Instant also allows you to connect any form on your website quickly and easily. If someone books an appointment by filling out a form on your site, you can let your visitors know about the activity.
Along with forms and purchases, you can also display messages and notifications when users engage in a variety of behaviors, like hovers or clicks. Fomo Actions makes this possible, and it's easy to use these tools.
With Fomo Broadcast, you can expand your social proof automation by automatically posting to your Facebook page or other social networks. This will save you even more time while boosting your social proof off of your website.
Fomo also offers developer tools so that you can truly customize this tool to your needs and brand. Incorporate Fomo into virtually any action on your site, so you can send notifications at the right time and with the right information.
Fomo uses machine learning to analyze 6 billion rows of buying behavior and find the best conversion settings for your website. A 14-day free trial is included with every Fomo plan. Multiple plans are available to meet your brand's needs. If you're not sure which plan is right for your company, Fomo has a tool to help you choose a plan that fits your needs.
Fomo alternatives
Proof
ProveSource
Provesrc
HoverSignal
Cue
Crowdy.ai
Popkit
Provely
Notifia