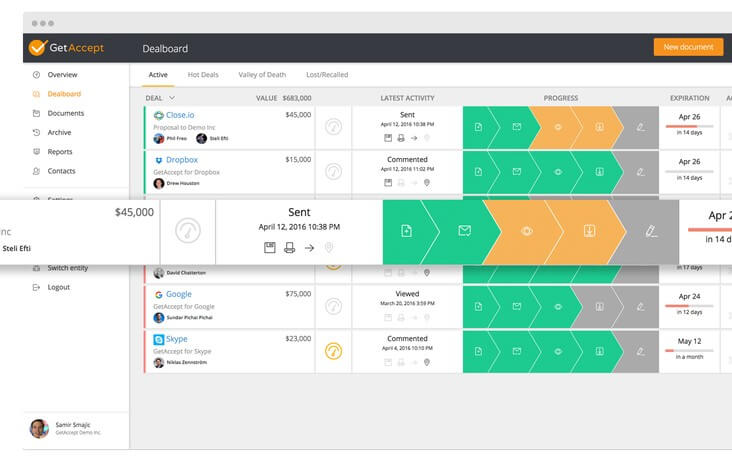 ---
Similar Tools
---
GetAccept Review 2021
Businesses have a wide choice of tools designed to help aid lead conversion and growth. Smaller businesses find such tools useful as the automate the sales and data analysis process, releasing individuals to continue with their dedicated role. One such tool is GetAccept. A sales enablement tool with many satisfied users and good reviews, GetAccept is described below including the main features of the software. 
What is GetAccept?
GetAccept is describes as Sales Enablement software for digital and remote selling. As with many such packages the aim is to cut down on time spent chasing leads by way of personalized messages and automated data analysis. GetAccept has some innovative features that may be unique to this software package. The software focuses on three main segments of commerce these being Sales Enablement, Contract Management and Product Solutions. 
Pros
All-in-one tool for Sales
 Reasonable pricing
 Clear ROI for your company
Cons
Could be complex to setup
Will do another tool for sales next to your CRM
Sales Enablement
The Sales Enablement sector of the GetAccept software is a comprehensive package offering a range of features designed to streamline lead generation and increase conversion rates. GetAccept includes a collection of well-designed ready to use proposal templates for pitching to potential clients, or the user can personalize their own designs. Proposals are followed by a real-time tracking tool that keeps the user in touch.
Proposals may include video or images – indeed all file formats are accepted – of any size thus providing a unique and original proposal that will engage the recipient, and with a workflow organisation tool included each individual prospect and proposal can be followed closely. This is a simple yet effective feature that will be appreciated by businesses of all sizes and types and especially those undergoing growth. 
With live tracking the user can keep an eye on the behaviour of prospects and know in real time when they are ready to commit, while a very welcome feature is detailed in the next stage of the process, Contract Management.
Contract Management
Once a prospect has indicated an interest the GetAccept system will notify the user of that workflow, and the Contract Management sector comes into play. This is another simple, easy to use and practical – yet also innovative – feature designed to make life easier. Workflows can be planned to send to multiple recipients internally and externally, enabling complex contracts to be completed by the right people in the right roles, complete with e-signing which is an important inclusion.
The use of e-signing is becoming more prevalent as people recognise the convenience of not having to travel or take time to find each individual signatory. GetAccept allows for all signatories to sign and also verifies and authenticates the signature. The time-saving element of this particular feature is a major bonus where potentially complex contracts and agreements are involved. 
Flexibility is a strong point of the GetAccept software as is the ability to create archives and files to keep track on workflows and contracts. 
Product Solutions
GetAccept can integrate with all of the major CRM tools including Salesforce, HubSpot, Microsoft Dynamics and more, making it easy for users to streamline workflows and send, receive and sign documents via GetAccept without leaving the application being used.
The GetAccept software package is designed for use across a variety of industry sectors such IT and Tech, Retail and Real Estate, Transport, Recruitment, Media and more, and the templates included can be customised to suit particular industries for a personal touch. 
The automated aspects of GetAccept will help all businesses achieve a greater ROI by providing seamless contract and workflow management as well as impressive prospect contacting and communications. Easy to set up and use, GetAccept is a sensible choice for smaller to medium sized businesses who are looking to add eSigning capability and sales enablement to their armoury.
Pricing and Final Word
The GetAccept software package is available in four different price packages. The first is Basic, which allows for a maximum of 4 users, comes with a chat function, branding options and all document types. It's priced at $25 per user per month. 
We would recommend that business managers consider the Business plan, the most popular of those on offer. This one includes everything the Basic plan offers and is suitable for up to 5 users. It comes with additional tracking and templates, full authorization ability, SMS, Google Docs, and more. With everything suitable for the medium sized business it is priced at $40 per user per month. The Enterprise package is $60 a month with up to 10 users, while an API version for developers is price on application.
In short, GetAccept is a useful and easy to use sales enablement software package that will be of interest to businesses looking to streamline their contract and workflow management.