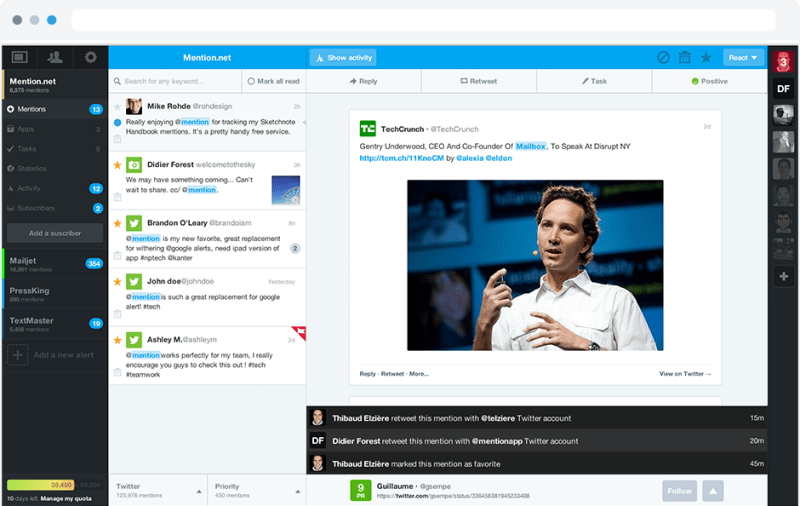 ---
Similar Tools
---
Mention Features
Mention is a social media and brand management platform that helps you grow your audience, boost engagement, stay competitive and protect your reputation. Tracking tools ensure that you don't miss out on conversations about your brand. You can even publish social media posts and analyze the competition all from one single platform.
Mention is used by brands and agencies around the world, including Microsoft, BenQ, Deliveroo and more. Three key features of the Mention platform include:
Pros
Free trial & Free plan
All-in social media tool
Monitor the success and activity of marketing campaigns
Cons
It sometimes discovers irrelevant results
Monitor
In today's digital world, your brand's online reputation is everything. Mention monitors your brand online, so you never miss a conversation. Monitoring also helps you:
Measure your campaign performance
Discover new industry trends
Gain insight into what customers love or hate about your brand
To keep track of your brand, Mention crawls sources all across the web, including blogs, social media channels, forums, review websites and news sites. Mention finds every instance of your chosen keyword and then aggregates the information in a way that makes it easy to see key metrics. You can even review each individual mention to get a more detailed look at the conversation.
With Mention's Listen feature, you'll receive daily reports of key information for each day and Pulse emails when people are buzzing about your brand.
Monitoring is more than just listening for brand mentions; it's also about keeping a pulse on your audience.
Mention helps you stay at the forefront of your industry. With their platform, you can listen to what your target audience is saying online before you plan content for your social media channels. This allows you to create timely, relevant content that your audience wants to see.
Analyze
Mention helps you analyze the competition by keeping an eye on what people are saying about them online. With this data, you can see how you stack up against the competition and how to stay ahead.
Mention allows you to see:
What your competitors are doing
How much share of voice they have
Their social media content
If you know what your competitors are doing online, you can better plan your strategies to stay ahead of the game and do things better.
Competition analysis tools can help you plan better content and keep on top of what your competitors are doing.
Analysis tools also help you stay no top of trends. The word cloud helps you find new, related topics. Other tools help you get to know your audience and better understand the sentiment of conversations.
Social Media Management
Mention's suite of tools allows you to manage your social media channels from one single platform. Grow your following, engage with your audience and keep track of what people are saying on your social accounts.
Mention helps you:
Curate content for your social channels
Manage your social media accounts
Engage with your audience
Manage your reputation
Analyze brand perception
Monitor crises
Find influencers and medias to partner with
Mention's Publish feature makes it easy to share new and relevant content with your audience. You can plan and manage your posting using this one simple tool. Integration with LinkedIn, Facebook, Twitter and Instagram allows you to plan, post and manage your content from a single platform. You can even schedule posts in advance to save time.
Content calendars can be viewed from your smartphone or desktop, so you can make adjustments on the fly. Mention's app allows you to post right from your smartphone, so you can share content when inspiration strikes.
Social media listening tools help you keep a pulse on mentions on Twitter, Facebook and other social media channels right from your Mention feed. This allows you to respond to and engage with your followers at just the right moment and all without leaving your dashboard.
To build your brand, Mention's influencer scores helps you identify and connect with people who will put your name in front of an even larger audience.
With Mention, you can keep a pulse on your audience, engage with customers at just the right moment, publish content, analyze the competition and more. A detailed dashboard allows you to see your data at a glance, and you can even schedule report deliveries to be delivered to your inbox whenever you please.
You can try Mention for free for 14 days – no credit card required. There's also a free plan that allows you to create one alert, three social accounts and use monitoring tools. Solo and Pro packages are available for businesses and teams that need more tools and features. Plans can be paid monthly or annually. Both options are priced favorably for small- to medium-sized businesses.