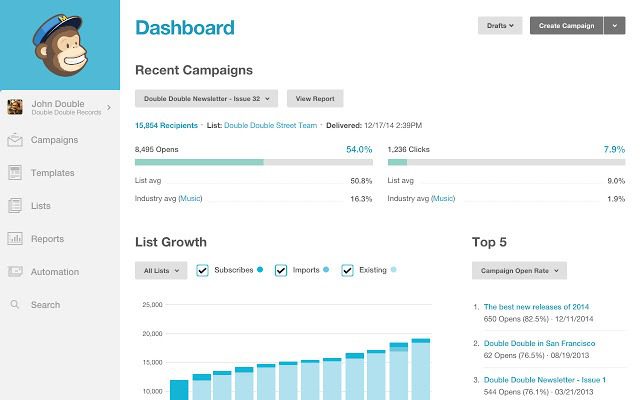 ---
Similar Tools
---
Mailchimp Features
Mailchimp is one of the most recognizable names in email marketing. Founded in 2001, the all-in-one marketing platform offers a wide range of email tools to boost engagement and conversions.
Trusted by AdHoc, UrbanSitter, Frankie & Myrrh, World Arts West and other well-known brands, Mailchimp has three stand-out email features.
Email Automations
Real-time Analytics
Transactional Emails
Pros
Free version
Easy to use
Great tool to start your marketing
Cons
No build in lead scoring
Response management
Email Automations
Mailchimp makes it easy to send automated emails. Send just the right messages at just the right time.
Automated emails are triggered by:
Certain dates, like birthdays
Subscriber activity, such as sign-ups
Clicks in emails
Opened messages, and more
Pro tip: read our blog on drip marketing campaigns
Mailchimp offers:
Date-based Automations
Send personalized emails on important days, like birthdays and sign-up anniversaries. Just choose a date, customize your email and start sending.
Emails can be personalized to improve engagement. You can also use this opportunity to recommend products to customers, or even send promo codes to encourage shopping.
Welcome Automations
With email automation, you can send welcome messages to new subscribers automatically. These personalized emails introduce your brand and give you a chance to tell your story.
These emails can include important and personalized details, like where the prospect signed up for your list, to keep them engaged.
Mailchimp gives you the option of sending a single welcome email or a series of emails that tell a bigger story. Include promo codes to new subscribers and turn prospects into customers.
To get started:
Choose your list
Set the timing for your welcome emails
Design and customize your message
Start welcoming your new subscribers
Emails can be designed using the drag-and-drop designer built into the Mailchimp platform. Professional layouts help you make a good impression with your emails.
Behavior-based Automations for Apps
Send relevant messages based on how your contacts are interacting with your brand's app. Leverage Mailchimp's API to pinpoint behavioral data that is important to your brand and import that data into Mailchimp.
With behavior-based automations, you can:
Send messages at timely moments
Re-engage with users that haven't used your product in a while
Send upsell or upgrade emails to increase conversions
Use pre-designed templates or Mailchimp's drag-and-drop builder to create your emails
Behavior-based emails allow you to reach out to customers at opportune moments to improve conversion rates. Automation makes it possible to send emails at just the right moment. Catching prospects at these important times would be nearly impossible with manual emailing.
RSS-to-Email
With RSS-to-email, your subscribers and readers will never miss your new content. Mailchimp's automation features allow you to:
Automatically schedule emails to be sent whenever you post new content.
Drag-and-drop your content into your email design for quick, easy and professional emails.
View analytical data to see when emails get the most engagement, like opens and clicks.
Mailchimp makes it easy to turn your blog posts into engaging emails. Every time you publish new content, readers and subscribers will be alerted and can easily navigate to your post. This drives more traffic to your site and puts your brand at the top of your prospects' inboxes.
The RSS-to-email conversion is done automatically for you. All you have to do is design a template for your email updates.
Real-Time Analytics
View data in real-time, so you can make informed business decisions. Monitor trends, create better campaigns, and track campaign performance. With Mailchimp, you can access email data in one central place.
With real-time analytics, you can:
View reports on engagement, growth and revenue
See who has interacted with your emails, including clicks, downloads and purchases
Compare your email campaign performance against the competition (clicks, unsubscribe rates, open rates, etc.)
View benchmarks in your report, so you can see how you stack up to others in the industry
View detailed revenue reports to track sales, see which prospects made purchases after opening your emails, and how much money your campaign has generated
All of your real-time data can be quickly and easily accessed through the Mailchimp mobile app.
Transactional Emails
Mailchimp's transactional emails allow you to engage with customers at just the right time using SMTP or API.
Mailchimp offers:
Automatic SPAM loop registration and fast email delivery
Multiple options for analytics
Custom tags
A/B testing
Comparative reports
White-label click tracking
Custom return path
Rules engine
Sub-accounts
Reverse DNS
Send order confirmation emails automatically and ensure that these messages land in your customers' inboxes – not their spam folders.
Mailchimp offers a free basic account to help you get started. Three tiers of plans are available to help businesses of all sizes and budgets take advantage of their robust platform.
Pro tip: Read this blog so you always hit the inbox with your transactional emails.
Mailchimp Alternatives