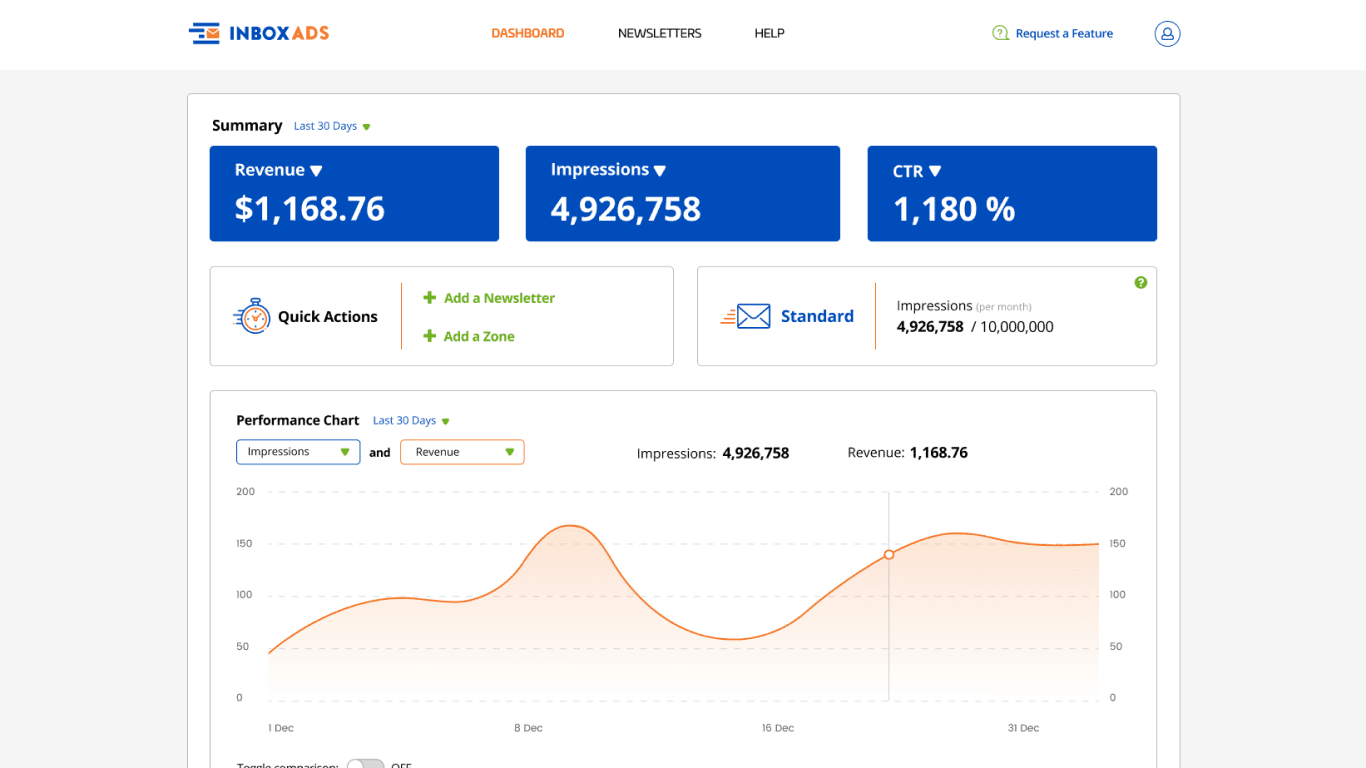 ---
Similar Tools
---
inboxAds Features
inboxAds is an advanced email advertising platform designed to enable publishers to boost revenue through programmatic native ad placements.
The product is packed with features that turn emails into a new revenue channel. Most of these tools work in the background, which means you can generate revenue and provide readers with the content they want at the same time.
Using dynamic, native ads from a rich, curated inventory, the platform leverages the power of AI and advanced personalization algorithms to decide which ads are best served to your audience.
inboxAds carefully selects the content that will reach your email recipients based on their preferences and search history. That determination maximizes the number of clicks and increases your earning potential. 
When talking about features, there are three in particular that make this platform stand out:
Seamless Registration
Curated Ad Inventory 
Custom Native Placements 
Pros
Immediate Revenue Increase
Easy & Fast implementation
Customization possibilities
Cons
Dedicated only for email monetization
You will need email subscribers
Bottom of page ad is added
Seamless Registration
Getting started with inboxAds is quick and easy – you can create your account and set up your first newsletter in less than three minutes. What's even more interesting is that the service is free of charge for email publishers.
inboxAds is a true plug-and-play email monetization solution. You can use the intuitive drag-and-drop feature to choose which ad sizes fit your newsletter template and where you want to display your ads, also you have a newsletter preview.
Everything is integrated into the product – from signing documents digitally to cashing out revenue. 
However, if the ready-to-use solution isn't a perfect fit and you would have special requirements, they can develop a custom email monetization solution specifically designed for your newsletter.
Curated Ad Inventory 
 inboxAds works with multiple inventory networks that number among the most reputable in the programmatic advertising industry. All the ads that appear in your newsletter are subject to a quality audit. Therefore, you're in charge of everything that appears in your newsletter, and you can even control the categories of ads that appear in the email.
The built-in algorithms work with your own inventory to ensure the best possible outcome. In addition, the system manages traffic distribution, so you get the maximum revenue out of each conversion.
Another important aspect is that the solution was designed to fully comply with all the privacy requirements in various regions (e.g. United States, Europe). 
Custom Native Placements
inboxAds uses multiple widget formats that are IAB standards-compliant.
However, at your request, they can develop custom widgets to accommodate any space constraints or design formats in your newsletter, for a truly native experience.
The dashboard allows you to easily double-check your design, ad placement, and wording in real time before you click "SEND."