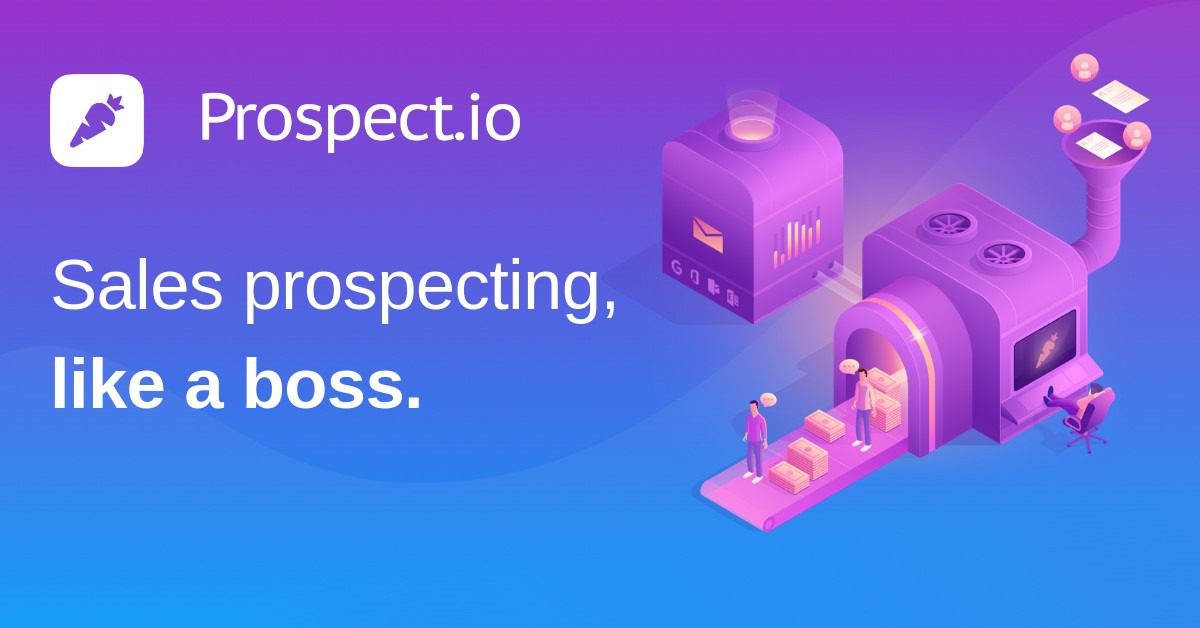 ---
Similar Tools
---
Prospect.io Features
Prospect.io is a sales automation platform designed to increase your outbound sales team productivity. When using this platform, you'll be able to close more deals and start more conversations.
Prospect.io integrates with a range of third party apps including Pipedrive, Salesforce, Hubspot, Close.io, and Slack, to automate data synchronisation and ensure that prospecting workflows and sales pipelines flow seamlessly through multiple systems.
Two plans are available, allowing you to email hundreds of prospects, create prospect lists, create unlimited campaigns, verify emails, track your emails, drip emails over time and view reports on your progress.
Three of the main tools available with Prospect.io are:
List building
Outbound
Productivity
Pros
Great way to scale your outreach as a sales person
Must have if you are doing lots of cold emails
Easy to use
Cons
We are unsure if it will survive your GDPR check.
Can be considered pricy
List Building
Listing building can be considered a suite of tools that provide you with invaluable information on potential prospects. This tool will account for an abundance of what is offered on this platform.
You will be able to get the right message to the right person faster and more efficiently with great features, such as:
Email Finder, which allows you to find emails in seconds using automation.
Chrome Extension that allows you to use Google Chrome to find information on prospects when you're on their websites. You can also use social networks to find information on a prospect.
Email Verifier is one of the most versatile and important tools on the platform. This tool allows you to verify emails in real-time. You never have to send a message before ensuring that the email is deliverable and being sent to the appropriate prospect.
But it is also hard to keep all of your contact information in one place. You will be able to organize information in lists, use smart segments, create custom fields and also create exclusion lists.
Prospect.io's segmentation is a highly customizable option to send personalized messages to each prospect. Prospects never have to feel as if you're mass mailing them when smart segmentation is in place.
If there's a prospect or company that you do not want to contact in the future, you can add it to the exclusion list to ensure no one in your company ever reaches out to them again.
Outbound
Prospects require a lot of nurturing for them to go from a lead to a sale. Prospect.io allows you to remain persistent with their outbound tools. You'll be able to use great tools to:
Create multi-touch drip campaigns, which include emails, calls and different actions to help automate your work and boost productivity.
Use variables and templates for your email to provide truly customized emails, including the person's first name, last name and company name as well as other information that you may want to include for optimal personalization.
Automate your mailbox by connecting directly to your email account. You can start sending emails on your own account or on behalf of your colleagues if you're sharing sending email addresses. The platform supports: Gmail, Microsoft Office 365, Microsoft Exchange and SMTP/IMAP servers.
If you use Salesforce or LinkedIn, you'll be able to connect directly to both of these platforms without ever having to leave your CRM.
Pro tip: Read our blog on Everything you need to know about Drip Marketing.
Productivity
Productivity is the difference between making sales in a manner that is cost efficient or losing money. Time is precious, and with Prospect.io, you have all tools available to make sales and boost efficiency.
Sales teams connect to what is called the "Sales Cockpit." Sales cockpit offers a simple dashboard with a lot of power. The cockpit allows team members to add:
Notes
Email tracking
Tasks
The platform works with a no data entry philosophy. What this means is that platform feeds information into your existing tools so that you can reduce the amount of data you have to plug it in over time.
There's also something called two-way sync, which keeps your CRM updated with data from Prospect.io. You can use full customization with user mapping, conflict management and priorities.
Prospect.io works with many of the most popular CRMs, including:
When members of your sales team go to make decisions, they can use reporting to their advantage. You should be making decisions based on data, not chance. Prospect.io takes over your outbound strategy with full tracking. You'll be able to track when someone:
Opens an email
Clicks on a link
Replies
Bounces
Converts
Company performance is also provided. When you look at company performance, you can see your different outbound sales activities and understand which activities are helping increase sales the most.
The platform also provides you with information to understand which employees are performing well and which may benefit from additional training to boost their sales. There is a leaderboard as well as sales goals and objectives that can be added to the platform to have a better overall view of how your team is performing.
Prospect.io alternatives