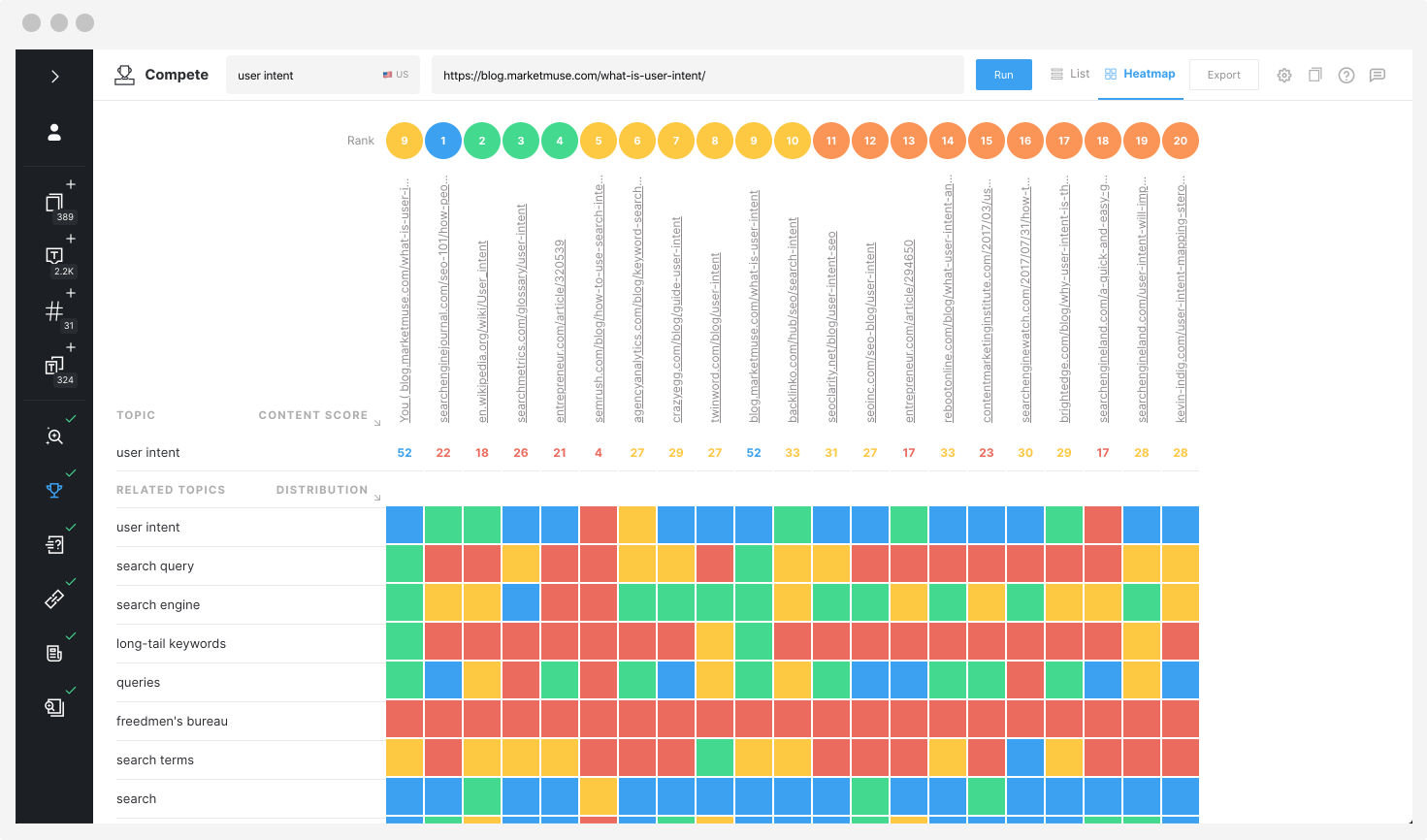 ---
Similar Tools
---
MarketMuse Features
In the digital marketing world, content is king. MarketMuse helps you create content that drives traffic to your website and improves your rankings. This is a top-level tool and platform aimed at agencies and content creators that receive high volumes of traffic.
MarketMuse is used by leading content creators, including Business.com and Healthline. While the platform has a variety of features, three of the most important include:
Pros
Get full control over your content
Reach your content goals
Deep insights into your content
Content Strategy
MarketMuse gives you the tools to create effective content. AI-driven tools allow the platform to make content predictions and help you achieve your goals. Creating content strategies can be a time-consuming and resource-intensive process. MarketMuse simplifies the process and saves you time, so you can create an effective strategy quickly and easily.
Customized metrics allow for better predictability and will consider your site's individual content. Analysis will tell you your site's strengths, weaknesses and potential opportunities. Tailored results will ensure that you create the best content for your target audience.
The platform will also assess your content to see how well you've covered a topic and how successful your content has been in the past. This helps you find opportunities for new content and to ensure that you content succeeds. MarketMuse will take keyword difficulty into account and adjust it based on your authority. The higher your authority, the less difficult keywords will be.
Predictability allows you to create an effective content strategy that drives the results you want with your content.
MarketMuse can help with content creation for:
New sites
Site optimization
Category optimization
New categories
User intents
Local services
Landing pages, news articles and service pages
The tool harnesses the power of AI to identify strengths, weaknesses, opportunities and gaps that you can fill.
Content Research and Creation
Research plays an integral role in content creation, but it's also a time-consuming process when it's done manually. MarketMuse uses the power of AI to perform content research in minutes.
The goal is to help you create expert-level content to solidify your brand as an authority.
Along with research, MarketMuse also helps you create content faster by creating content briefs. These briefs provide detailed information on what will be required to provide authoritative content that's search-engine friendly, including:
Structure
Important topics to cover
Subheadings
Questions to answer
Audience profiles
Best pages to link to (externally and internally) and the anchor texts to use.
Topic Reports provide you with topic and competitive research that's relevant to your niche and audience.
Content briefs and topic reports can be used to create the most relevant and effective content for your niche.
Of course, MarketMuse also has keyword tools to help ensure that your content includes all of the right terms, including:
Long-tail keywords
Keyword suggestions
Search volume data for your keywords
With the keyword data provided by MarketMuse, you can track your rankings and even view history reports for a variety of search engines. You can also receive keyword ranking information based on geographic location and receive rank alerts for when your website's ranking changes.
Content Optimization
Before you publish your content, MarketMuse will analyze and help you perfect it to get the best results.
The optimization process begins with helping you find the best topics to cover. MarketMuse even helps you write in your audience's language. Analysis will let you know whether your copy will be engaging to your audience and search engines.
The Content Analyzer tool is powerful. You can directly import the content on a page using the URL tool, or you can copy and paste it right into MarketMuse. Content analysis will provide you with a wealth of information, including:
Content scores: Depth scores to see how well you cover a topic, best content score for top ranking pages and average content score for your highest-ranking pages.
Related topics that should be mentioned in your content.
How often you mention certain topics and what your mention target should be.
How long your content should be and your average word count target.
Using all of this information, you can optimize your content to improve rankings and user experience. The optimizer will give you a score for each piece of content that you analyze as well as a target score. Reaching the target score will help ensure that your content contains all of the elements for improved rankings.
MarketMuse offers a free 30-day trial for Pro accounts. A variety of other packages are available, and users can sign up for a custom demo for each one.