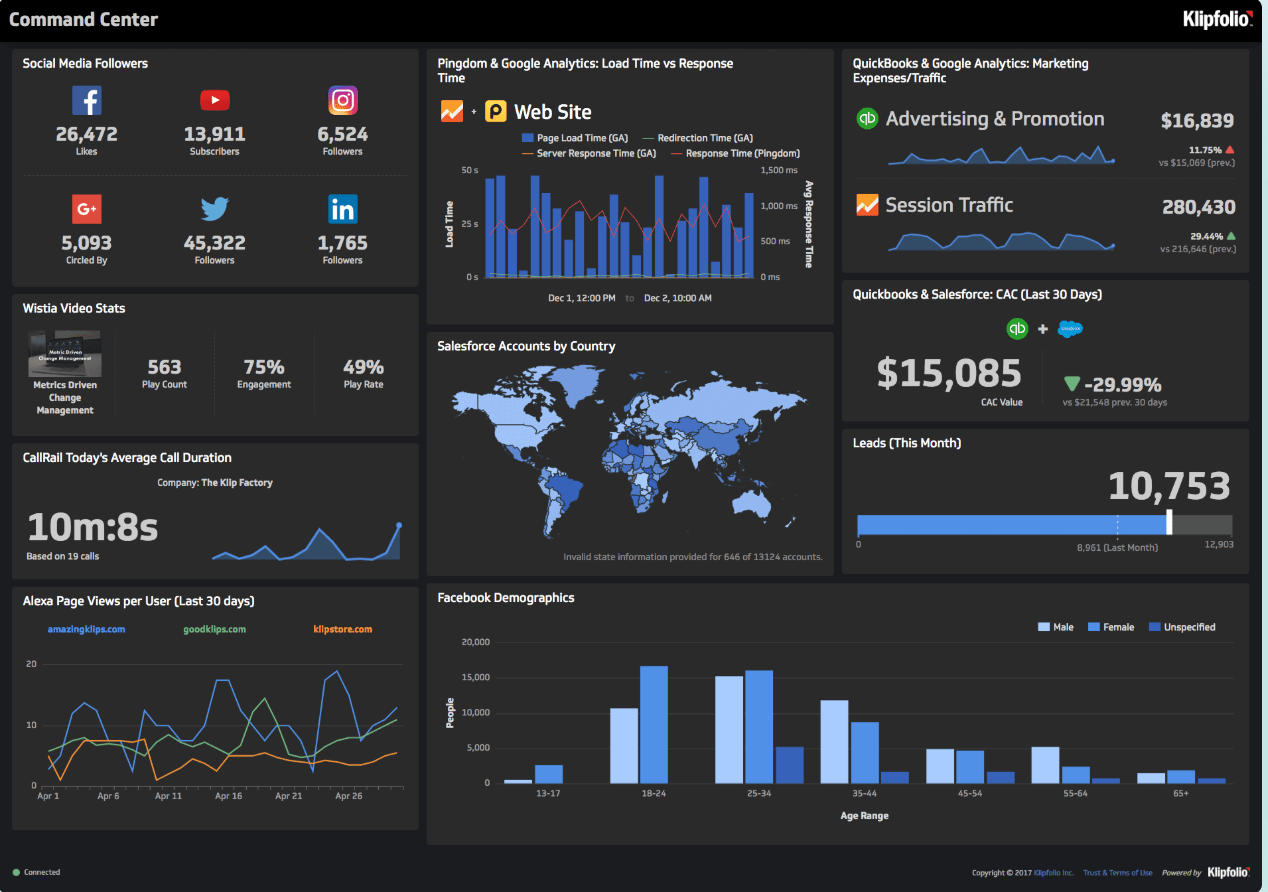 ---
Similar Tools
---
Klipfolio Features
Whether you run a smaller business that is looking to grow or an established outfit, you need to keep on top of data analysis if you are to grab new leads and keep existing customers on board. Your website is your first port of call for everyone, new and existing, but gone are the days when you simply had a site built and left it to do its job.
The customer in the digital age wants more than just to visit and buy, they want to be engaged and enjoy their shopping experience whether it is for an exciting product or an essential one. So, you need to know where your website is performing, and where it is losing you business.
With tools that allow you to design bespoke dashboards for specific clients, and share them with clients and your team, to enable accurate data collection and analysis Klipfolio is a tool you might want to take a look at.
Pros
Pre-build templates
Easy connecting all your data sources
Award-winning support
Cons
No free support
Long learning curve
Would need to upgrade to bigger plans when building big things
How Klipfolio Works
There are many features that make Klipfolio a viable choice for any business looking at enabling growth. It combines data analysis with integration with all the major platforms including accounting, sales, CRM's and much more, and is designed to help improve lead generation by way of targeting specific customer groups and other clever metrics.
Through its three main units – PowerMetrics, Klips and MetricHQ – and the dashboard building function which uses a simple drag and drops, Klipfolio is a useful tool in online marketing. Let's have a look at those features and what Klipfolio can do for you.
Pro tip: Have an analytics tool to measure the ROI of your marketing strategy
PowerMetrics
PowerMetrics brings together all the data from your teams in one easy to access place. Overall market performance and lead conversion rates can be displayed alongside return on investment and spending in different areas of your marketing campaign, allowing you and your team to see at a glance where money is working for itself and where help might be needed. It's an overall view of the Klipfolio data gathering and analytical ability and can be used to great effect.
Klips
The second of the Klipfolio reporting tools, Klips is cleverly designed to enable the user to see everything they need in excellent visual representations, either all in one or piece by piece – hence 'Klips'. The customizable reporting templates can be tailored to your needs – or those of a specific client – and automated, giving you everything you need quickly and efficiently. Klipfolio also offer 1 to 1 expert help in designing dashboards and there are more than 80 interactive examples to choose from, or you can modify to your own requirements.
MetricHQ
The central point in Klipfolio if you like, this is where you can learn in detail about all the metrics involved in analyzing your performance, and create a response that will enable you to improve performance, engender leads and engage your existing customers.
Client Reporting
Perhaps the most impressive aspect of Klipfolio is the ability to create tailored dashboards for different types of businesses, thus giving them exactly what they need with attention to detail. You can design your own, or Klipfolio offers dashboards already optimized for the likes of financial services, software developers and marketing agents, and there is plenty among the standard templates to help get an idea of the information you want to present.
Klipfolio is notably able to be integrated with a wide range of data sources which could include web-based apps, spreadsheets, databases, and whatever you tend to use. All the big names and more specialized areas such as accounting are covered, making this a comprehensive package that deals with just about everything.
A final note is that with Klipfolio you can choose to use complex formulas when processing your data; some tools limit the formulas to basics, but with this one, you can go a step further. What do we think of Klipfolio overall?
Conclusion
The various aspects of Klipfolio combine to make what is a neat package with the emphasis on tailoring marketing towards certain customers. With many dashboard templates to choose from there is bound to be something here for all, and it's easy to customize with simple drag-and-drop editing as the method.
For data analysis, this is a tool that can be used to get at hard metrics successfully and allows for effective processing of that data gathered to keep on top of necessary improvements. Overall, Klipfolio is a good tool for growing businesses and may be of interest to established outfits who want to look deeper into their data analysis.
Klipfolio Alternatives