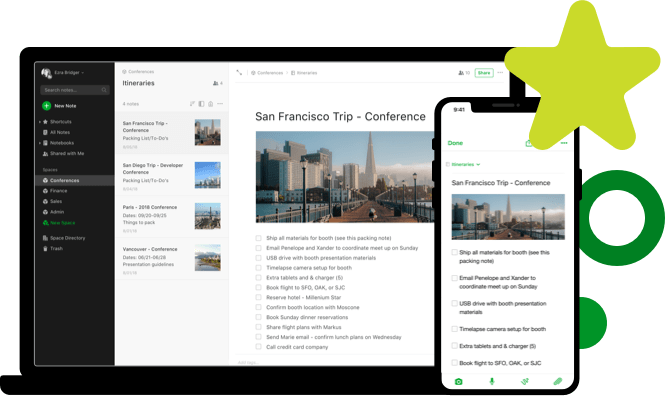 ---
Similar Tools
---
Evernote Features
Notes feature strongly in any business setting. You take notes at meetings, scribble reminders when something crops up, send notes to your team and more. With the advent of digital technology the paperless office was supposed to become reality, but it hasn't yet made itself known other than in a few examples. However, the need for digital note taking is a real one, and that's where a tool such as Evernote comes into the picture.
Evernote is a dedicated note taking and communication tool that will be of great interest to anyone involved in a fast-growing and busy business of any kind. It offers a variety of features designed to organise your notes – and those of others – more readily and save time in the process. Before we look at some of the features in more detail, here's a bit about what you can expect from Evernote, and why you may want to use it.
Pros
Great internal search engine, find your notes quickly
Supported by all devices
Become digital and never lose your notes again
Cons
You will be forced to a paid version when using it frequently
Could take a while to really understand how to use best
No real 'team controls' for the admin
How Evernote Works
Evernote is available in three plans – Basic, Premium and Business – which means there will certainly be one that has the features you need. The pricing for the Business plan – the one that any corporate buyer should be considering – is very reasonable and compares well to other similar packages. The Basic, which we will talk about in a moment, is a free package that will be of interest to individuals and may be enough for a sole trader. Let's have a look at what is available with each.
Basic Evernote
The Basic package is a simple and straightforward tool that will be of interest to individuals and those who need to store notes in an organised manner. It allows you to take notes, save photos and website addresses, add photos and more, and store it all in one easy to access place. Furthermore, as Evernote is cloud based, you can access your information anywhere from a smartphone of tablet.
You can create a to-do list, share your notes with others – they don't need an Evernote account – and use Siri as a voice command. Plus, Evernote can send you reminders when you set deadlines. This is all available as the Evernote Basic package; it's free and will always be free.
Premium Evernote
The Premium version of Evernote is an interesting package. With this version you get everything that is listed above plus more capability. So, you can save notes and create to-do lists and so on, but you can also attach emails, PDF's, Google Docs and more, giving you access to all the information on a project or meeting in an instant.
Evernote Premium also allows you to share and present your notes with a single click, has an advanced search facility for finding what you need very quickly, and you can create mood boards, stay in touch with others and share information, and sync with all your devices and apps that Evernote can integrate with for more efficient day to day organisation. There is a small monthly fee which at the time of writing is around £5.
Evernote Business
The Business tool is a combination of everything that comes with the Premium package plus several very useful features dedicated to business users. Evernote Business allows all members of a team to hare and upload information relevant to a project, meeting, or event, and is also able to handle the organisation of everyday appointments across the board. It can even share notes and files even if the team member is offline.
This is a powerful tool for teamwork and one that allows you to bring team members onboard easily. Evernote Business can integrate with a wide variety of apps, tools, and software packages – included are Slack, Salesforce, Microsoft Teams, Gmail and many more – so that you can always stay in touch and keep updated. It's easy to use and will save time when organising meetings or webinars among many people.
The above are brief descriptions of what is a powerful and useful tool, so what do we think of Evernote overall?
Conclusion
If you are prone to scribbling notes and then losing them, Evernote is for you. For simple note taking and organisation the Basic package may be suitable. If you want a tool that will help you collaborate with team members or even clients, and share notes and ideas in a variety of forms very quickly and easily, then Evernote Premium or Business will be useful to you. Easy to use, simple to set up and surprisingly handy, Evernote is worth checking out in more detail.