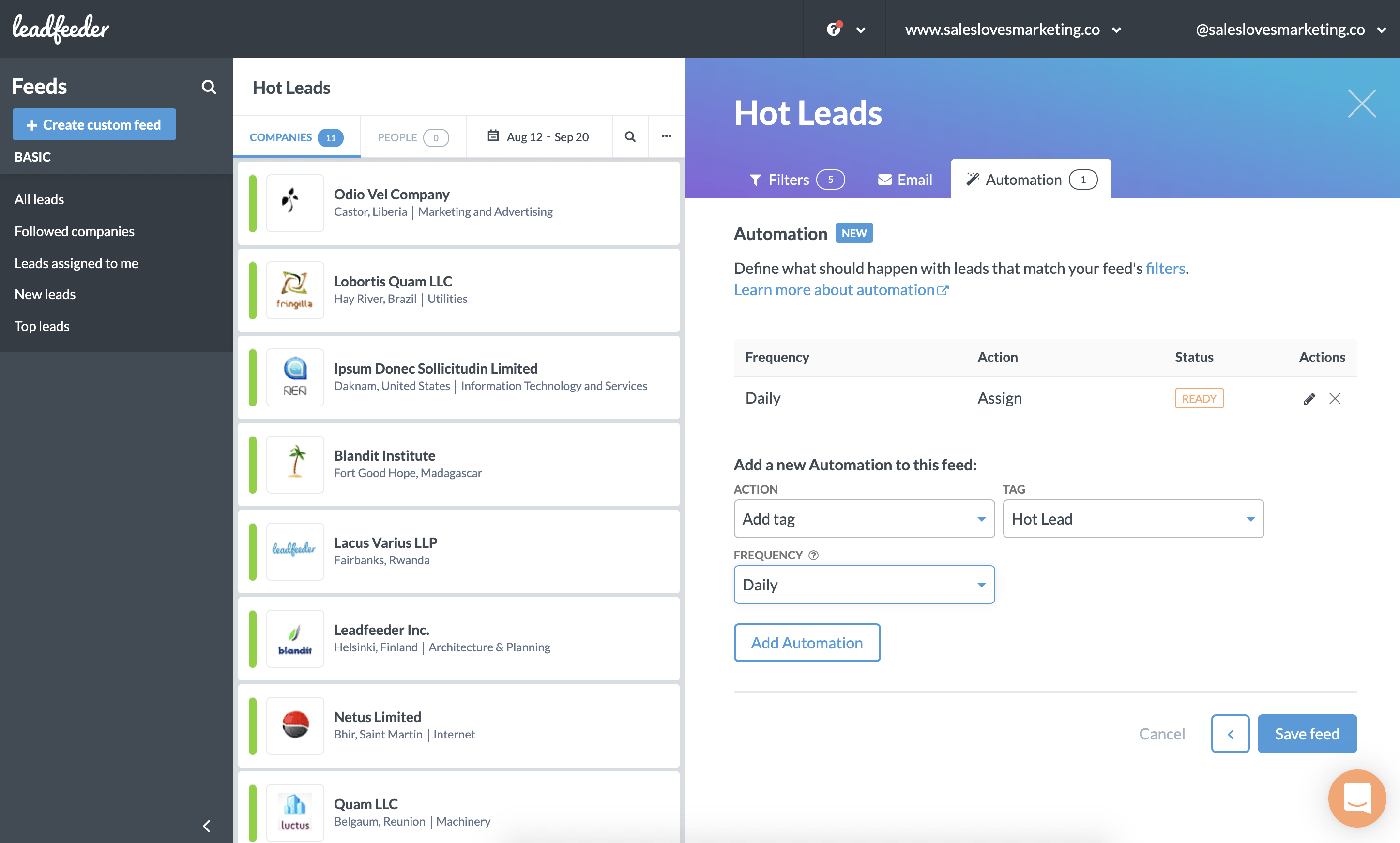 ---
Similar Tools
---
Leadfeeder Features
The 'Digital Age' has brought with it a wealth of changes in the way we do business. Commerce relies very much on digital marketing channels, and the market changes very quickly in terms of what is up to date and what might be outdated.
Automation is always a bonus, and with Leadfeeder – a platform that is becoming increasingly popular due to its effective analysis of data and lead generation functions – time can be saved in promoting your business and boosting custom.
As a leading lead generation tool, Leadfeeder is designed to integrate with most of the major tools used in business analytics and marketing automation and comes with a variety of features that make it a very versatile package.
Pros
Free Version + free trial with data being backloaded
Great support for when there are any questions
Integrations with the bigger CRMs and Zapier
Cons
Integrations with the bigger CRMs and Zapier
You will need sales people to follow up on the leads
How Leadfeeder Works
Like many lead generation tools, Leadfeeder works across a variety of features that are used to analyse who has visited your site and why and use that information to your benefit. As it is comprehensive in the platforms it can be used with, Leadfeeder is easy to use and highly effective.
How does it differ to other similar automated marketing tools? It is true that it offers similar benefits in terms of streamlined online marketing, and analytics tools, there is much about Leadfeeder that might interest both new businesses and existing outfits looking for more custom. Some of the unique and interesting features of Leadfeeder are described below.
Leadfeeder Integrations: Zapier, Hubspot, Salesforce, Mailchimp, Google Analytics, Google Data Studio & Pipedrive
Lead Generation
The lead generation tools with Leadfeeder are effective and easy to use. Basically, the aim is to identify who has been visiting your website. Instead of simply seeing numbers, the Leadfeeder Tracker script enables you to see the company names of those visitors. From this, the tracker creates a customer contact database with relevant information sent to you.
You can see what they are looking at – in other words, you can target them with specific information – and this in turn allows you to streamline your marketing funnel and increase lead conversions. This is a very useful function throughout and offers more ability than we have space for.
Account Based Marketing
An extension of the above lead generation function is that you can target and monitor accounts, thus enabling you to engender brand loyalty more effectively as you know what your potential clients are looking at. You choose a list of accounts to monitor – those you believe are the most likely to become customers, for example – and you will get alerts when they visit your site. By being able to react in real time you can engage with the customer more effectively using the Leadfeeder package.
This feature also helps you build marketing lists and analyse where your time is best spent in getting to know potential clients, and you can export data which allows you to use Leadfeeder to retarget clients on LinkedIn, which is a feature highly praised by many users.
Website Visitor Analysis
The Leadfeeder Tracker also offers more detailed analysis in the form of the following: identify visitors by role or rank in the company; search databases of company employees; send target emails to those who are relevant, and also see immediately the marketing channels you use that are generating the most traffic. This is a great way of streamlining your marketing and saving both time and money in the process.
Leadfeeder can also be integrated with considerable ease into your current or other CRM packages. These include the popular names such as HubSpot, Mailchimp, Microsoft Dynamics, WebCRM and more, so you can be fully conversant with all on your team at any time, and through a variety of platforms.
Other features of Leadfeeder make this a tool you need to investigate more, and the pricing models are very competitive and of interest to small and large businesses.
Conclusion
If you are looking for a lead generation tool that is big on targeting specific customers and personalization, then we would suggest that Leadfeeder should be high on your shortlist. It's a powerful package when it comes to tracking your visitors in real time, giving you the opportunity to grab a lead when it is hot and ripe for conversion.
Leadfeeder has more than ample and very capable analysis capability and will quickly build a database of customers you can use to work out who and when to target. It's also easy to set up – the Leadfeeder Tracker, for example, takes just a few minutes to setup and initiate – and simple to learn how to use.
Leadfeeder is a well-designed lead generation and automated marketing tool that comes highly recommended by many satisfied users, and one that deserves a second look.