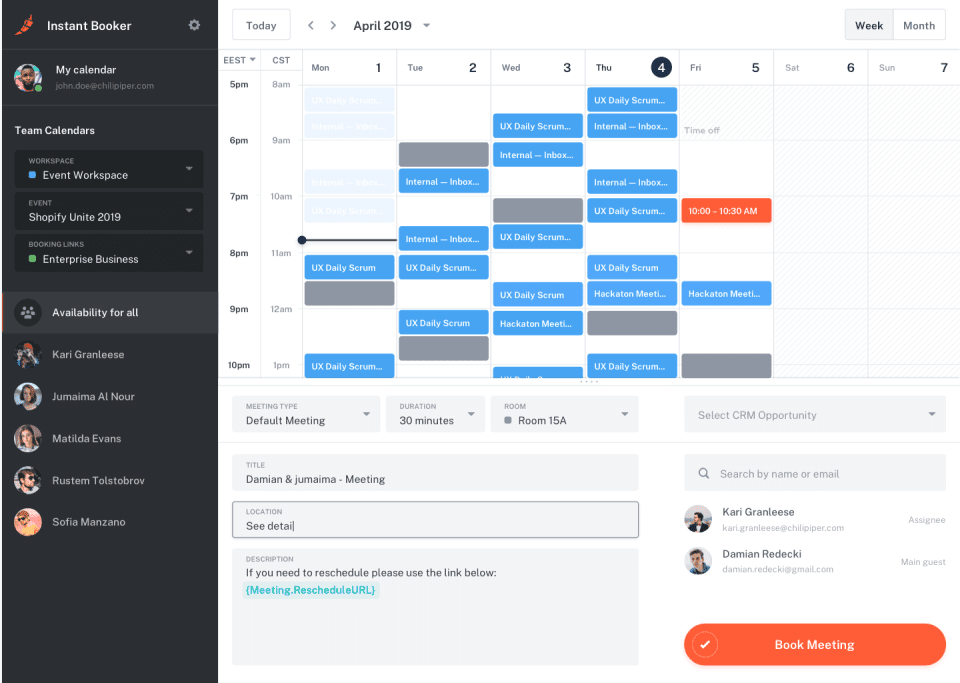 ---
Similar Tools
---
Chili Piper Features
Chili Piper is an inbound revenue acceleration platform that aims to get your customers serviced in the quickest possible time. When you receive an enquiry form the customer is more than half way there. You need to grab and keep them quickly, as almost 80% of custom goes to the business that responds first.
Chili Piper's main function is to act as an automated scheduling app, and it claims to double lead generation. The app is used to enable meetings and events to be planned and scheduled easily and without mishap. Chili Piper is available with a choice of plans based on what you require and how many users you will be allocating it to.
The main functions and features are split into two areas, each of which has its own features. These are:
Pros
Get more sales bookings quickly
Robust routing & qualification possibilities
Able to get quick ROI
Cons
No free trial
The lack of customization on the admin side
Meetings
The Meetings area of Chili Piper covers three main functions, each of which we will describe below.
Instant Booker – the Instant Booker feature allows for streamlined, fast and efficient organisation of meetings. Eliminating the need for back and forth emails or messages to nail down a time, Instant Booker does the job in one simple click. It works as a Chrome extension, and the routine is simple. You send a mail to the customer suggesting a selection of available time slots. They confirm in one single click by choosing the appropriate slot. The meeting is confirmed.
The app can be used with many platforms including Gmail, Salesforce, Outlook and more enabling reps to arrange meetings while on the move via a hand-held device. The feature also offers an individual meeting tag so customers can arrange without the need for mails, plus meeting templates for arranging the information in advance. The system can also be used to automate the assigning of leads to the right rep by way of workflow tracking and offers quick rescheduling should the time need to change.
Concierge – the Concierge functions is essentially an automated version of the above. When a lead is received and qualified, the Concierge will send a form with available times – taken from the reps online calendar and timetable – thus converting a lead into a meeting instantly. This feature is said to double the number of leads converted.
Routing – by combining the above, the Routing function will assign leads to reps and create meetings as above, saving a great deal of time and bringing leads on board more quickly.
When you sign up to Chili Piper you can choose to include all the above features or a combination, depending on your budget and requirements.
Events
The Event app that is part of Chili Piper is designed to make it easy to arrange in-person meetings when at trade shows and events. Using a simple unique booking link for each rep or via an online booking system similar to the 'Instant Booker' described above, reps can easily schedule meetings without clashes.
The app can also be used to seamlessly find available meeting rooms for given times and manage group meetings. Buy matching the number of attendees with available spaces meetings can be put together quickly and with little effort, and automated notifications are sent to all involved.
With instant qualification of leads by way of a variety of areas of relevance, the Chili Piper app is able to provide the user with active ROI from planned meetings and offers a number of further functions designed to save time, increase productivity and convert leads more readily.
Inbox
Available shortly from Chili Piper, the Inbox feature is an integrated email and chat system that will allow for streamlined replies to customer enquiries. Rather than try and answer a question they are unsure about, Inbox will allow the use of the @ function to transfer the enquiry to the most relevant person on the team.
Other features include full history of emails and conversations, the ability to highlight text to begin a conversation for ease of use, and synchronisation with all major email and messenger systems for full cross-border reach.
Conclusion
Chili Piper is an interesting package that will appeal top a wide variety of businesses, especially those that have a need for reps to bring in leads while on the move. The automated features are impressive and save a lot of time, while the meeting and event organisation apps are a welcome touch in any busy marketplace. Pricing is by way of the areas of Chili Piper that you want and need plus the numbers of employees who will be using the system. For smaller businesses, the basic package makes for a surprisingly affordable lead generation aid with many further features.
‍