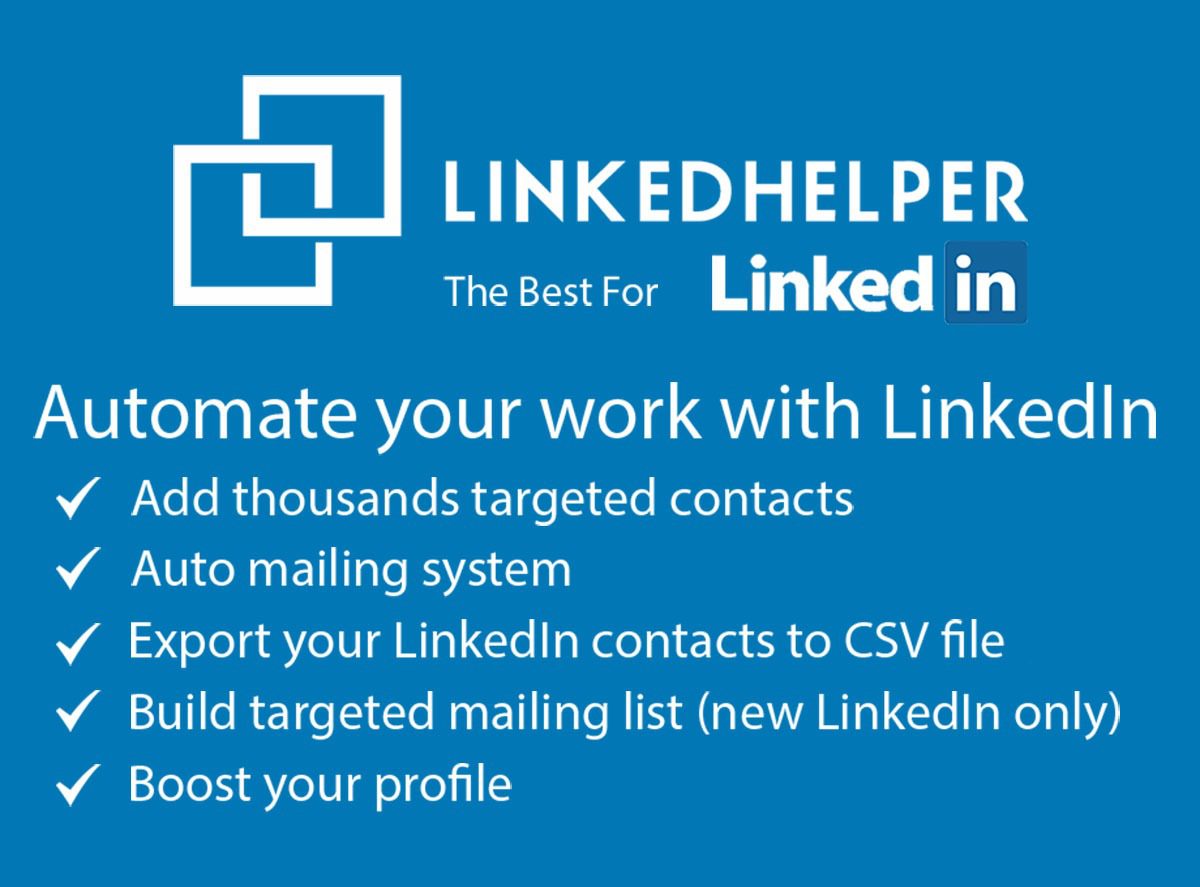 ---
Similar Tools
---
Linked Helper Features
Linked Helper automates your LinkedIn marketing and lead generation process. Get thousands of targeted contacts with the click of a button and send messages automatically. Build targeted lists, invite connections, endorse contacts and more. LinkedHelper works with the free version of Linkedin, Linkedin Sales Navigator and Linkedin Recruiter. Using the automation will allow you to connect with a lot of prospects by still staying personal, it's used by thousands of marketers.
This growth hacking tool has many features. Three of the top ones include:
Expand your contacts
Auto mailing
Export lists to CSV files
Automate your work with Linkedin and start generating more prospects via Linkedin.
Pros
Great way to scale your Linkedin outreach
Monthly plans & free trial
Works with different Linkedin subscriptions
Cons
Chrome extension only
Has had some problems in the past with Linkedin
Expand Your Contacts
With Linked Helper, you can expand your contacts quickly and easily. With the click of a button, you can invite 2nd and 3rd contacts to build new relationships and expand your reach. Just set your parameters, and Linked Helper will take care of the rest.
Linked Helper can be used to collect 1st connections from the search page, Alumni page or My Connections page.
Another way to expand your connections through Linked Helper is through the Profiles Auto-Follower tool. With this tool, you can customize your settings and create a new list based on those settings. Just go to the search page, set your criteria, and start following people.
Linked Helper makes it easy to expand your contacts, but you can just as easily remove contacts if necessary. Automatically remove contacts that don't match your criteria with the click of a button.
Expanding your LinkedIn contacts will give you access to more leads for nurturing and conversion.
Additionally, you can boost your profile by getting hundreds of endorsements and expanding your contacts this way. Linked Helper will automatically send endorsements to your current contacts, and up to 30% will endorse you in return. Endorsements will give you more credibility and help you expand your contacts.
Auto Mailing
Sending individual messages on LinkedIn can be a tedious task. With Linked Helper, you can create message templates and send messages to your contacts automatically. Each message is personalized to include the contact's first name and last name, so you never send cookie-cutter messages.
Linked Helper also allows you to automatically add your signature to your messages.
The autoresponder feature allows you to send follow-up messages automatically. Simply choose an inviting campaign, set your message template, and start sending messages.
Along with auto mailing and the autoresponder feature, you can also send messages to LinkedIn group messages. Create or choose a message template and start sending. Each message will be personalized with the recipient's first and last name.
In emails can be sent to 2nd and/or 3rd connections just as easily. Collect your contacts before sending, and create a message template to be sent. Just like any other message sent with this platform, you can customize your messages using templates and personalize communication by including the person's first and last name.
Export Lists to CSV Files
Linked Helper allows you to export your contacts to a CSV file for building a targeted mailing list.
Collecting your 1st connections is quick and easy. Just collect your contacts, extract and download your CSV file. By default, CSV files will be compatible with Google Sheets, but you also have the option of switching to MS Excel format.
Along with your 1st connections, Linked Helper allows you to auto-visit profiles and export your auto-visited contacts into a CSV file. LinkedIn will notify users whenever you visit their profile, and chances are, they will visit your profile. They may even visit your website if you have a link on your page. But being able to extract these profiles into a CSV will make it even easier to generate new leads for nurturing.
With Linked Helper, you can also extract your auto-followed contacts into a CSV for easy viewing and access off of LinkedIn.
Extracting contacts into CSV files makes it easy to generate lists and reach out to leads quickly and easily. Linked Helper does all of the work for you, so you can stay focused on converting leads.
Linked Helper saves you time and money by automating your LinkedIn lead generation and marketing efforts. Automation tools will collect contacts, expand your network, send automated messages and perform other actions that help you leverage the power of LinkedIn's network.
New users can try this service for free for 14 days, but paid subscriptions are affordable for businesses and startups of all sizes. Each subscription is for one license on one browser, so if you have a team or want to install it on multiple browsers, you will need to purchase additional licenses. You can, however, link multiple LinkedIn accounts to a single license.
LinkedHelper Alternatives