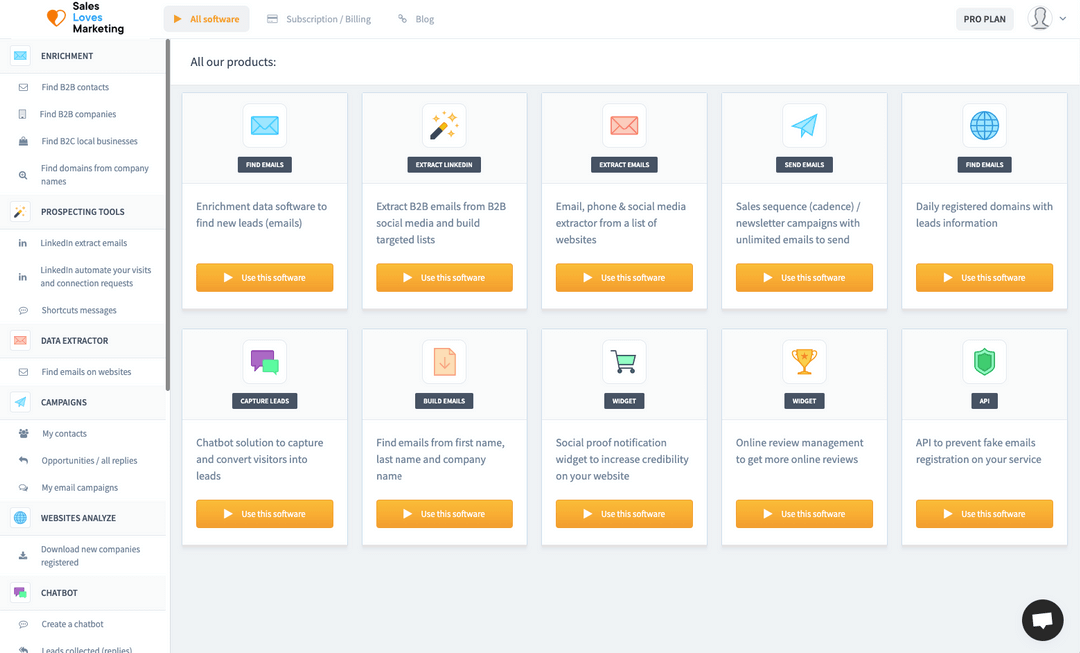 ---
Similar Tools
---
Growth Hacking Suite
Where business growth is concerned there are many tools and packages that promise great results. Many of these do what they say and are successfully used by a wide range of companies. Most of these focus on one or a couple of areas of growth enabling – perhaps lead generation or data mining – and to get access to all the possible growth aiding packages means spending a lot of money on a variety of different products.
Our product – Growth Hacking Suite – overcomes this problem by providing no fewer than 10 different tools – some of which can perform more than one task – in one complete package. The various tools include email gathering, data extracting, tools for creating campaigns, and building social proof. There is also a review tool for helping encourage customer responses and a very handy chatbot that will bring in leads by interacting with visitors to a website out of hours.
Here's a list of the 10 different tools that Growth Hacking Suite includes:
Enrichment Tools
Prospecting Tools
Data Extractor
Campaign Tools
Websites Analyze
Chatbot
Email Discovery
Social Proof
Increase Reviews
Email Verify
We have briefly explained each of the tools within Growth Hacking Suite below, and to conclude we will provide a summary.
Related reading; How to Get Started With Growth Hacking
Pros
10+ tools in one dashboard
Great value
Easy to use
Cons
You will need a developer for some tools
Can be overwhelming to get started
Enrichment Tool
For enhancing lead generation by domain name and data gathering.
Within the Enrichment Tools section, we provide users with a selection of lead generation tools. By way of a simple search template, you can find contacts by entering domain names and creating a list. Another tool with Enrichment allows for a search of more than 15million B2B companies by country, industry, and size. A third tool is for searching for local B2C businesses in a given area and industry, while the fourth is for finding domains using the company name. Together, we believe these tools make a powerful lead enrichment and generation package.
Prospecting Tool
An add-on that allows for mining data from LinkedIn profiles.
By using an add-on in Google Chrome and a LinkedIn profile, the Prospecting tool allows for the efficient extraction of email details from a search of potential clients. This tool uses the LinkedIn Premium and Sales Navigator to gain access to likely candidates and you can select the number of pages you wish to look at. The fully automated tool does the job for you, bringing a list of potential customers and their contact details. The number of contact details you can extract is unlimited.
Data Extractor
Extract contact details from generic email addresses.
By creating a list of domains that you are interested in within the Data Extractor tool, you can find the email addresses of the generic forms – contact@ or sales@ for example – as well as telephone numbers or other contact details for the department concerned. A useful tool for getting a list together for a generic email marketing campaign. For more specific email gathering there are other tools within Growth Hacking Suite that can be used to do the job.
Campaign Tools‍
For creating email campaigns easily and efficiently.
From a list of contacts that are assigned to the individual in charge of the campaign, this tool allows for the management of email campaigns and analysis of results and prospects. Campaigns can be created using a variety of easy-to-use templates and run in a few easy steps, with the simple dashboard design making things easy to oversee. The tool also assesses and lists opportunities for more efficient management of marketing campaigns by allowing for performance analysis of the campaign throughout the duration.
Websites Analyze
‍Keeps up to date with new domain names.
One of the most innovative and interesting of the Growth Hacking Suite tools, we have created this clever tool that provides a daily list of new domains generated on the internet. The user can specify keywords that must be a part of the websites discovered, and the list can be downloaded into a variety of formats.
There are many ways of listing the information for analysis. We are certain this is an excellent tool for keeping track of new entrants into market sectors that may be potential clients, and potentially created tens of thousands of leads daily if used effectively.
Chatbot ‍
Create custom chatbots to engage visitors 24-hours a day.
The Chatbot tool can be used to create many fully automated chatbots that can then set about gathering leads. The chatbots are completely independent of the user and will speak to visitors to capture their email addresses and other information. This means 24-hour monitoring of visitors can be effectively attained. The chatbot can be fully customized for color and style, there are templates to choose from or the user can create their own original version.
The chatbot can be programmed to ask many questions and answer in a particular way and will send leads to the user in a choice of formats. For many smaller businesses, this tool will mean the difference between lost and gained leads, as customers do not expect to be kept waiting.
Email Discovery
For gathering emails by use of CSV data.
The Email Discovery tool can be used in order to uncover email addresses using a CSV file – usually in first name, last name format – and create a list of these for future use. It can also be used to find single email addresses manually. This method adds to the scope of the tool overall and will come in useful when building contact lists for lead generation.
Social Proof‍
To enhance social proof and the online reputation of the business.
This important and very useful tool helps build Social Proof, which is vital to enhancing your online reputation. By way of notifications that can be customized, users can display on the website when interactions have been made so that visitors can see how popular the website is. This sort of notification device has been shown to increased consumer engagement by as much as 40%.
The tool can also link the notification with a specific page, thus driving traffic to where leads are likely to convert. This is an easy-to-use and effective tool that we are sure will be of interest to many businesses looking for growth and also those building their online reputation in the E-commerce markets.
Increase Reviews‍
A tool that encourages consumers to leave reviews.
Encouraging reviews is something that every business should be indulging in. More than 80% of online consumers believe reviews, and a similar amount takes them into account when purchasing a product or service. More reviews also mean more social proof – see above – and a growing reputation, which cannot be overlooked in importance. We include this tool as it will be appreciated by smaller businesses who do not have the manpower to manually request reviews from consumers.
Email Verify ‍
Removes unwanted disposable and fake accounts from the database.
Designed to eliminate the problem of generic emails and fake users who are on your system, the Email Verify tool uses a database that is updated weekly with disposable email providers and will automatically remove them. You can also import domains and manually search for fake users and other such problems. A neat tool that will be of much use in fast-moving and growing businesses.
Those are the 10 tools that come with the Growth Hacking Suite described in brief, and we have included each as they all offer benefits in enhancing the growth of a business. Some we would consider essential while others are innovations that are worth looking at, so here's why we think you need a Growth Hacking Suite.
Conclusion
In a market that is overflowing with data gathering and lead generation tools, we concluded it was difficult to single out one. As we mentioned earlier, many of the packages available are aimed at a specific area of data management, and we concluded the smaller business is unlikely to be able to justify the expense of several different tools, let alone have the budget for it.
Growth Hacking Suite offers competition for the other established brands and not only because you get 10 separate tools – some with more within them – but also thanks to its integrated design, ease of use, and varied approach.
We paid particular attention to designing and implementing the chatbot tool as it is one that will appeal to the smaller growing business. To be able to engage with consumers and capture leads when out of office hours is important for growth, and this cleverly designed tool enables this to happen. We also realized the need for a variety of email campaign tools that can be used to great effect, and the Websites Analyze tool is one we believe will help all types and sizes keep up to date with newly registered domains on a constant basis.
Growth Hacking Suite has been carefully created to be used by any business looking for growth tools that will help in all areas and are easy to use. We believe it is sensibly priced in a competitive market, and we invite you to check out Growth Hacking Suite in more detail and discover a comprehensive set of useful, carefully created tools for all growing businesses.
A Growth Hacking Suite is a platform with multiple growth hacking tools in it, it will offer different services to help you grow your business.
Growth Hacking is the new form of doing marketing, where you will run quick experiments to see what is working and driving revenue. Going this way will help you to save a lot of money as you know exactly what is working or not.