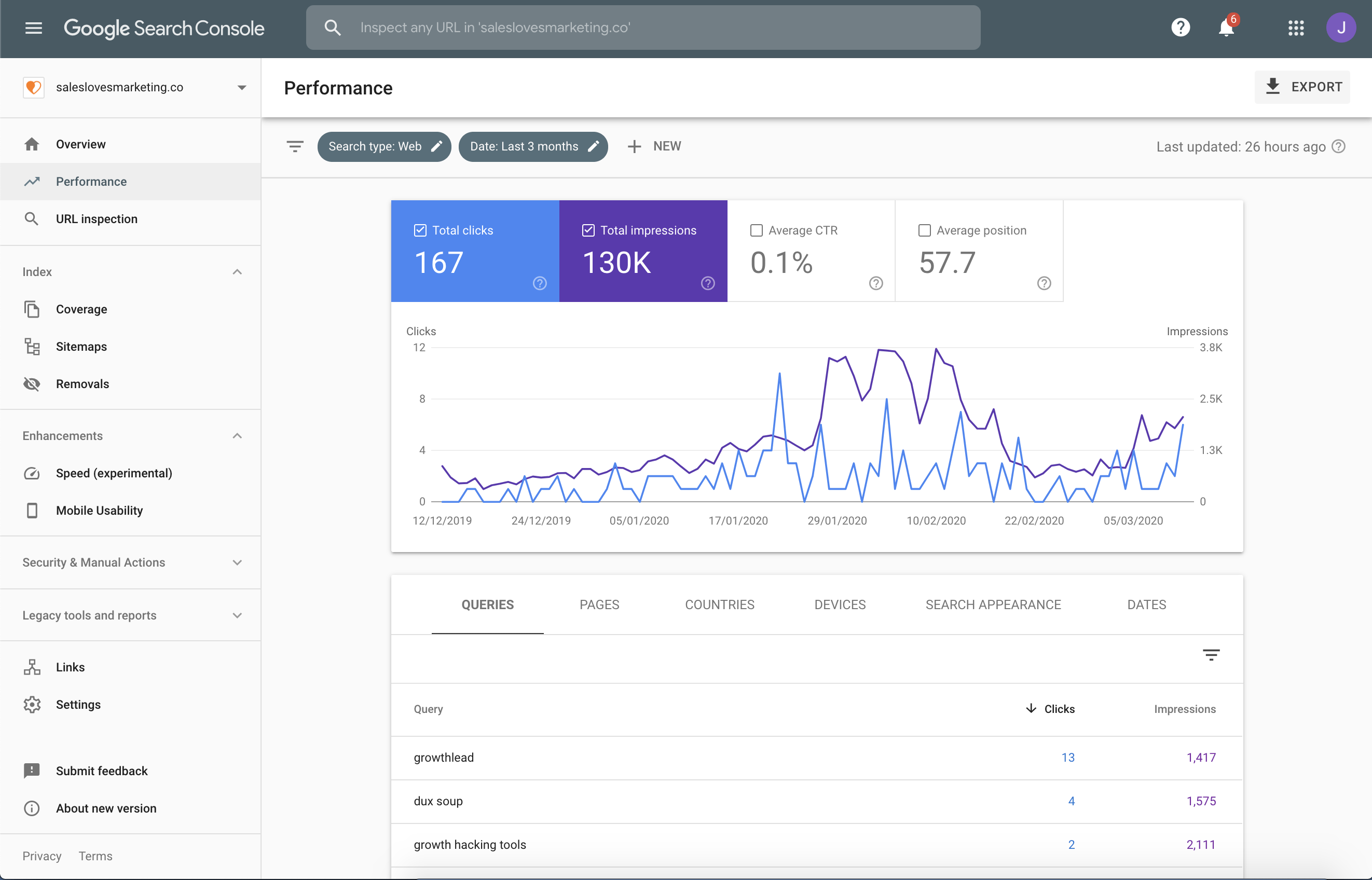 ---
Similar Tools
---
Google Search Console Features
Google Search Console starts with you selecting your property type: Domain or URL prefix. The console helps you track your website's performance, but first, you need to verify the sites you own before being allowed access to the data.
The Search Console has been recently updated to consolidate features and make it easier to keep track of your website through reports. Key features include:
Performance
Coverage
Enhancements
Pros
Free tool
You can add new URLs to crawl
Easy to use
Performance
The performance tab will help you understand how your site is performing in the search results. Performance can be refined in several ways:
Numerous date options, including a custom date range, can be chosen to make sure that you view the data that is most important for you. Your report will also include information on how you're doing in the search engine results, including data on:
Total clicks
Total impressions
Average click-through-rate
Average search position
You can view impressions and clicks by day to understand when your busiest days are on your site. 
When you're on the dashboard, you'll also find numerous tabs that help you understand your search traffic further. The tabs include:
Queries: A list of all search queries, total impressions and clicks.
Pages: A list of your top pages, clicks and impressions.
Countries: The top countries that visit your site including impressions and clicks.
Devices: The device people use on your site, including clicks and impressions for desktop, mobile and tablet.
Search Appearance: A list of clicks and impressions along with the search appearance of your site.
Dates: A general list of all the dates in your selected range, including the total number of clicks and impressions.
Knowing and using all of this data allows you to make changes to pages to increase clicks to pages that may have a lot of impressions, but not a lot of clicks.
Need help with any of the terms used? Check out the SEO glossary and/or Marketing Glossary for more information.
Coverage
Google may or may not be able to index some pages on your site. You'll find information on how your site performed during the last Google search crawl. Information that is provided in the coverage report includes:
Number of errors
Valid pages with warnings
Valid pages
Pages excluded from the search
You'll want to dig deeper into the Index category of the tool to view two additional tools that are especially valuable:
Sitemaps; Add, submit and view the status of the sitemap. You can also learn the number of URLs discovered in the sitemap along with full coverage of each.
Removals: If you have content that needs to be removed from Google's search, you can submit these URLs to Google.
Removals also have the option to submit new requests for removal at any time. You'll be able to see the status of your request including information on:
URL
Type
Requested
Status
You'll also be able to view removals for outdated content, and you'll find a safe search filtering tab.
The coverage section isn't as robust as others inside of Google Search Console, but if you're having issues with your site's index on Google, this is the section you'll want to go to.
Enhancements 
Enhancements is one of the core features sections that provides a great overview of a lot of information:
Core Web Vitals
Mobile Usability
Breadcrumbs
Products
Review snippets
Sitelinks search box
You'll find a lot of information, but one of the vital sections for each site is core web vitals. Run PageSpeed insights on your page using this section and open past reports on insights for:
PageSpeed Insights is going to provide a full overview of your site's performance. The insight lets you know your site's:
Total score
Load time
Opportunities to improve speed
Diagnostics on how to make your page faster
Site performance is one of the best ways to improve user experience as well as search rankings. Use this data to help you make quick, reliable improvements to your site.
You can also see breadcrumbs on the site to view any pages where you may have warnings or errors. Full outlines are available for both your website and mobile site. Since mobile is becoming the preferred method of browsing the Internet, it's more important than ever to spend time increasing your mobile performance.
If your site has snippets, you can also use these snippets to improve traffic. View all of your snippets, snippets that are valid, snippets that are valid with errors, or snippets that are complete errors.
Google Search Console is one of the most valuable tools you can use as a site owner. Since Google is one of the leading sources of traffic on the Internet, you can use this information to improve your site, search rankings and user experience.