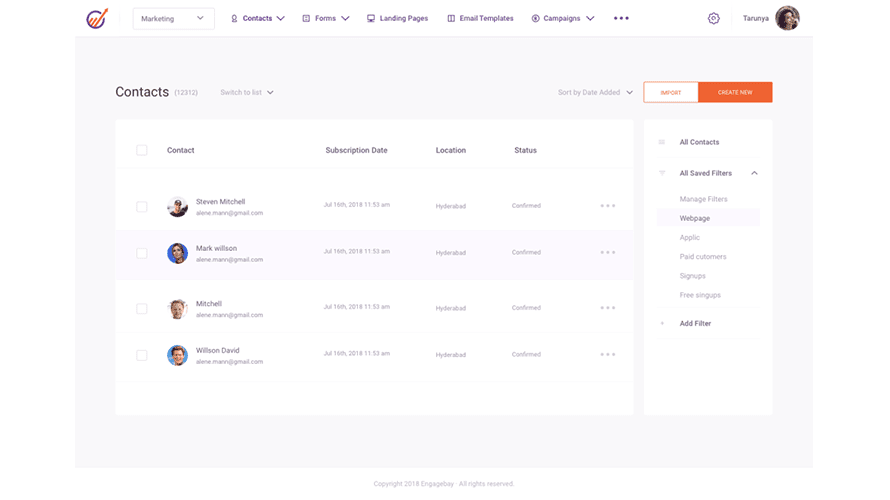 ---
Similar Tools
---
EngageBay Features
EngageBay offers an unlimited, free-forever CRM platform that improves sales efficiency, keeps your team motivated and automates non-core tasks to save time. Focus on the most promising leads while giving your team the tools they need to seal the deal with EngageBay.
The CRM platform is trusted by over 15,000 customers, and the company offers free onboarding sessions to users.
EngageBay provides a suite of CRM tools and features, including three crucial ones:
Automated appointment scheduling and tasks
Custom Reports
Sales gamification
Pros
Powerful Software
Affordable all-in-one platform
Free CRM & Service Bay
Cons
Limited amount of integrations
Can be a bit overwhelming to implement all at once
Automated Appointment Scheduling and Tasks
EngageBay makes it easy to automate tasks and appointment scheduling directly through their CRM platform. Create and add tasks automatically whenever a new lead is assigned to a sales rep. Sales agents can also publish their personal and team calendars, so prospects can automatically schedule appointments.
EngageBay's CRM automatically manages individual and team calendars to prevent overbooking and eliminate manual entries. This allows sales reps to focus on other more important tasks.
Sync appointments to your Office 365 or Google calendar, so prospects always know when team members are available.
Customize the scheduling process by sending out reminder and confirmation emails, setting daily appointment limits and show availability based on the prospect's time zone. Last-minute surprise appointments can also be avoided, so your sales reps have time to prepare for meetings.
Set appointments with multiple team members through group appointments.
Gather important customer data while scheduling appointments. EngageBay will automatically create contacts for leads if they don't exist.
With EngageBay CRM, appointment scheduling is a breeze and done automatically without having to leave the CRM.
Custom Reports
EngageBay allows you to create custom sales and CRM reports, so you can measure any and every metric you want. Use data to make informed decisions and analyze key metrics.
With EngageBay's Custom Reports, you can:
View all of your deals in one place and at a glance.
Generate custom reports from your dashboard, and break down your data into important bits and pieces.
Schedule reports to be automatically delivered to your inbox, avoiding the hassle of manually generating reports.
Share your automated CRM reports with stake holders.
Create growth graphs to visualize your growth and find areas for improvement.
Create deal reports to get insight into your deal funnel's performance and estimate how long it takes for leads to move through each stage.
Custom Reports allow you to keep tabs on your team's performance and your current strategy, so you can tweak your processes as necessary to boost conversions and revenue. At the same time, you can monitor your growth and gain insight into your performance.
Sales Gamification
EngageBay's CRM features an Employee Engagement function that motivates and engages your team through challenges, leaderboards and recognition for achievements.
EngageBay gamifies the sales process to give sales teams that extra push to accomplish goals.
Sales reps can earn badges, participate in contests and check the leaderboard to see where they stand. This encourages productivity and growth among your team members.
Encourage friendly competition among your sales reps to motivate your team and improve performance. View relative comparisons of calls made, deals closed, revenue generated and other metrics. Boosting the competitive spirit among your staff can increase productivity significantly.
Leaderboards can be customized to include actionable insights into each team member's performance. These insights can be made accessible to all team members to help drive that spirit of competition. Sales reps who are leading the pack gain confidence while others are motivated to climb to the top of the leaderboard.
Encourage collaboration by creating incentives for sales reps to share their secrets to success and mentor other team members. Collaboration is the key to success, even in sales. By encouraging team members to share their secrets and mentor others, the entire team benefits.
Sales reps can set up custom alerts based on different activities to move in at the right time to close the deal. These alerts can be used as tools to help team members climb the leaderboard and boost conversions.
Sales gamification can be a powerful tool to motivate your sales team and close more deals. EngageBay can help gamify your sales process to boost productivity, increase conversions and encourage teamwork.
EngageBay's free CRM offers a robust set of features to help streamline sales and improve the efficiency of your team. The CRM platform is free to use, and received the Expert's Choice award in 2019 from FinancesOnline. From nurturing leads to automated appointment scheduling and generating reports, EngageBay's CRM provides support through every stage of the sales funnel.