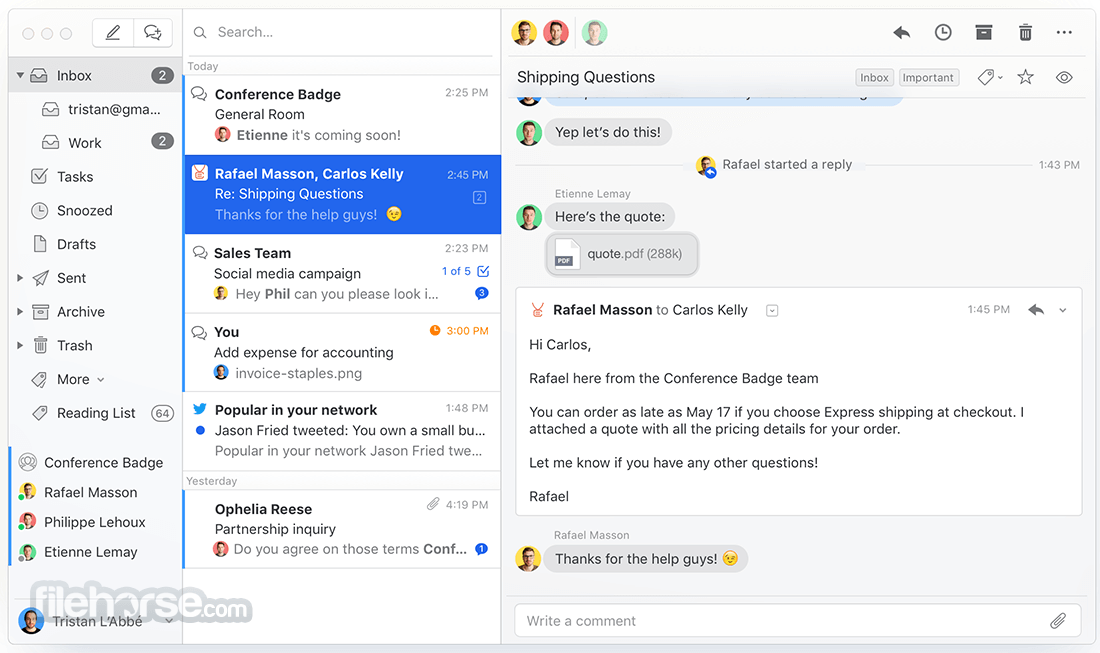 ---
Similar Tools
---
Missive Features
Missive as a tool that allows your team members to be able to collaborate around email. The tool is used by over 1,000 organizations, and it acts as a team inbox and chat tool in one. This is business class collaboration that will help businesses grow.
The features that are available to your team and your business include:
Inboxes
Social media
Chat
Pros
Get all communication in one place
Great tool for collaboration
Cons
Sometimes there are issues when one platform upgrades and the functioning between the two stops.
Inboxes
Team inboxes are available for your entire team. You'll be able to assign two different roles to these inboxes: member and observer. The members of all inboxes will receive notifications, while observers will not receive notifications.
The platform offers a flexible email setup that allows you to use:
Share inboxes
Personal inboxes
Google Groups
Messages can be archives, closed or assigned. This function will remove them from the team inbox for everyone.
If you want to create responses that you can share with your team or use multiple times, you can create canned responses. There are also managed signatures that allow you to use the same signature for yourself or your team, and there's collaborative writing that allows team members to create emails together. These emails can be reviewed in real-time and attachments can be shared.
Read receipts are available so you always know when someone reads the emails that you sent. If you want to schedule your emails, there's a simulator feature that allows this to be done. Conversations can be pinned to the sidebar if they are important, and you can even integrate into your favorite apps to enhance your team's productivity.
Custom signatures with rich text and HTML are available, and you could also have response variables. The response variables allow you to customize your response to create dynamic content. When you have dynamic content to send out, this can mean the difference between spending hours writing personalized emails or spending minutes.
Workflows can also be controlled through the use of rules. Rules allow you to control the workflow for:
Incoming messages
Outgoing messages
User actions
Social Media
Social media and SMS can help you expand your team's reach. You can do this by replying to customer inquiries via email, or you can use social media. There are multiple options available, including:
SMS
Facebook messages
Twitter
WhatsApp
Twilo is what powers the SMS / MMS messages that you send. This works directly with Missive. Sharing options are available that allow you to share new accounts with anyone on your team. This allows for a complete workflow customization with multiple members. You'll also be able to create new messages and assign them just like you did with the email options available.
If you make a mistake when you send out a message, you can also undo these messages. This is available not only in email, but also in social media and SMS messages. This helps your members reduce the amount of errors they have when sending out messages to potential or current clients.
Chat  
Chat functionality is available that allows teams and everyone to discuss ideas. You can leverage multiple different chat room types, including:
General chat rooms
Team chat rooms
One-on-one rooms
There's also an in-depth one-on-one chat feature. This feature allows you to chat with visitors and users directly on your website. This feature is far more advanced in the normal chats that you're used to because it offers:
Custom branding to match your company's branding efforts
Online schedules that allow you to add in new people to call or chat with
User authentication so that you know that you're talking to a real user
You can create or join multiple organizations with your company as well as share conversation links. If you have a chat with a customer, you can copy the link and share it with your coworkers.
Chats also have formatting available so that you can highlight certain parts of the chat, bold, strikethrough and italicize parts of the chat. While this may not seem like a valuable feature at first, it does allow you to put emphasis on certain parts of your chat, which is especially helpful when providing customer service.
Missive is an extremely powerful tool for collaborative environments. You'll be able to control accountability and efficiency of your team while having better clarity of how your team is doing. Teamwork is a lot easier with collaboration that is able to be done through email, tweets, web chat, and SMS.
Teams can collaborate from around the world as if they were operating inside the same office. There is no credit card needed to start and book a demo, and multiple pricing options are available.
‍