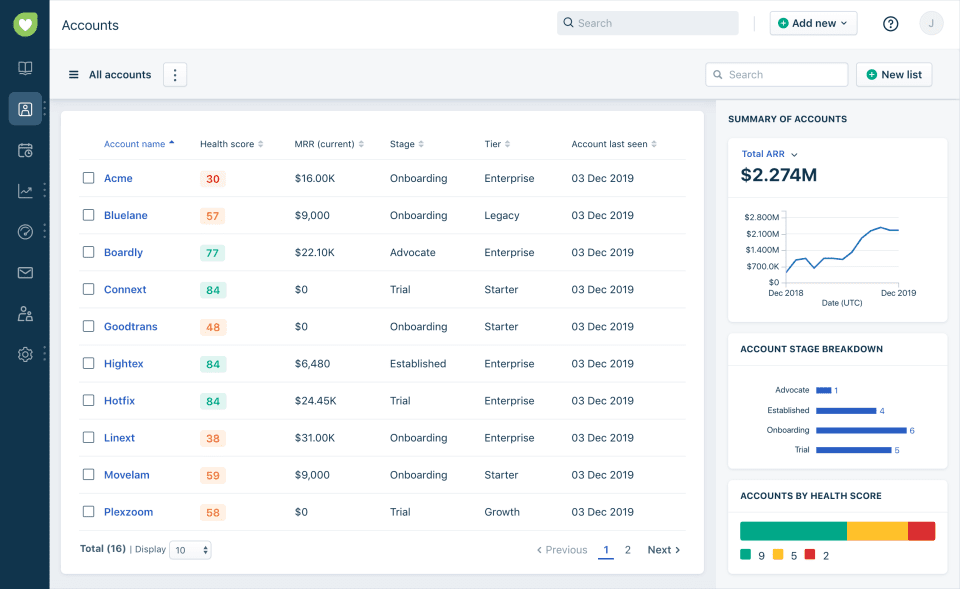 ---
Similar Tools
---
Freshsuccess Features
Subscription and software companies rely on Freshsuccess to improve customer relationships, prevent customer churn and increase expansion. The platform provides tools that allow you to quickly view customer account health, communication, support tickets, billing history, user engagement and more.
Trusted by AdStage, Leadfeeder, Appcues and other major brands, Freshsuccess is a valuable customer success tool.
Freshsuccess offers a wide range of tools, but three standout features include:
Customer health
Proactive alerts
Reporting and analytics
Pros
It is a part of Freshworks
 A great tool to get an overview of your B2B SaaS clients
 Lots of insights to decrease churn
Cons
You will only get ROI if you are past the SMB phase
 Can become expensive when you grow the team
 Support is not always great and you are dealing with a big corporation
Customer Health
Freshsuccess automatically and continually evaluates the health of customer accounts, so you know which ones require your immediate attention. Account health is calculated based on the customer's behavior, NPS responses, support ticket trends and other metrics. Along with these metrics, you can also include custom assessments.
Keeping tabs on customer health is important. Ticket and support management can be complex, cumbersome and challenging if you have a large customer base. It's easy for customer issues to get lost in the mix. Freshsuccess helps you avoid this issue by giving customers the attention they deserve at the right time.
Customer health scores can be tailored to your:
Customer segments
Customer tiers
Stage in the buying process
Product or service offering
Customers with a poor health rating can be attended to immediately, and issues can be addressed to improve their ratings. Scores are data-driven, so you know they can be relied on.
Freshsuccess can also help you understand customer health scores over time by allowing you to view historical health by customer segment, individual accounts, lifecycle stage and more.
Customer health monitoring ensures that you focus on the right customers at the right time. Poor health scores can lead to unsatisfied customers, lost business and a tarnished reputation. By focusing on urgent issues, you can ensure that your customers get the attention they desire and deserve.
Proactive Alerts
With Proactive Alerts, Freshsuccess helps you address customer risks while taking advantage of opportunities. Being alerted to problems before they progress allows you to shift strategies and give your customers the support they need when they need it most.
Freshsuccess will look for key indicators of customer churn, so you can address the issue before it's too late. These key indicators may include a surge in customer support tickets, a decrease in product use or a drop in net promoter score (NPS). These are the customers that need your immediate attention and help from your customer support team.
Proactive Alerts also help you grow your accounts by finding opportunities you can take advantage of, such as increased product use, seat utilization and NPS improvement. These positive indicators present opportunities to increase or expand product usage.
To help you stay on top of customer lifecycle events and touchpoints, Freshsuccess will also notify you of:
Upcoming renewals
Tasks that are overdue
Quarterly business reviews
Freshsuccess aims to offer tailored solutions, so they allow you to personalize your alerts by incorporating any metric or customer attribute you desire using their rule builder. With Freshsuccess, you can evaluate behaviors, use AND/OR combinations, or check for specified lifecycle events to set the best Proactive Alerts for your brand.
Personalized alerts make it easy to address potential problems before they have a chance to escalate further.
Reporting and Analytics
Powerful reporting analytics allows you to make decisions based on data. Freshsuccess provides insight into customer engagement, product adoption and your customer support process, so you can make informed decisions.
View key metrics at a glance, such as lifetime value, customer churn, financial health and product adoption.
Freshsuccess even allows you to create custom dashboards for your CSMs, executives, team leaders and more. These custom dashboards include the KPIs that matter most to the team. Lists and charts help others visualize your data, but they also keep your information organized for easy digestion.
To further explore your customer data, Freshsuccess makes it easy to build charts that give customer insights without you ever having to use a spreadsheet. Reports can be built with the click of a button from the Freshsuccess dashboard.
To get a better idea of which features your customers use the most and where your customers are spending their time, Freshsuccess allows you to analyze usage by specific accounts, customer segments, individual users or all customers.
Freshsuccess offers a variety of tools to help improve customer support while monitoring customer account health. No free trial is available, but there are subscription tiers aimed at bigger brands. Expect to pay a monthly fee for the platform and an additional monthly fee for each user.