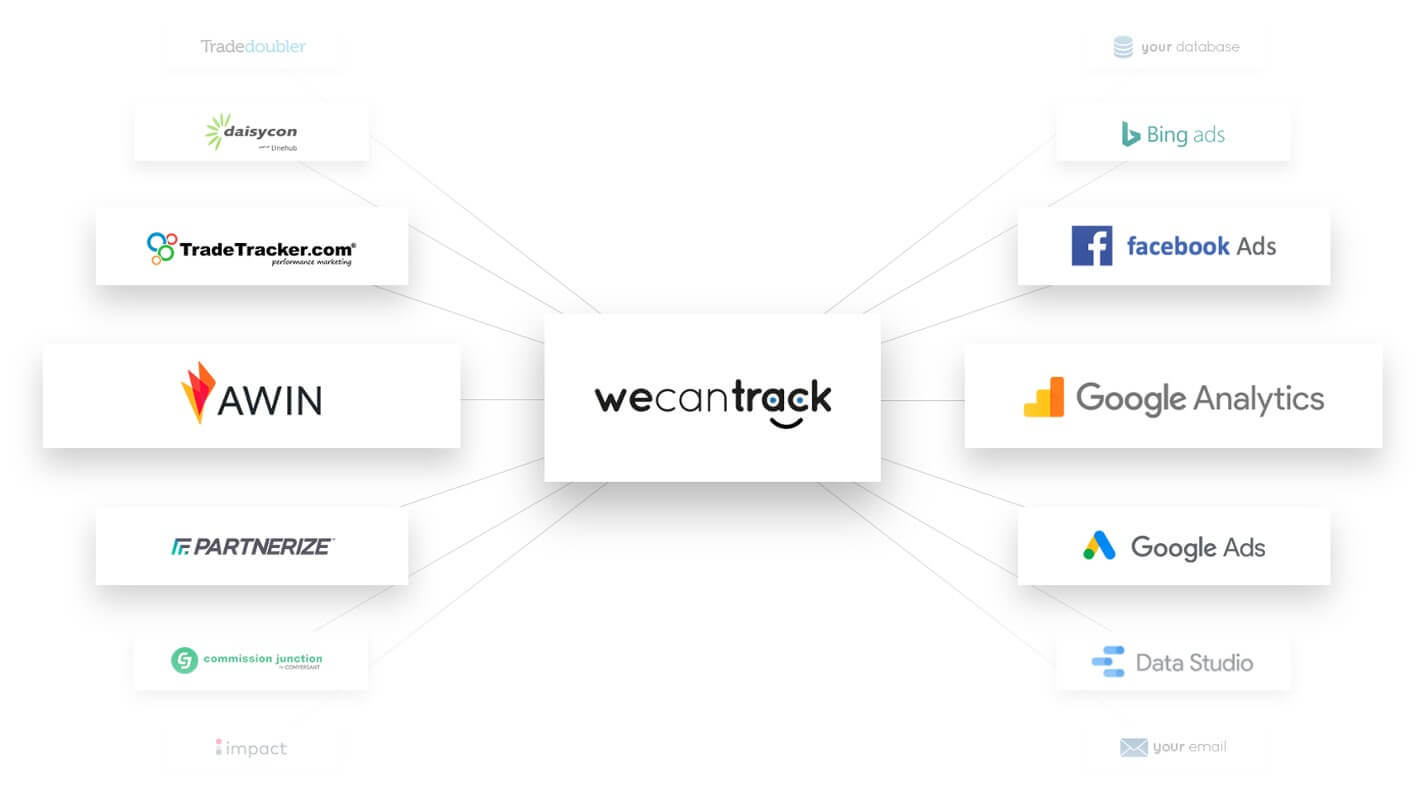 ---
Similar Tools
---
We Can Track Features‍
Affiliate marketing has become more competitive in recent years. An affiliate marketer will add value and start to make money the moment when he or she is able to reach an audience of online buyers better than the advertisers he is promoting. This makes affiliate marketers compete with their peers but also with the very same advertisers he is promoting.
In order to compete in this online environment it's of the utmost importance to have the right online marketing  'toolbox'. Google Analytics, Google Ads, Facebook Ads, Microsoft Ads, Zapier and Data Studio are online marketing tools that should be in every marketeers toolbox. For affiliate publishers on top of that We Can Track needs to be included to connect all of these platforms together with aggregated and detailed affiliate sales conversion data from more than one hundred connected affiliate networks.
Pros
Over 100+ integrations of affiliate networks
Unique Google Analytics & FB Ads integrations
Get data within one tool
Cons
Only for more 'advanced' affiliates
Some technical experience needed
Reading tip: our affiliate marketing glossary of terms
‍How We Can Track Works
1. After the creation of a We Can Track account that starts with a free 30 day trial, all affiliate network accounts can be connected by simply inserting your API credentials. This takes between 10 minutes up to an hour depending on the quantity of connected network accounts. How to do this, is explained in detail per affiliate network.
2. While your We Can Track affiliate dashboard is filling itself with affiliate conversion sales data.  You will now need to connect We Can Track to your website(s).  We Can Track offers a variety of installation methods for websites. This can be easily done with their WordPress Plugin or a  JavaScript snippet to be placed in your header, or the more advanced feature with a backend instalment.
3. For the full installation you will need to enable Google Analytics, Google Ads, Facebook Ads and/or Microsoft Ads within 'Features' with the We Can Track admin.
‍When this is done‍
Their sophisticated affiliate dashboard and reporting is built with a great amount of input from experienced affiliate marketers. It gives you the ability to see and compare performance on advertisers, affiliate network accounts, websites, traffic sources, landing pages and campaigns level. One of the reports which is very helpful and we want to highlight in particular is the 'status report' which helps you to keep track of declined and pending sales. Which can be an issue of lost revenue for many affiliates. So it's better to keep a close eye on this, so you can contact advertisers right after major amounts of declined sales.
One of We Can Track's most popular key features is their detailed Google Analytics integration. This will help you to optimize your website(s) based on real revenue performance instead of just clicks. Also other opportunities arise with this integration like setting up your own revenue-share partnerships with other publishers or marketeers who can provide you traffic. Google Analytics data can virtually be connected with almost any online marketing tools out there (like Zapier or MailShake for example).
Another popular and key functionality is connecting your conversion data with their Google Ads integration which enables you to increase traffic and conversions with paid traffic from Google Search and Youtube. ‍
For Small to Super Affiliates‍
For Small Affiliates We Can Track typically provides the online marketing toolbox only super affiliates made full use of in the past. This way it can lead the path to grow and to become even more successful. 
For Super Affiliates; We Can Track is often a better set of tools than their 'home brew' solutions. It also becomes a money- and timesaver not to develop and maintain their current tools, and instead have a flexible monthly subscription. 
For affiliates in general; 'It's your own creativity and hard work that can help you ahead. And make yourself successful'. We Can Track provides you a big set of tools and features that turnout most successful as soon as you add your own creativity to it.
‍Conclusion
‍We Can Track is becoming the basic and advanced online marketing toolbox for affiliate marketers of all sizes. It has clearly been designed and built with great understanding of its target customers. It's a must have product if you want to compete in the ever evolving online landscape.