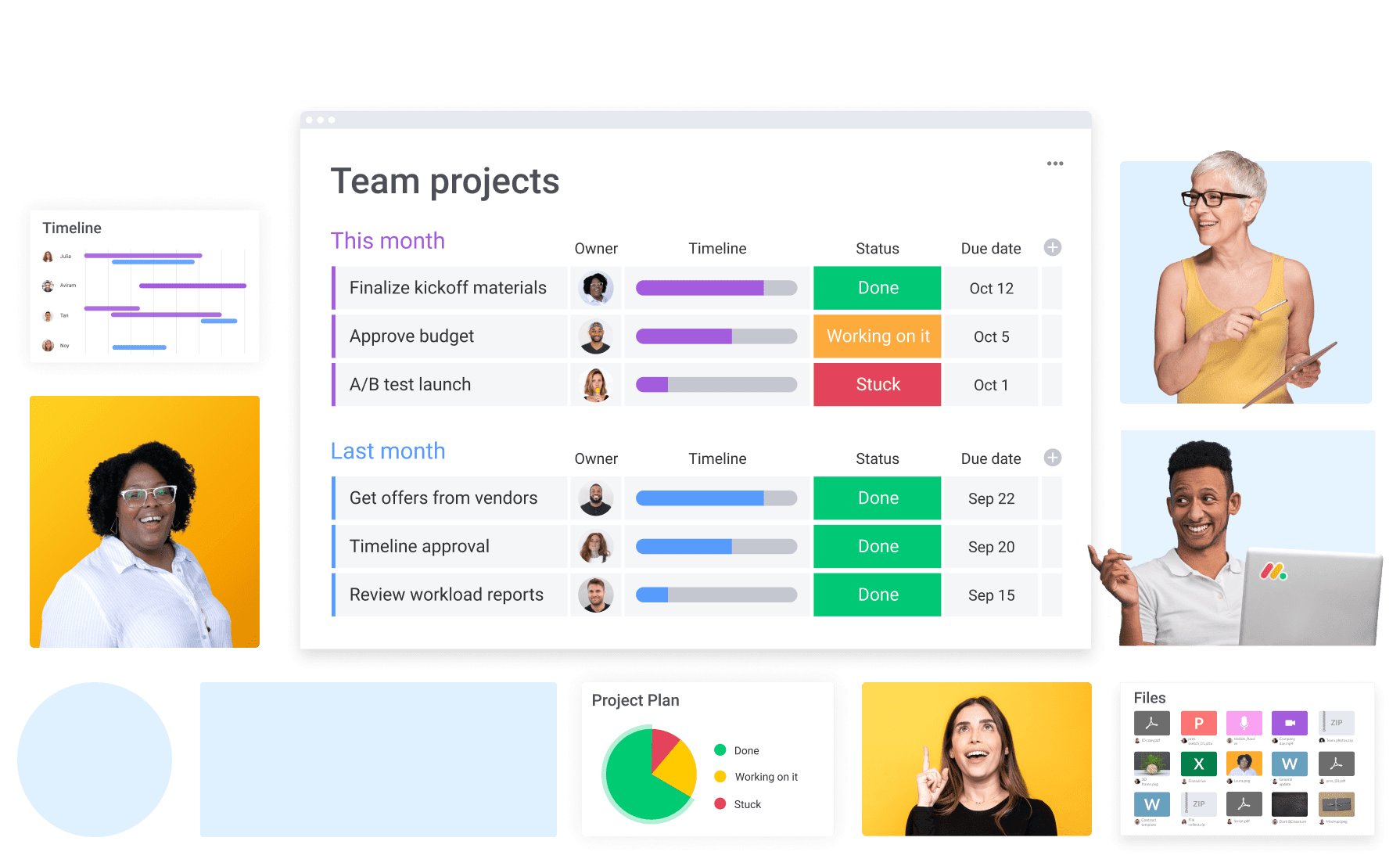 ---
Similar Tools
---
Monday
Monday is a work management tool that is designed to handle a wide variety of actions such as managing remote teams, automating workflows, tracking progress, and more. It works by way of 'boards' which are set up for each individual, and whereby progress can be seen at a glance.
Popular in the remote working industry, Monday has a variety of functions that make it a versatile and useful tool for everyone from agencies to businesses of all sizes, and it is proven and effective. It can be used not only for project management but also for marketing purposes,  CRM, for HR handling, and much more. The Monday concept uses four main components, these being:
Boards
Automated Workflows
Workload Management
Integrations
Pros
Integrates with current tool stack
Great for all team sizes
Ability to develop your own app
We will look at each of these below. Pricing for Monday is by 'seats' – referring to the number of users involved – and by the four different levels of functions which are Basic, Standard, Pro and Enterprise. A minimum of 3 seats is the starting point, and there is no maximum number of users. We will outline the pricing in the appropriate section. Let's talk about the four main features.
Boards
Boards are the essence of the Monday platform. In effect, boards are worksheets designed to be accessible to those in a need to know position. Boards are easy to create and can display a variety of information. A board can be thought of as a 'to do' list in more detail. They can include details of everyday work – your usual admin – plus projects that need assigning or have been assigned and are fully customizable for use tracking workflow and projects, as well as diary entries.
Automated Workflows ‍
One of the most appealing of functions on Monday is the ability to automate a workflow. By inputting all the stages of a project on a board the chances or human error are reduced. The system uses certain triggers to give notifications when a milestone has been reached or ownership needs to change – say, from a content creator to a publisher – ensuring a smooth workflow and minimum necessary human interaction. By placing due dates in the workflow, pre-notification of approaching deadlines can also be triggered, as well as many other features within this useful function.
Workload Management
‍The Monday at a glance workload analysis function allows for the manager or allocated person to see the overall picture. It shows the amount of work an individual or team has on at any given time, how much space they have available, and where they are regarding progress with current projects. This function prevents over-burdening of team members and enables adjustments to be made and work reallocated where needed, so as not to miss deadlines.
Integrations
A welcome factor with Monday is that it can integrate seamlessly with many of the popular platforms and software packages. Users can bring up to 50 integrations into the Monday package so that data is available for viewing in a central hub. This time-saving device eliminates the need to jump from platform to platform.
In addition to the above, Monday also allows users to develop their own apps, which can be very useful for events and conferences, as well as for enhancing communication channels and client interaction. Available for use as a desktop or mobile version, Monday is among the more popular work management tools of the moment.
Pricing Levels
We mentioned the pricing levels above in brief, so here's more detail about each:
Basic – providing one dashboard, the basic forms and features and allowing for unlimited free viewers, the Basic version of Monday may be of use to small companies with few staff and only basic projects to handle. Price is $7 per month per seat, with a minimum of 3 seats (so $21 per month standard).
Standard – the most popular choice, the Standard level is aimed at single team users with more complex workloads to visualise and comes with all the basic features plus advance searches, automations and 3 dashboards. Price is $9 per month per seat or user.
Pro – for businesses with multiple teams the Pro version offers a comprehensive set of functions suitable for handling the most complex workloads at $14 per seat monthly.
Executive – this level will enable the client to devise a bespoke package tailored to their needs in functions and price.
Conclusion
Monday is a popular work management tool that offers a variety of useful features at sensible prices, and the Pro version should be enough for any business with the Standard level package ideal for small to medium businesses looking to add more efficiency to their workflow.
What can you use Monday.com for?
Monday.com Alternatives
See below a list of Monday.com alternatives, first for CRM and below for Project Management features. Let us know if you have any additions.
CRM Alternatives
Project Management Alternatives