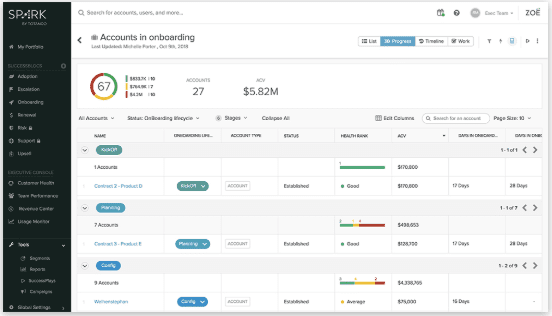 ---
Similar Tools
---
Totango feature
Totango is a Customer Operating System designed to improve the all-round performance of a business. It aims to increase lead generation, enable smoother customer interaction, and enable retention of existing customers which is often overlooked yet remains vital to the growth of a business.
Totango involves four products, each of which offers its own function, these being:
Pros
Customer Success is the best way for scalable growth
Free plan available
Cons
No pricing on their site
Understanding logical data modelling makes attribute configuration easier.
Totango works with may different types and sizes of business to improve performance, has many satisfied clients, and has won awards in the industry. Totango aims to deliver industry best practices by way of improvement and development.
Totango offers a 'forever free' basic version that includes most of the features and that will be viable for smaller business looking for improvement. The most popular choice is the 'Enterprise' solution which can be tailored to the business, and for which pricing is done on an individual basis. Let's check out the four main areas of Totango:
Spark
Spark is based around a concept known as 'SuccessBLOCs'. This is a Totango development that sees progress made in specified blocks, starting with the most essential, and moving through other areas of the business as each block is completed. The business chooses where to begin – usually a critical area such as sales or lead generation – and Totango brings it all together into one process.
This system enables a business to perform regular customer 'health checks' and see where it needs to improve, and to act on it in a shorter time thanks to the modular approach. Data is analyzed easily and efficiently, providing a better journey for the customer and growth for the business. Optimization of customer interaction is achieved using SuccessBLOCs as many satisfied clients will testify.
Zoe
An integral part of the Totango system, Zoe deals with a problem that is rife in many businesses who have their roots in traditional business methods – the difficulty of cross-company communication and interaction. Where a business may have one team dealing with one customer, Zoe encourages and enables every employee to be able to access the information pertaining to that company.
The old adage that 'many heads are better than one' springs to mind, as the intention is to allow for more open communication across company borders, bringing potential solutions to the fore than may not have been discussed by an isolated team. Doing away with protected logins, Zoe allows for any employee to ask for help or suggestions from others, and for each to arrange to help and participate where they can. More a culture change than anything else, this is a forward-thinking module that will appeal to more up to the minute businesses.
DNA-CX
Another central part of the Totango package is DNA-CX. Quite simply, this brings together all customer information so the behavior and health of the customer can be actively monitored, and changes made where necessary. No longer is the financial data kept separate from the user demographic and product usage information; all can be brought together to get an overall picture of how a customer is responding and acting, so that the relevant course of improvement can be enacted. Easy to use, clever and – again – something of a culture change, this area of Totango will find favor with businesses of all types and sizes.
Shield
Basically a built-in security assurance that gives Totango users a guarantee of data safety, Shield includes GPDR compliance, full terms of service, an explanation of the security practice with regard to customer data, ISO certification and a data protection agreement. Totango is also Privacy Shield certified. All of this is added assurance to customers of businesses using the Totango package.
Pricing
While the basic package may be suitable for some users – it has many useful features and is free for life – it is no surprise that the Enterprise option is the one most users opt for. Buyers can tailor a package to suit the particular business requirements of their company, and the price is also bespoke according to what is included. Contact the Totango team for information or start with a free 30-day trial.
Conclusion
Totango is an interesting product in a number of ways, not least the fact it is unafraid to go against the traditional business models and encourage a more forward-thinking and open-minded approach to customer data access. Such practices will increase productivity as is desired, and while we do not have access to the cost of the bespoke packages, we believe that Totango certainly has its place as a customer operating system with some unique attributes.
Totango alternatives:
Planhat
Gainsight
ChurnZero
ClientSuccess