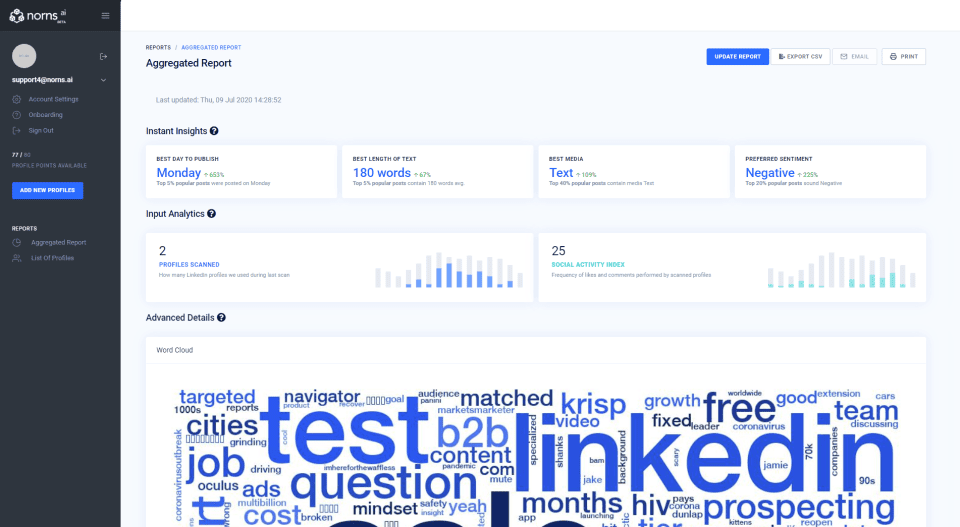 ---
Similar Tools
---
Norns AI Features
Norns AI uses artificial intelligence to help you create and share the best content for your audience on LinkedIn. The platform provides insight into the activities and preferences of your prospects, so you know when and what to share.
Norns AI aims to be your starting point for writing and sharing content on LinkedIn.
The platform's robust offerings include:
Lead generation
B2B content marketing
Insights
Pros
Get new insights from Linkedin
AI functionality to automate lead research
Create better content
Cons
No free plan
Steep pricing
Lead Generation
Lead generation is what drives businesses forward. If you're not growing your audience and customer base, your business won't be in operation for long. But lead generation can be challenging and tedious. AI-driven tools simplify the process and help you generate hyper-targeted leads more effectively.
Norns AI's automated lead intelligence helps you create hyper-personalized conversations that engage your leads on LinkedIn. Focus on the topics that matter most to your prospects to improve your outreach and lead accuracy. It's much easier to engage with and nurture leads when you know their interests and activities.
The key to marketing success is knowing your audience, and that's exactly what Norns AI helps you do. View individual prospect profiles to see what type of content they engage with the most and the days they spend the most time on LinkedIn.
Norns AI further helps you save time by automating the lead researching process.
The platform's lead generation tools are powered by data that help you better understand your prospects. Learn more about:
The content your leads write about
The hashtags they use
The content they like and comment on
When your prospects are most active on LinkedIn
How often your leads engage in activities on LinkedIn
The top posts your prospects have written
Norns even provides recommendations on how to approach your prospects, such as sharing articles about the topics they comment on the most.
The platform harnesses the power of AI to help you learn more about your leads and reach out to them in more effective ways.  
Composing profile lists is easy, too. You can add them manually, or you can use any LinkedIn profiles extractor, such as TexAu or Phantombuster. Once you have a list of profiles, just click the New Report button and let Norns AI work its magic. It takes just 15-20 minutes to generate a report. You'll receive a notification when it's ready, so you can continue on with your day while the platform does the work for you.
Once your reports are ready, you can view the profiles you're most interested in and start getting the insights you want.
B2B Content Marketing
Norns AI's B2B content marketing tools help you write successful content using the power of artificial intelligence.
The platform will analyze every piece of content on LinkedIn that your audience engages with, allowing you to get better insight into their interests and activities. Norns will help you find:
The posts your audience engages with
Niche influencers for potential collaboration
Content recommendations based on AI data
Top LinkedIn hashtags
With Norns, you can investigate an audience before advertising to them, allowing you to improve your campaign performance. Targeting the right people is key to success with any ad campaign, and AI data can help you achieve this goal. Understand an audience's activities and preferences before investing time and resources targeting them in advertisements. This allows you to ensure that you're always focusing on the most relevant prospects.
The platform also improves engagement by helping you share relevant content to your connections. Find the best keywords and topics to focus on, so you can deliver content your prospects care about.
The Norns word cloud helps you discover new and relevant topics your prospects are talking about.
Linkedin Insights
Norns AI provides helpful LinkedIn content insights through automated profile monitoring. Choose your audience and analyze their content preferences and activities, including:
Shares
Likes
Topics
Keywords
Publishing time
Emotions and sentiment
Content type
Activity frequency
Comments
Norns AI has been used to analyze 2.3 million profiles, 261 million comments and posts, and 1.2 billion content data points. Integrations with Phantombuster and other tools allows you to leverage the data you receive from Norns AI.
Advanced reporting features allow you to get an overview of different audiences.
Instant recommendations tell you:
The best day to post for your audience
The best post length
Preferred sentiment of your content (positive, neutral, etc.)
Best media combinations to use (text and images, etc.)
A 14-day free trial is available for anyone who wants to give Norns AI a try. Individual, Agency and Enterprise plans are available, with pricing that's accessible to businesses of all sizes.
‍